Not many people enjoy fiddling with disposable batteries, whether it is for your hearing aids or the TV remote. If you are someone who is tired of always hunting up new batteries or having your hearing aids inconveniently lose power on you, our hearing specialists at Hearing Associates of Las Vegas want to help you find the perfect rechargeable hearing aids for you.
To start your process, we have created a complete comparison of the top rechargeable hearing aids on the market currently, with information that can help you make the most informed decision possible.
Modern Rechargeable Hearing Aids To Power Your Needs
You may have heard of rechargeable hearing aids before. This type of hearing aid is not a particularly new invention. In fact, rechargeable hearing aids started showing up not long after the regular rechargeable battery was figured out. However, these older rechargeable hearing aids didn't have the necessary power to hold up for a whole day.
Instead, they would last for a handful of hours. This battery life was further reduced when the rechargeable battery was strained by using the streaming capacity of the hearing aids. Luckily, that type of rechargeable hearing aids has gone the way of the flip phone—still around, but rarely used.
With the rise of modern hearing aids, the technological bounds of hearing aids have grown, bringing in amazing advancements such as personal assistant integration, health sensing, machine learning, and more. Along with all these changes, better rechargeable hearing aid batteries have also been included.
Two Kinds Of Rechargeable Hearing Aid Batteries
As rechargeable hearing aid batteries have improved, there are two types of batteries which have risen to the top. Currently, a rechargeable hearing aid will have either silver-zinc batteries or lithium-ion batteries.
With these new batteries, rechargeable hearing aids now last for the expected 24-hour period, and some exceed that amount. If there is one drawback to these rechargeable hearing aids, it is that at this time, all of them are either Behind-The-Ear or Receiver-In-Canal hearing aid styles.
Silver-Zinc Batteries
When it comes to silver-zinc batteries, they are more commonly called ZPower rechargeable batteries. These batteries are based on the tech that NASA used to power the Apollo missions.
You can purchase hearing aids with ZPower hearing aid batteries already installed or have compatible hearing aids retrofitted with rechargeable batteries. Our hearing specialists can help you determine if your current hearing aids are compatible to be retrofitted with ZPower batteries.
Other benefits of using silver-zinc batteries are:
Safe – The ZPower silver-zinc batteries are non-flammable, 100% rechargeable, and non-toxic.
Flexible – If you forget to charge your silver-zinc hearing aids, you can easily pop in a pair of disposable hearing aid batteries until you have time to charge them.
Smaller – As the silver-zinc batteries have a high-density, they can come in smaller packages.
Lithium-ion Batteries
Similar to the battery in your smartphone, lithium-ion rechargeable hearing aids are a popular hearing aid option. Many hearing aid manufacturers are taking advantage of the ability to shape the lithium-ion batteries to produce hearing aids and portable hearing aid stations that are great for the on-the-go user. However, there are some considerations to keep in mind when it comes to lithium-ion hearing aids.
Potential dangers of using lithium-ion batteries are:
Toxic – As lithium-ion is poisonous, you will need to make sure that an adventurous child or pet doesn't have the opportunity to swallow or chew on one of your hearing aids.
Power limits – Streaming media can drain the power to the point where a lithium-ion battery only lasts 12-16 hours. However, quite a few of the hearing aid manufacturers have included a portable charging station with their hearing aids, making this less of an issue.
Battery case – The case of the lithium-ion battery is sealed, so there is no emergency swap for disposable batteries. But, some of the best lithium-ion batteries can have a quick, 30-minute charge, allowing them to operate for a few hours.
Top Hearing Aids With Rechargeable Silver-Zinc Batteries
Rechargeable hearing aids are not rare. In fact, most hearing aid manufacturers produce at least one type of rechargeable hearing aids. We have sorted through the options to present you with the best rechargeable silver-zinc hearing aids, with the lithium-ion ones in their own section.
Widex EVOKE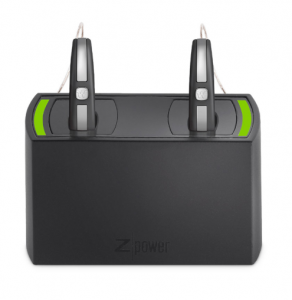 Widex has been committed to developing excellent rechargeable hearing aid solutions. A recent offering, the Widex EVOKE hearing aids now come with the ZPower second generation rechargeable system. As EVOKE hearing aids are Widex's premier hearing aids, you can enjoy the many benefits of these hearing aids along with their rechargeable power.
Oticon Opn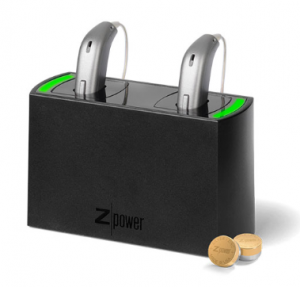 Oticon Opn has had rechargeable options from the start. These hearing aids come in a variety of sizes and styles, though only their mini Receiver-In-The-Ear (RITE) hearing aids can be rechargeable. You can also have any Opn RITE hearing aids retrofitted to become rechargeable. Also, Oticon recently released the Opn S, which is the lithium-ion version.
Unitron Moxi Fit R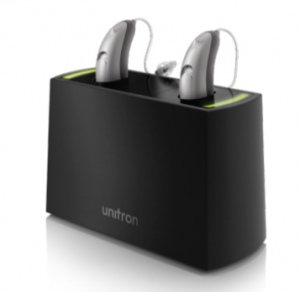 Consistent winners of design awards, the Unitron Moxi Fit R are sleek rechargeable hearing aids. The Moxi Fit R comes in a variety of attractive colors and can be charged quickly. Another close competitor is the Unitron Moxie All R, which has many of the features of the Moxi Fit R. Work with our hearing specialists to see which you prefer.
Top Hearing Aids With Rechargeable Lithium-ion Batteries
Signia Styletto Connect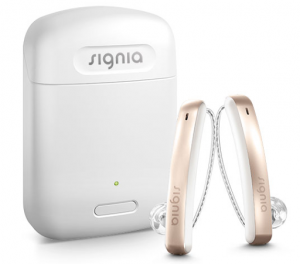 Formerly Siemens, Signia has a history of offering rechargeable hearing aids. However, the Styletto series, both the original Styletto and the Connect, are unique among rechargeable hearing aids. The Styletto series has a longer, sleeker shape, and relies on an attractive color palette with metallic accents. As the Styletto Connect comes with a pocket-sized recharging station, you can take your power with you.
Phonak Audéo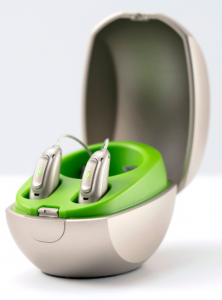 There are five Phonak Audéo hearing aid styles, but only two of those styles are rechargeable. These hearing aids can assist with mild-to-profound hearing loss, which not all Receiver-In-Canal (RIC) can do. It also has a small charging station that you can take with you to give your hearing aids a boost.
Starkey Livio AI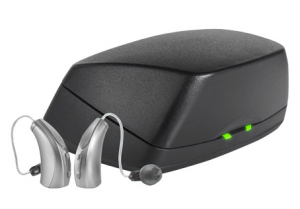 While there are other Starkey hearing aids which can come with rechargeable solutions, the Starkey Livio AI is the best. Outfitted with the top tech out of Starkey right now, from an AI assistant to health sensors, the Livio AI is an impressive innovation.
Which Rechargeable Hearing Aids Are Right For You
As you may have seen, the best rechargeable hearing aid solutions currently available are fairly similar in what they offer. While lower-end models may offer more room for variation, the top offerings from the best hearing aid manufacturers can work for most everyone's hearing needs.
Both types hold a full day's worth of power, though they can run a bit shorter if you take advantage of streaming capabilities. The lithium-ion hearing aids come with portable chargers for a quick recharge, but silver-zinc hearing aids can be temporarily swapped out with disposable hearing aid batteries, making them a bit more flexible than the lithium-ion variant.
By working with one of our hearing health care professionals, you should be able to determine which rechargeable hearing aid is right for your hearing loss and lifestyle needs.
Get Fitted With Rechargeable Hearing Aids At Hearing Associates Of Las Vegas
When you are ready to find the best rechargeable hearing aids for your needs, our hearing instrument specialists here at Hearing Associates of Las Vegas can help. With a hearing test to evaluate your current degree of hearing loss, our specialists will work with you to help you understand your options.
Also, the work isn't over for our hearing specialists after your hearing aids arrive. Our specialists will work with you to ensure that your new rechargeable hearing aids are properly fitted and programmed for your specific hearing loss needs. That way, you can be sure to be satisfied with your new hearing aids.
If you are ready to have a personalized hearing aid fitting experience with specialists who care, contact us. Our hearing specialists are ready to welcome you into our hearing family and help you achieve the best hearing possible.