Many people steer clear of hearing instruments because of the so-called stigma attached to wearing them. In the past, when hearing instruments were bulky, less adaptive and very visibly obvious to outsiders, the stigma was real. But today, adaptive technology and teeny devices are available. One in particular is Phonak's Lyric extended wear hearing device. It is 100% invisible from every angle and frovides hassle-free hearing. With the Lyric, there is no more fussing with settings nor worrying about showing obvious signs of aging. Nobody will even know you're wearing it. You just put it in and forget about it.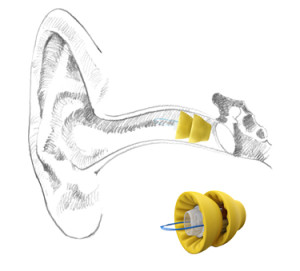 The Lyric fits snugly inside your ear canal and, after initial comfort adjustments, stays in place until the battery dies. A typical Lyric device lasts up to 3 months at a time. What to expect when you wear Lyric hearing aids:
Extended wear: This means you can wear the hearing device until the long-life battery dies. You don't need to take it out to sleep or shower; nor conceal that you're wearing a device. After it is fit, it stays in.
Hassle-free Hearing: You don't have to worry about adjusting settings. The only thing to understand about the Lyric is that it's simple and ready to go once it is fit in your ear.
Invisible: Nobody will even know you're wearing the Lyric. You've known for a long time that your hearing is suffering, and you are missing out on many things because of your hearing. Now you can ease back into life's activities and no one is the wiser about your restored hearing ability.
When you're ready to learn more about the Lyric hearing device, Hearing Associates of Las Vegas provides a free demo as well as a free 30-day trial to test the device. Hearing Associates of Las Vegas performs non-invasive hearing evaluations and offers free trials of a variety of hearing devices. Call Hearing Associates of Las Vegas to hear what you've been missing.