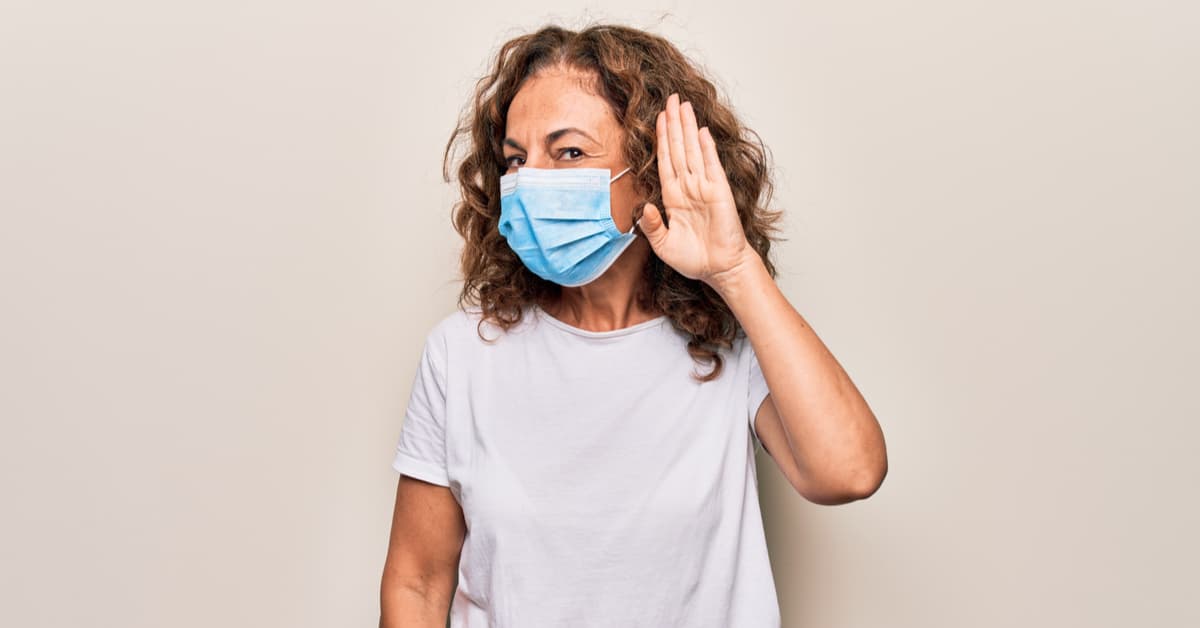 Since the onset of coronavirus, many people have found their lives altered in some sort of manner. From having to stay at home to wearing masks in public, most people on the planet have been affected in some way by this virus.
While some of these life alterations may be more obvious, it's also important to highlight some of the less apparent effects of the virus. One of these, according to multiple audiologists, is an increase in the rate of detection of hearing loss since the inception of coronavirus.
The main reason for this, audiologists have found, is because of the increased usage of masks in 2020. These masks have dramatically altered the way many of us communicate publicly, sometimes reducing the sound of a person's voice by as much as twelve decibels.
While the masks remain effective for fighting the spread of Covid-19, the muffled sounds and blocked facial expressions that result from wearing one can take their toll on the hearing impaired.
"The 'mask effect' affects everyone! Those with normal hearing are noticing that sounds are somewhat muffled, and they struggle to hear," said Devon Weist, audiology clinical instructor in the USF College of Behavioral and Community Sciences and director of the USF Hearing Clinic.
"Imagine trying to hear through a mask with hearing loss. Effective communication becomes extremely difficult and sometimes impossible. In addition, facial expressions can no longer be seen, which are an important nonverbal communication cue those with hearing loss rely on."
According to audiologists, an increase in patients has been occurring because of these mask-related issues. Since hearing loss occurs gradually, some people do not fully realize they have hearing loss until an obstacle such as a mask is presented.
Hearing loss has been connected to afflictions such as osteoporosis, cognitive decline, and diabetes. Also, mild hearing loss, if left untreated, can result in an increased likelihood of dementia later on.
Because of the addition of new obstacles as a result of Covid-19 for people with hearing loss, it has become more difficult than ever for them to communicate effectively. These obstacles have also highlighted pre-existing conditions, forcing them to seek professional help.
If you or anyone you know is having difficulty hearing in these trying times, it is important to seek help immediately. If you believe you may suffer from hearing loss, you should consult a Doctor of Audiology for an immediate hearing evaluation.
In the Las Vegas area, the Hearing Associates of Las Vegas have a top Doctor of Audiology who can provide precise hearing evaluations that can pinpoint the best solution for your hearing loss. If you live near the Las Vegas area and are concerned about potential hearing loss visit Hearing Associates of Las Vegas at either our Summerlin or Henderson, NV locations.