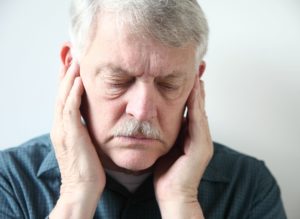 Earlier we introduced you to Grant, a tinnitus patient who is eager to discuss his personal struggles, not to seek pity, but to offer hope for tinnitus sufferers. This is the next chapter of his story.
Grant was recently fit with hearing aids from Oticon. His hearing loss isn't severe, but it is a high frequency level making it harder to understand conversations with his wife or go to restaurants where background noise is present. He began to avoid social situations knowing it was hard to keep up with conversations, compounding his frustrations.
In nearly 80% of tinnitus cases there is some degree of hearing loss. Many times, simply addressing the hearing loss minimizes the symptoms of tinnitus. In Grant's case, his symptoms are so severe, he uses a multi modal approach to successfully manage tinnitus.
 4 Steps to Fighting Tinnitus
For debilitating symptoms like his, he says there are four components to his success.
Calm your mind, teach your body and mind to relax. Grant uses meditation to shift the focus away from his symptoms.
Apply several approaches: Exercise, relaxation, sound therapies like Neuromonics and address any hearing loss with hearing aids.
Good nutrition. While diet isn't the direct cause of tinnitus, what you eat can make it worse. Minimize caffeine, salt, nitrates and alcohol consumption.
Be positive, don't give up. Tinnitus is not something that is gone overnight.
He emphasizes that last point. "It's important you surround yourself with positive people willing to help you get better." He credits his supportive wife as well as the environment at Hearing Associates of Las Vegas. "I feel fortunate I had people like Robyn" to help him move past his misery.
His treatment started with Nueromonics, a sound therapy device that helps to calm the intense ringing in his ears. Grant describes treatment as "retraining my brain." He sees his device as a "maintenance thing" as he progresses in his treatment plan. The hearing aids have made it easier to participate in conversations and enjoy everyday social interactions.
He's very pleased with his hearing aids as part of his overall treatment plan. "They're a big help restoring my life to what it used to be" beams Grant. He noticed the difference in the first week going out to his favorite restaurant with his wife. "Now I don't have to avoid social situations."
It's not only restaurants, "I'm able to go back to the movies with the help of custom ear plugs." Loud sounds, like movie theaters, concerts and sporting events can escalate tinnitus symptoms He also reports that his wife has noticed that his mood is better. "I'm like my old regular self during the day."
Grant says he's not done fighting tinnitus. The tinnitus hasn't gone away entirely but the hearing aids are "very beneficial.  My days have gotten a lot better." He reports he hasn't had a bad episode in more than six months. By sharing his story, he hopes to be a ray of hope for folks with tinnitus. His single take away for treatment: "it's not gonna happen by taking a pill!"
For anyone experiencing a persistent ringing in their ears, do as Grant advises: take your life back and schedule a consultation with us. We specialize in tinnitus treatment for patients like Grant. We have developed the first ever Tinnitus Relief Studio at our Summerlin office: a space designed to reduce anxiety for patients in order to demonstrate various therapies including Nueromonics and hearing aids. Remember, there is hope for tinnitus sufferers.