With so many options available, it might be hard to know which hearing aids are best for you, so having a reliable and experienced team on your side is critical. Not only can our team help you determine the right hearing aids for you, but we can also help you receive an accurate diagnosis of your hearing health.
Knowing what type of hearing loss you have and the degree and possible treatment options help you understand your hearing health fully and gives you the support you need moving forward. At Hearing Associates of Las Vegas, we're dedicated to ensuring our patients get the help they need every step of the way. Continue reading to learn more about the perfect fit regarding hearing aids, available options, and the debate between cost and quality.
How Do You Find the Right Hearing Aids?
A critical first step to increasing your hearing health is to choose the appropriate hearing aids. Because of technological improvements, many options are now available, which can be confusing. However, you can select the ideal hearing aid by following a few key steps and considering certain aspects.
Our team of audiology specialists can evaluate your hearing loss and suggest the best hearing aids. We perform several tests to establish the kind and degree of your hearing loss using the latest tools and techniques. We have experience working with various types of hearing loss, allowing us to provide you with an accurate report of your needs. Once our testing is completed, we can provide you with information regarding the type of hearing loss you have, from sensorineural to conductive or mixed hearing loss. The shape and features of the hearing aids you require will be heavily influenced by the type and degree of your hearing loss.
Modern hearing aids come with a wide range of technological characteristics. Some hearing aids have Bluetooth connectivity, allowing you to stream music from your phone or TV. Others offer features like directional microphones, noise cancellation, and feedback reduction. With the help of our team, you can identify the best features based on your lifestyle and unique needs.
When choosing hearing aids, comfort is crucial. The fit must be snug without being uncomfortable. For those with particular ear canal shapes, custom-molded hearing aids give a superior fit and are the best option. We take the time to ensure the correct fit so that you feel good while wearing them. We also provide ongoing support to monitor your hearing health and make any necessary changes.
Keep in mind that selecting the best hearing aids is a personal process, and what suits someone else may not be appropriate for you. It's often best to rely on a professional and experienced team to guide you through the process and ensure you get the hearing aids you need.
What Hearing Aid Options Are Available?
Just like there are different types of hearing loss, there are also varying types of hearing aids. Hearing aid technology has improved greatly in the past few years, providing a range of solutions to accommodate people with differing degrees of hearing loss and lifestyle preferences. The following are some popular hearing aid options:
Hearing Aids: Behind-the-Ear (BTE): BTE hearing aids are among the most enduring and well-liked designs. They are made up of a tiny case that sits behind the ear and a receiver or earmold that slides into the ear canal. BTE hearing aids are frequently suitable for persons of all ages and can accommodate a variety of hearing losses.
Receiver-in-Canal: Hearing devices with a speaker or receiver implanted within the ear canal are known as "receiver-in-canal" (RIC) hearing aids. Compared to the conventional BTE approach, this design offers a more realistic audio experience and requires less visual attention.
In-the-Ear: Hearing aids that fit within the ear directly are known as in-the-ear (ITE) devices. They range in size from those that occupy the full ear to those that rest in the lower part of the outer ear. Compared to BTE or RIC models, ITE hearing aids are more noticeable, but they frequently offer more functions and can suit a wider spectrum of hearing loss.
In-the-Canal: Hearing aids that fit partially or completely inside the ear canal are known as in-the-canal (ITC) and completely in-canal (CIC) hearing aids. These hearing aids are smaller, custom-made, and less noticeable. Due to their size, they might not have as many cutting-edge capabilities as larger models, but they offer a covert hearing solution for mild to moderate hearing loss.
Invisible-in-Canal: Hearing aids that are invisible-in-canal (IIC) are the smallest devices on the market. When worn, they are almost undetectable because of how snugly they fit into the ear canal. IIC devices work well for those with mild to moderate hearing loss, but they might not be the best option for people with more profound hearing loss.
To choose the best hearing aid solution based on unique hearing needs, lifestyles, and preferences, it's crucial to speak with our team to fully understand your options.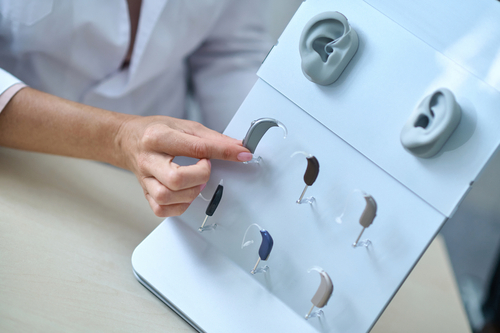 What About Cost vs Quality When Choosing Hearing Aids?
Cost and quality are two crucial considerations when choosing hearing aids, as your satisfaction and success with hearing aids can be considerably impacted by the relationship between the two. When faced with needing hearing aids, consider the following items.
Initial Price: The cost of hearing aids can range greatly. Hearing aids of higher quality with more modern features and technology typically cost more upfront. At the same time, cheaper solutions might only provide rudimentary capabilities, lacking more advanced features that might significantly improve your listening experience. Our team can help you evaluate the cost over time so you can make an informed decision when choosing your hearing aids.
Features and Technology: The cost of hearing aids is frequently determined by the level of technology and features included. Modern features, including noise reduction, feedback cancellation, directional microphones, wireless connectivity, and a variety of listening programs, are included in advanced hearing aids. Even in difficult hearing situations, these features help to improve overall listening quality, but they might also come at a higher cost.
Longevity and Durability: More expensive hearing aids are frequently made of tougher materials and with better craftsmanship, boosting their longevity and durability. In turn, less expensive hearing aids could be more prone to damage, increasing the expense of repair or replacement over time. When choosing your hearing aids, our team can discuss durability and warranties to help you determine the best option.
Fit and Comfort: Assuring snug and secure fit, premium hearing aids are made to ensure a pleasant fit and can be custom-molded to your ear canal. Additionally, they are more subtle and lighter, making them more comfortable to wear for extended durations. Cheaper hearing aids might not fit as well and be less comfortable, which could cause pain or even diminish their efficacy.
Quality and long-term benefits should always be considered when buying hearing aids, even though price is clearly a major consideration for many people. Choosing hearing aids of higher caliber with cutting-edge features can result in a more positive listening experience and possibly better overall hearing health. However, you must balance your financial needs with your hearing requirements.
Our team understands the debate between quality and cost and will provide you will all options when assessing your hearing health. Above all, we will provide the necessary support as you begin to navigate the changes in your hearing. In addition, we offer several financing options to help you determine which hearing aids are best for your needs. If you're concerned about costs, talk with our team to see how we can help.
Schedule an Appointment With Hearing Associates of Las Vegas Today
Our team is dedicated to helping you find the best hearing aids for your needs. We do this by offering state-of-the-art testing and an experienced and knowledgeable team. If you're concerned about your hearing health, let our team help. You can easily schedule an appointment by contacting us online or calling one of our offices. Once we've completed your assessment, we will discuss your options and answer any questions you have. Don't let budget concerns get in the way of your hearing health. Contact us today.