As we approach the 243 year since the founding of American, you are likely gearing up for the celebration by stocking up on barbeque gear, food, and fireworks.
But what you may not have considered in your preparation is what you need to prevent hearing loss as you and your loved ones enjoy the 4th of July.
Fourth Of July Celebrations Can Damage Hearing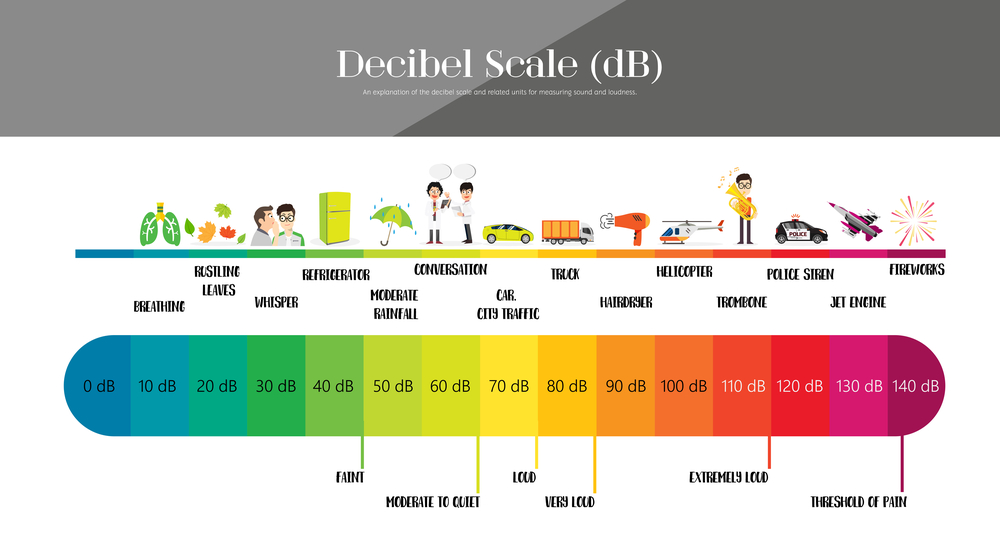 An integral part of most Independence Day celebrations is fireworks and the bigger, the better. Most of us have fond memories of watching fireworks show and shooting off rockets of our own and want to share that with our loved ones.
But, being exposed to fireworks can damage your hearing. Hearing loss due to noise exposure can begin at 80-90 decibels (dB) and as you can see depicted above, fireworks at 140 dB and more, can be especially damaging for your hearing. Add the loud music and noisy parties, and you can face serious hearing damage at your next Independence Day party.
Not only can the extreme amount of noise that accompanies most 4th of July celebrations lead to hearing loss, but it can also trigger tinnitus. If you have never experienced tinnitus, it is a hearing condition where only you can hear a continuous, usually a monotone sound that may sound like ringing, buzzing, static, or other sounds.
Those with tinnitus often struggle to focus beyond the irritating sound as it drowns out the sound they want to hear. Tinnitus can also interfere with your ability to fall asleep and lead to serious mental health issues.
  Instead of running the risk of hearing loss and tinnitus symptoms, you can take steps to protect your hearing this upcoming Independence Day.
Ways To Protect Your Hearing
As your local hearing experts, Hearing Associates of Las Vegas have plenty of tips for you on how to keep your hearing safe during your Fourth of July party.
Use earplugs

– By simply purchasing and using a pack of disposable foam earplugs, you can protect your ears, and those of your family as you all start lighting up fireworks or when you watch a firework show.

Turn the music down

– Music is usually a key part of any summer celebrations, but blasting music is an easy way to damage your hearing. Also, it can make it difficult for your hearing impaired guest to follow the conversation. Instead, choose music that can add to the festivities but doesn't need to be cranked up.

Keep your distance

– If you are attending a professional fireworks show, do your best to keep your distance. These fireworks are far more powerful than any available for non-commercial purchase, and the blast can damage your hearing easily.
If you or a family member has trouble hearing after the 4th of July, you may want to bring them to have their hearing evaluated. Also, don't think that if you have hearing aids, there is nothing you need to do! Below, you will find our tips to help hearing aid users keep their hearing aids and hearing in shape.
Protect Your Hearing Aids And Remaining Hearing
Bring a drying cloth

– In most parts of the country, the Fourth of July is a hot day, and you don't want your hearing aids damaged by sweat. To protect them, keep a soft drying cloth handy.

Turn down your hearing aid volume

– Independence Day is usually a noisy day with parades, parties, and fireworks. Rather than trying to process the higher volume of noise through your hearing aids, turn your hearing aid volume down.

Carry portable charger or spare batteries

– To ensure you can stay engaged, take some spare hearing aid batteries or your portable hearing aid charge as you attend various festivities.

Have your hearing aid case on hand

– Just in case you want to go for a swim or other activity where hearing aids are unsuitable, be sure to keep your hearing aid case with you. That way, your hearing aids will be adequately protected while they aren't in your ears.
For personalized help with your hearing needs, contact Hearing Associates of Las Vegas. Our team is ready to help you enjoy the best hearing possible.