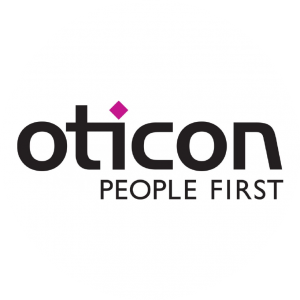 Oticon is an experienced hearing aid manufacturer, with over a hundred years of experience providing others with hearing assistance since the company's founding in 1904. Hands Demant started the company with the goal to help his hearing-impaired wife, and after completing one of the world's first electronic hearing aid solutions, Oticon has grown to provide hearing aid solutions worldwide. Working with over 13,000 hearing aid users and professionals, Oticon is devoted to helping hearing aid users and professionals improve their access to hearing aid solutions.
Oticon is just one of the few major brands available from Hearing Associates of Las Vegas. Our family owned and operated hearing aid clinic has two locations for in clinic consultation, both locations located around the Las Vegas area. When you visit, you can either try out and get fitted for a new Oticon hearing aid, or get the help you need troubleshooting and servicing an older hearing aid model. Whether you're going with something new or prefer to hold onto something old, Hearing Associates of Las Vegas is here to help you find a better hearing solution.
Oticon Opn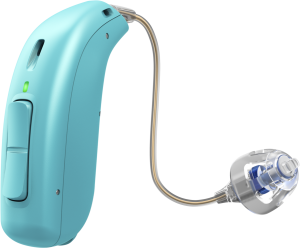 The Oticon Opn is designed to be a compact hearing aid solution, with the key components that fit in a small shell without sacrificing build quality or performance. In fact, the IIC option is the smallest hearing aid ever made by Oticon, and one of the smallest hearing aid solutions on the market. The Oticon also supports a number of other great features, including:
TwinLink Communication System: Unlike other hearing aids, the Oticon Opn has two dedicated communication systems, with one for typical binaural processing and the other for simultaneous direct streaming with electronic devices. With this great TwinLink setup, not only are connections to phones DEX, and other devices more reliable, but you won't suffer a loss of quality as you stream audio while trying to pick up a conversation at the same time.
Open Sound Navigator Processing: Opn stands for the OpenSoundNavigator, which is Oticon's fantastic multi directional sound processing technology. Opon rapidly picks up important noise, like a conversation or music, while muting out unwanted background noise. If you have struggled in the past identifying proper sounds while using a hearing aid, you will definitely want to consider the Oticon Opn.
Tinnitus SoundSupport: Many hearing aid wearers, especially those with Tinnitus, have been annoyed by the ringing sound produced by their hearing aid. Not only is the Opn designed to safeguard against ringing, but will help comfort those struggling with tinnitus. Listen to a wide range of dynamic, soothing sounds that will help you drown out the ringing and help you take your mind to a better place.
Internet/IFTTT Connectivity: Improving hearing aid functionality and adaptive settings is an important feature, as is having precise control over your hearing aid capabilities and compatible devices. Oticon ON allows the Opn to connect to the If This Then That online network, which is an ever expanding interconnected network of smart apps, devices, and functions. From BMW to Ring, to your mobile phone to computer, there are hundreds of devices you can connect to directly with the Oticon Opn.
The Oticon Opn is available in five color plate options. In terms of style, you have five in the ear options to choose from, with three behind the ear options available as well. All styles of the Oticon Opn are available in three performance levels as well, which consist of the following:
Level 3 Oticon Opn: Most affordable hearing aid option. Minimal noise reduction, clarity, and sound localization. Best for those with minimal hearing loss.
Level 2 Oticon Opn: Balanced Opn in terms of performance and price. Moderate noise reduction, clairity, and sound localization. Best for those with moderate hearing loss.
Level 1 Oticon Opn: The most powerful, and expensive, hearing aid option. Rapid noise reduction, great speech clarity, and intense sound localization. Best for those with severe hearing loss.
For those suffering from hearing loss looking for a long lasting, compact hearing aid solution, we recommend considering the Oticon Opn hearing aid platform.
---
Opn S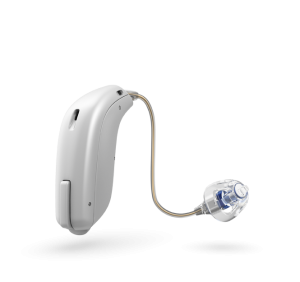 Finding a small, compact hearing aid that provides great hearing capabilities while also being rechargeable is a tough combination, but that is what is provided with the Oticon Opn S. You won't have to worry about swapping out a small, hard to lock battery ever again, while still getting great hearing results that will help you hear on par with those who have typical hearing. There are a few other great features that make this compac hearing lineup worth knowing about, including:
360-Degree Sound Radius: With the Oticon Opn S will be able to catch and properly identify sound sources from all around the environment. This is made possible by Opn S properly amplifying and helping you determine the precise point of origin of the sound, without having to mute out the surrounding sound. This is a step above many traditional hearing aids, which often mute out surrounding sounds in order to help you hear just one sound or conversation at any given time.
Speech Understanding: A major focus for the Oticon Opn S has been to help those suffering from hearing loss enjoy speech understanding on par with those who have typical hearing. Not only have experts found that Oticon has largely achieved their goal, but the speech understanding remains on par no matter your environment. Whether it be a private dinner date to a fun party with friends, you won't have to feel left out of the conversation with the Oticon Opn S.
Sound Optimizer Feedback Shield: A common problem for many hearing aid users is the whistling that comes when someone or a sound source comes too close to your hearing aid. The result is that, whether from talking on the phone or giving someone a hug, sounds and even just air movement can cause an annoying feedback whistle to get caught and amplified. Opn S has been specifically designed to prevent that feedback before it can even occur, guarding you against the common whistling noise that plagues many other hearing aids.
East Smart Device Connection: Using phones, computers, tablets, and other electronic devices are a common part of our day to day lives. With the Oticon Opn S, you will have direct connectivity to a wide range of common devices. From hands free phone calls with many modern smartphones to direct sound streaming with your favorite musical device. The Oticon ON app will not only help you connect your hearing aid directly to wireless devices, but will help you control the overall volume and functionality as well.
The Oticon Opn S is available in seven unique color options. All four Oticon Opn S devices sit behind-the-ear, with three of the four featuring in-the-canal receivers and one without a wired receiver. If you suffer from mild to moderate hearing loss and want a discrete, easy to charge and dynamic hearing aid, you will want to consider the Oticon Opn S.
---
Oticon Dynamo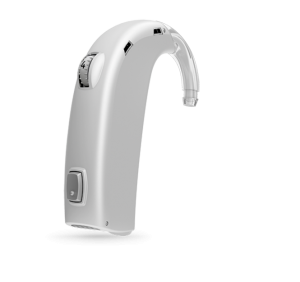 The Oticon Dynamo is a high powered hearing solution built for those with severe to profound hearing loss. The dynamo is rapid, reducing the delay between catching sound and hearing it in your ear, with BrainHearing technology that prioritizes speech clarity and helps you hear the full spectrum of sound. This is a hearing aid designed to offer a premium, high quality hearing experience in almost every regard, with features such as:
BTE13 SP: Speech processing technology is one of the most important components in a hearing aid, and it is one of the major priorities of the Oticon Dynamo. The powerful processor is also combined with a size 13 battery, ensuring you get a long hearing aid life in a small case, ensuring you have a comfortable feel while using the Dynamo as well.
Inium Sense Shield Feedback System: Just as important as speech clarity is blocking out the unnecessary background noise that often fills the environment. The powerful Inum Sense technology specifically targets high frequency pitches, bringing them down to make them more understandable or blocks them out entirely like other unnecessary audio feedback. The result is that you can pick up the important sounds in life, even when they're quiet, while blocking the sounds and noises that don't matter.
Oticon ConnectLine: Phone calls, video chats, listening to music, and other common electronic interactions fill our day to day lives. ConnectLine provides your direct access to many digital devices, while also helping you prioritize which sounds you want to hear in any given situation. Just because you have a hearing aid doesn't mean you have to lose out on the common day to day experiences others have with the help of the Oticon Dynamo.
Quick Change and Athletic Design: While you have precise control over the Oticon Dynamo with the aid of ConnectLine, you can quickly change your settings with the side dial as well. The Oticon Dynamo has been built for use in all environments and situations, including those who need to make a rapid change on the go. This makes the Oticon Dynamo a great option for athletes, and has even been used for athletes in events like the Olympic Games.
The Oticon Dynamo is available in seven different color options. There is only one model of the Oticon Dynamo, and it is a behind-the-ear option only. While limited in customization, the Oticon Dynamo is a fantastic option for those who suffer from severe to profound hearing loss.
---
Oticon Sensei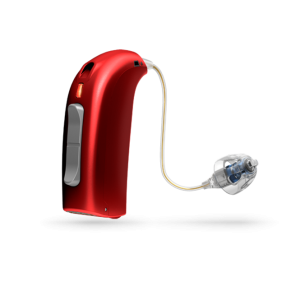 The Oticon Sensei isn't as powerful as the Otocon Sensei SP, but that is intentional in order to make it a suitable option for very young children and even babies alike. With a less intensive hearing design, the Oticon Sensei is a more affordable option for those with just mild to moderate hearing loss, or for those with more sensitive ears like babies. Some other key features that further distinguish it include:
Extended Battery: When you have a baby or very young child, you don't particularly want to change out the battery every couple days or so. By minimizing energy use and increasing the battery size, the Oticon Sensi will last longer than the Oticon Sensei SP. If you want to minimize how often you change out a hearing aid battery, the Oticon Sensei is definitely a great option.
SmartFit Trainer: Children have sensitive ears, and due to their anxious and energetic youthfulness it can be difficult trying to size and insert a hearing aid. SmartFit Trainer is designed specifically to help you insert the earmold correctly for superior hearing and a proper fit. With SmartFit Trainer, even squirrly or nervous children will be able to easily insert the Oticon Sensei hearing aid.
Amigo FM: Anyone who has been in a school will tell you how noisy it gets, making it really difficult trying to tell what a teacher might be saying. With Amigo FM, the Oticon Sensei can have a direct connection with a belt receiver, providing a direct link in order to listen to what a teacher has to say. Your child won't miss a thing with the help of the Oticon Sensei hearing aid.
Baby Sizing: The Oticon Sensei is designed not just for kids, but for babies as well. With this hearing aid, available in two different wearing styles, your baby will be able to start listening to you at a much earlier age than what used to be possible with children hearing aids.
The Oticon Sensei is available in eight different colors, a few of which are different from the Oticon Sensei SP. The Oticon Sensei SP features two different behind-the-ear styles, and one in-the-ear style. If your child is on the very young side, with just minimal to moderate hearing loss, your child will benefit greatly from the Oticon Sensei hearing aid.
---
Oticon Sensei SP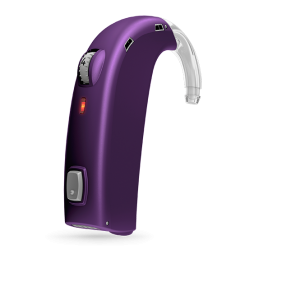 A powerful and accurate hearing is important for children, as the lack of the ability to properly hear will greatly disrupt your child's ability to learn. That is why the Oticon Sensei Super Power (SP) exists, to make sure that the typical small vocal cues that don't get picked up by other hearing aids are captured with the Oticon Sensei SP. This is one of the best options to ensure that your child will properly develop language and communication skills, with features such as:
High Frequency Sound Emphasis: Some of the hardest letters for young children to pick up in a conversation are soft consonants, like 'S' and 'T'. With the Oticon Sensei SP, these high frequency, hard to catch sounds are copied and relocated to a lower frequency so that your child can properly hear them. With this technology, called Speech Rescue, your child will have a much easier time picking up words that may otherwise be difficult to understand without a hearing aid.
3 Key BrainHearing: Along with the high frequency Speech Rescue, you also have Speech Guard E and Inium Sense feedback shield with the Oticon Sensei SP. Speech Guard E is a feature that preserves the natural speech cues that are part of typical conversation, which further helps your child learn how to speak in a natural way. Inium Sense feedback shield monitors overall hearing aid feedback, providing great sound quality day after day while blocking out the shrill and unnecessary background noise in life.
Hypo-allergenic, Active Design: Preventing allergic reactions is part of the design of the Oticon Sensei SP, besides just being comfortable for long periods of use. The Sensei SP also features a IP58 water and dust resistant build as well, ensuring that your child can live their life like a typical kid without worrying about damaging the Oticon Sensei SP.
Long Lasting Battery with LED Light: Part of growing up is learning how to handle your equipment on your own, and the LED light gives a simple way for kids to track their overall battery life. With a tamper resistant battery door, you won't have to worry about young children tearing apart the Oticon Sensei SP either when it is time to swap out the battery.
The Oticon Sensei SP is available in eight unique colors that your child will love. It is currently only available in one behind-the-ear style option. If your child suffers from hearing loss, the Oticon Sensei SP is a powerful option that is a long lasting comfortable wear that will ensure they can properly hear the important sounds they need to learn to make their way through life.
---
Oticon Ruby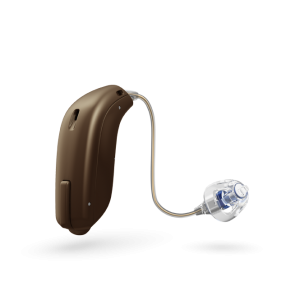 The Oticon Ruby is very similar to the Oticon Opn S, but with a few powerful upgrades and design differences that make them a better suited option for those suffering from moderate to severe hearing loss. Many of the features found in the Opn S are also found in the Oticon Ruby, including features such as:
Rapid, Easy Charging: With the Oticon Ruby, you won't have to struggle with the small, limited batteries that cause so much trouble with other hearing aids. Simply insert the Oticon Ruby into your Oticon charging station, and you will have more than enough battery life to make it through the day. The Ruby can be fully recharged in 3 hours, but if you forget to charge it a quick 30 minute charge will provide 6 hours of use. Just insert your Oticon Ruby hearing aids before you go to sleep, and when you wake up you'll be ready to tackle the day!
Superb Sound Quality for the Hard of Hearing: The Oticon Opn S provides great sound quality, with 360 degree range and conservational understanding, but is designed for those with minimal hearing loss. The Oticon Ruby provides almost the same level of quality hearing, but for those with moderate to severe hearing loss. You'll be able to comfortably enjoy conversations and family gatherings once more with the Oticon Ruby, making it a popular choice for young and old adults alike.
Durable, Comfortable, and Easy to Control Design: You might not just be suffering from hearing loss, and may also have shaky hands or the inability to adjust your hearing aid easily. That is why the Oticon Ruby is built with a very simple two button volume control, along with a tight and durable hearing aid shell. The highly responsive hearing aid doesn't need much adjustment, and when it does you won't have to worry about damaging the Oticon Ruby as you manipulate it. Caution is always a good thing, but the occasional accident won't damage the Oticon Ruby.
Large Connectivity Range: Just like the Oticon Opn S, the Oticon Ruby has a ton of different connectivity options that will make it real easy to stream your favorite electronic device. ConnectClip will allow you to stream any wireless Bluetooth device directly to your hearing aid and allow you to talk back hands free. The TV adaptor will work on a large assortment of audio devices, allowing you to stream TV audio wireless up to 45 feet away. You will have even more connectivity and wireless options too if you make use of the Oticon On app, available for Android and Apple smartphones alike.
The Oticon Ruby is available in five different color options. You can also choose between five behind-the-ear options, three of which feature in-the-ear transmitters. If you suffer from moderate to severe hearing loss and want an easy to use, rechargeable hearing aid, discuss the Oticon Ruby with your hearing aid consultant.
---
Oticon CROS – BiCROS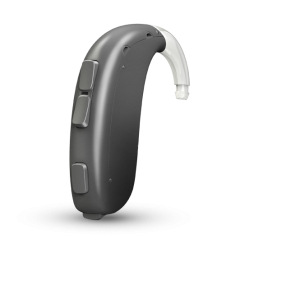 The Oticon CROS and BiCROS platforms have been designed for those who suffer from deafness in one ear, but still want hearing aid support that will help them better understand where noises are coming from. The CROS solution is for those who have no hearing loss in their non-deaf ear, while the BiCROS solution will aid those who do suffer from additional hearing loss from the non-deaf ear. There are a few other important features that make the Oticon CROS/BiCROS solutions stand out, including:
360-Degree, Full Environment Sound Tracking: CROS and BiCROS hearing platforms are meant to help you better pinpoint where sound is coming from, and is one of the major features of the Oticon CROS/BiCROS system. The OpenSound Navigator technology constantly monitors your surrounding environment, balancing important noises like music and conversation while muting out background feedback and unwanted noise. The result is that you will no longer struggle as much trying to keep track of the noises you hear around you, letting you enjoy meetings and parties to a greater degree once more.
TwinLink, Dual Broadcasting Technology: A problem with older CROS/BiCROS systems was the inability to help you listen to conversations while also enjoying music, TV, and other entertainment at the same time. The incorporation of TwinLink tech will allow you to do that once more, with dual audio broadcasting streams that will enhance audio understanding in your functional ear. Now, you won't have to prioritize talking with someone or focusing on a program, and can enjoy both like everyone else with the Oticon CROS/BiCROS system.
Rapid, Reliable Sound Transmission: CROS/BiCROS hearing solutions work by picking up sound on the transmitter in your deaf ear and broadcasting it to the hearing aid in your functional ear. Oticon's CROS/BiCROS systems perform this function, but have also worked hard to make transmission as fast as possible to closely emulate the true hearing experience you should be receiving. The connection is extremely stable and very reliable as well, ensuring minal audio distortion as the hearing aid platform transmits from one ear to the other.
Simple Wearing for Everyday Life: Some CROS/BiCROS systems are quite cumbersome, and can get in your way from living life the way you want. The Oticon CROS/BiCROS borrows the same durable yet compact design from the Oticon Opn S and Oticon Ruby. With this hearing aid platform, you can enjoy your typical activities without almost any disruption, be it going to work or having fun playing sports with friends.
The Oticon CROS/BiCROS system is available in seven different colors. All seven colors are available in the same behind-the-ear, in-the-canal transmitter model. If you suffer from a deaf ear and want a hearing aid solution that will help you better understand where sound is coming from in your environment, we suggest looking at the Oticon CROS/BiCROS hearing platform.
---
Hearing Associates of Las Vegas are here to help:
These are the Oticon hearing aid platforms that we currently provide, but with our years of experience we also are happy to help service older models as well. We've tried to share what we can, but to know what hearing aid platform is best for you will depend on your individual needs. Features and specs are important as well, but nothing beats fitting a device and trying it out to really know whether it is the best hearing aid solution for your situation or not.
As such, we invite you to visit Hearing Associates of Las Vegas, with two different clinics to be found in the Las Vegas Area. Contact us for an appointment with one of our hearing aid specialists, and let us help you figure out how Oticon and other hearing aid platforms will help you improve your hearing ability. Whether to find you a device that will help you with tinnitus, or finding a hearing aid for mild to profound hearing loss alike, Hearing Associates of Las Vegas are here to help, so be sure to make an appointment today!