Hearing loss can take many shapes, but one of the most common forms of hearing loss worldwide is tinnitus. While over 20% of patients who suffer from hearing loss experience tinnitus, there isn't a simple medical treatment program to make it go away like with many other bodily infections. However, with advances in medical technology and our improved understanding of how tinnitus affects individual patients, Tinnitus Retraining Therapy programs have become very popular since they were first developed in the 21st century.
What is Tinnitus Retraining Therapy? In short, TRT as it is often abbreviated to refers to the broad processes of helping patients who suffer from tinnitus cope and handle the effects of tinnitus in body and mind. Typically, a combination of specialized machinery, psychological therapeutic techniques, and repeated training sessions are all used in conjunction to help treat patients who suffer from tinnitus. Our team at both of our Hearing Associates of Las Vegas clinics are experienced in Tinnitus Retraining Therapy, using a combination of sound therapy, hearing aids, in person counseling, and a one-of-a-kind relief studio to treat those with Tinnitus. With locations in Summerlin and Henderson, we can help you treat your Tinnitus today!
How Effective is Tinnitus Retraining Therapy:
While the overall effectiveness of Tinnitus Retraining Therapy varies from patient to patient, it has so far proven to be a very effective means of treating those who suffer from Tinnitus. In fact, multiple medical studies have proven that between 75% to 85% of patients have seen dramatic improvements to their hearing condition after undergoing Tinnitus Retraining Therapy programs. These studies include those done by the National Insite of Health, Emory University, the International Tinnitus Journal, the American Ear and Hearing Association, the American Tinnitus Association, and several other major universities and organizations.
From our own experience, we have seen great success in treating patients by using Tinnitus Retraining Therapy techniques. With our program, we have helped hundreds of patients understand how they experience Tinnitus, how to control and manage their symptoms, how to retrain their brain to lessen the severity of their symptoms, and how to understand their Tinnitus in order to live more fulfilling lives. The specific treatment plan varies greatly from person to person, which is why we invite you to book an appointment so we can discuss the best treatment plan according to your Tinnitus symptoms.
To help you understand what we might discuss during your consultation, here are a few options that we use for treating patients as part of our Tinnitus Retraining Therapy programs:
Tinnitus Retraining Therapy Treatment Options:
Sound Therapy: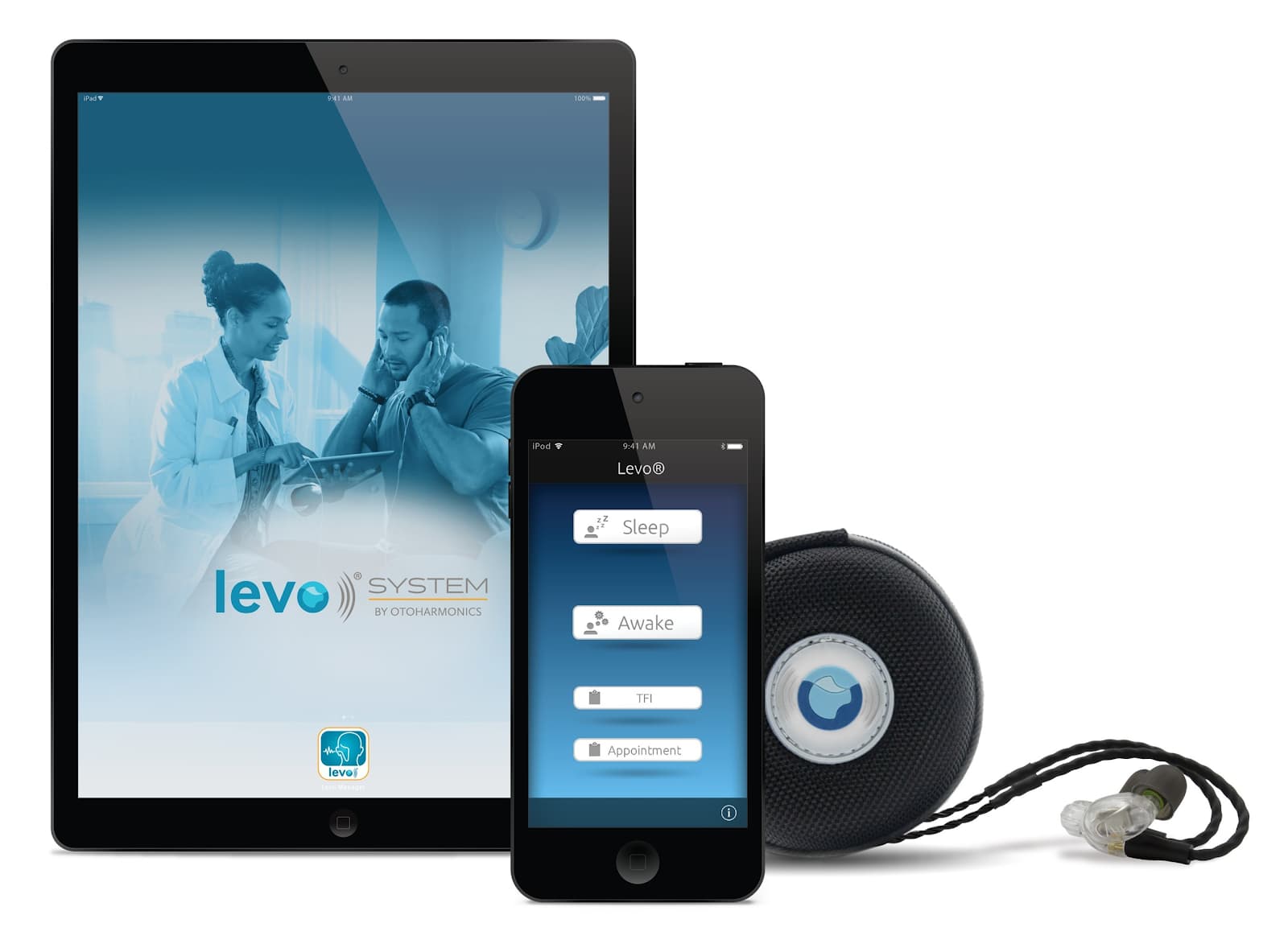 Sound therapy is a very common treatment program for those who suffer from Tinnitus. Sound therapy involves playing relaxing sounds, such as rain drops, ocean waves, or calming music, to help drown out the constant ringing and buzzing you hear in your ears. Sound therapy programs now only serve as a great way to destress and help you focus on important tasks, but have been proven to reduce the intensity of Tinnitus for many patients over time.
Hearing Aids: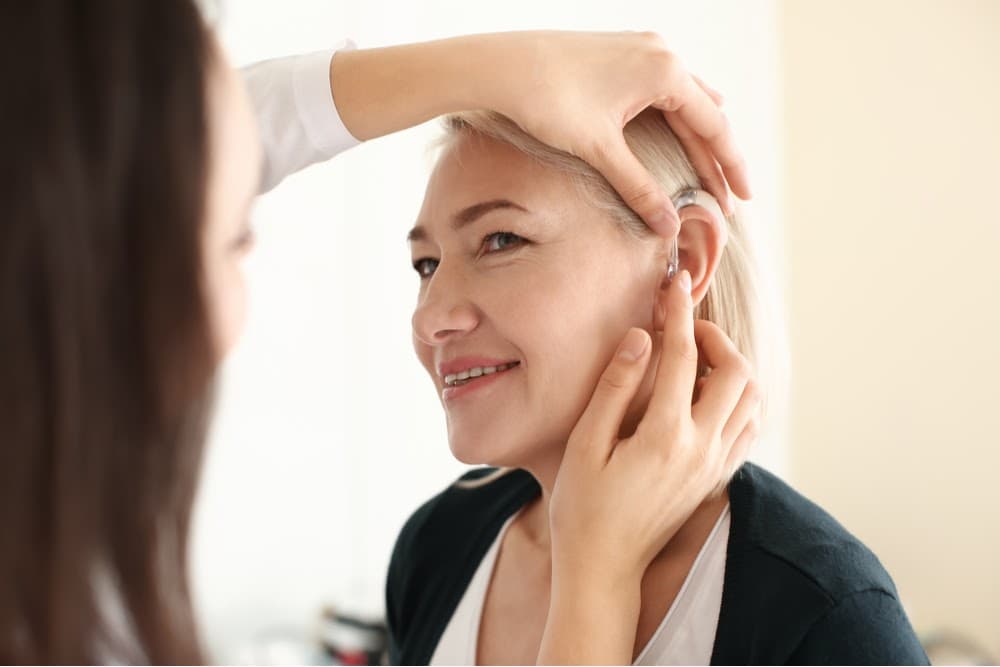 Hearing aids are often incorporated as part of sound therapy, playing music and other background noise at will if you just suffer from periodic Tinnitus episodes. However, hearing aids can be used to help treat those who suffer from Tinnitus in other ways as well. Some patients suffer from Tinnitus episodes induced by hearing certain sounds, which hearing aids can disguise by picking up other sounds in the background and using that as a white noise. The comfort of wearing a hearing aid can also help rewire your brain, which will reduce the intensity and frequency of Tinnitus episodes over time. As a result, many hearing aid manufacturers now specifically design their hearing aids with Tinnitus Retraining Therapy programs in mind.
Tinnitus Inhibitors: While they are only effective for about 70% of our patients who try it, we also have several Tinnitus maskers and inhibitors that greatly reduce the negative effects of Tinnitus. By emitting a short one minute ultrasonic frequency, many patients will find that their Tinnitus is reduced entirely relieved for a few hours or even a few days before needing to be used again. Approved by the FDA, we would be happy to assist you in trying out a Tinnitus inhibitor and seeing if it will help you find greater Tinnitus relief.
Physical Treatment Plans: While Tinnitus is primarily a problem associated with your hearing and neurological system, the rest of your body can majorly excrebrate or soften the severity of Tinnitus. That is why we make recommendations and help you make healthy changes to your lifestyle, helping you find the things that make your Tinnitus worse and introducing ways to make your hearing better. We're happy to help you figure out what changes you to make to your exercise, dietary, medication, and other physical habits that will help the rest of your body handle Tinnitus more effectively.
Tinnitus Counseling: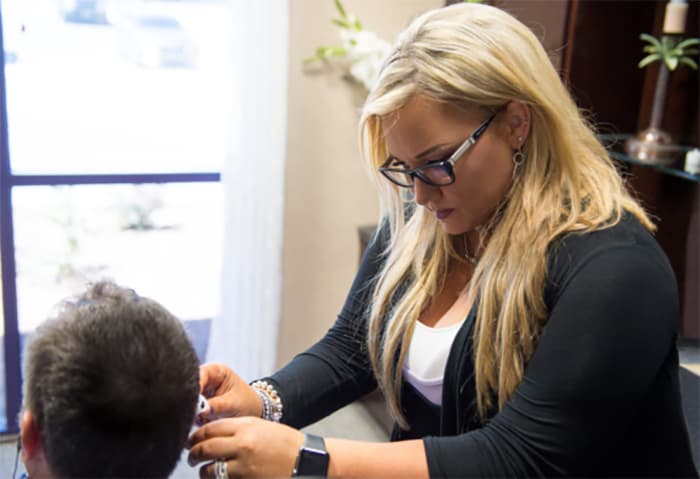 Specific sounds and physical ailments are major contributing causes to those who suffer from Tinnitus, but just as common are emotional and psychological factors as well. Because of the negative impact that Tinnitus has on patients who suffer from it, Tinnitus can also create new trauma or aggravate pre-existing trauma as well, which in turn will worsen the effects of Tinnitus overtime. Tinnitus counseling, which consists of helping you understand your situation and finding coping strategies to help you deal with your Tinnitus, is a major aspect of Tinnitus Retraining Therapy. Counseling is only as effective as the counselor you are working with, which is why we make sure our team is knowledgeable, friendly, and readily available to answer your concerns and any questions you may have about Tinnitus.
Tinnitus Relief Studio: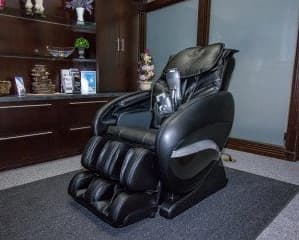 Unlike many common hearing clinics throughout the country, we have designed a unique, one-of-a-kind Tinnitus Relief Studio at our Las Vegas – Summerlin location. The studio features a range of equipment and design functions that are specifically in place to reduce the pain, discomfort, and ringing that comes with a very intensive Tinnitus cycle. This includes soft lighting, a premium massage chair, therapeutic music, and more. We invite you to learn more about our Tinnitus Relief Studio by clicking on this link.
Conclusion: Book an Appointment to Start Your Tinnitus Retraining Therapy Today!
Tinnitus Retraining Therapy has been proven by over a dozen globally recognized organizations and scholars to be an effective treatment program for Tinnitus. However, the same groups and organizations have also found that for Tinnitus Retraining Therapy to greatly reduce the effects of Tinnitus, patients need to participate in at least 12 to 24 months of TRT. As a result, the longer you wait to begin treatment, the farther out it will be before you start to see significant reductions in the discomfort that comes from your Tinnitus condition.
So don't delay! With two locations in the Las Vegas area, Hearing Associates of Las Vegas is here to help. By clicking on this link, you can fill out a contact form discussing your Tinnitus symptoms, and set up an appointment for an in-person or over the phone consultation. We'll be happy to not only help you begin a Tinnitus Retraining Therapy program, but to address all of your other hearing concerns and needs as well!