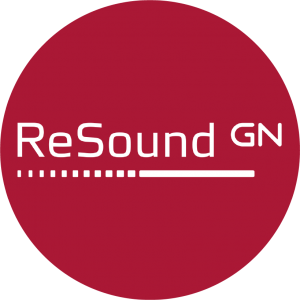 Founded in 1943, ReSound is a worldwide hearing aid manufacturer, providing their hearing aid technology to over 80 countries throughout the world. ReSound has been a trend setter for the hearing aid industry, being the first to incorporate 2.4Ghz wireless connectivity in their hearing aids. ReSound has also made great strides in making their hearing aids compatible with Apple products, being among the first hearing aid manufacturers to incorporate direct stereo sound streaming. As part of The GN Group, ReSound is just one arm of the greater GN brand that focuses on developing great audio solutions for transforming every aspect of your day to day lives.
Finding the ReSound hearing solution best suited for you can be difficult, which is why we're happy to help at one of our two clinics as part of the Hearing Associates of Las Vegas. Our family owned and operated hearing aid clinics are staffed with veteran hearing aid specialists who will help you get fitted for new ReSound hearing aids and service old models alike. If you would like to learn more or try out a ReSound hearing aid platform, be sure to contact us or schedule an appointment with Hearing Associates of Las Vegas to find the best hearing aid solution!
ReSound One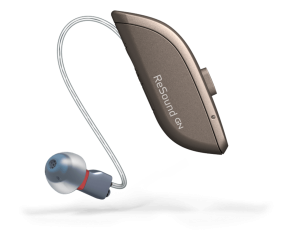 There's plenty of hearing aids out there that call themselves one of a kind, but not many live up to that kind of claim to fame to the same degree as the ReSound One. An extremely small and compact hearing aid, the ReSound one is designed to make use of the natural shape and bones within your ear for a minimal size that provides one of the most natural sounding hearing aid experiences out there. This is a hearing aid you will want to use in almost any situation, thanks to the following features:
All Access Directionality/Ultra Focus Listening: Most hearing aids are great at picking up sounds from all around you, or at just catching a conversation right in front of you. The ReSound One is a rare hearing aid that will accomplish both of these things. All Access Directionality will help you pinpoint where noise comes from in any direction, while you can turn on Ultra Focus for an enhanced one-on-one conversation even in extremely loud environments. With this combination, the ReSound One is truly a hearing aid you can use in almost any environment.
Organic Microphone and Receiver-in-Ear Design: The ReSound One boasts that it is one of the most natural sounding hearing aids on the market, and that stems largely from the M&RIE design. The microphone collects sounds from nature and the greater environment, transmitting it to the premium receiver-in-ear for a high quality sound with minimal distortion and audio quality degradation. If you hate the tinny sound that accompanies some hearing aids and just want to hear things as they're meant to be heard, the ReSound One is a great option with its stellar M&RIE design.
Full ReSound Connectivity and Control: All of the great remote, streaming, and control features included in other ReSound hearing aids are packed into the ReSound One. Connect directly to an iPhone, Android, or other smart device for direct Bluetooth Low Energy streaming, with adjustable audio options that can be set independently for each hearing aid. Make use of ReSound Assist to get personalized ReSound One hearing aid retuning without leaving the comfort of your home, utilizing either Smart 3D functionality or by connecting with a ReSound hearing aid specialist. With multiple audio profiles that can be saved or customized, you can feel comfortable with the ReSound One hearing aid no matter where you are or what you're doing.
Premium, Stylish Charging Case: The charging case used for the ReSound LiNX Quattro is also included with the ReSound One, and has been upgraded for even longer charging life. Charging is also real simple, and can be actively tracked with either the included LED lights or through the ReSound Smart 3D app. With an internal battery for the portable charger, you can even recharge the ReSound One on the go if you forget to charge your hearing aids overnight.
The ReSound One is available in eight different colors, all of which have a great finish that will make them stand out from less impressive hearing aids. The ReSound One is worn behind-the-ear, though you will be making use of an in-the-ear transmitter for optimal sound quality. If you want one of the best sounding hearing aids on the market, with extensive hearing aid controls and features, discuss the ReSound One with your hearing aid specialist.
---
ReSound ENZO 2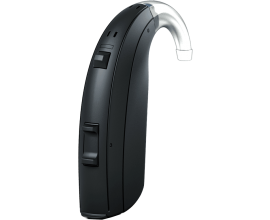 The ReSound Enzo 2 is one of the smallest hearing aids on the market, while still providing a powerful, intuitive, and versatile hearing aid platform. Whether you're in a private home setting or are living life on the go outside, you will experience amplified, balanced sound that stays crisp and clear for those with minimal to profound hearing loss alike. Some of the great features that make ReSound ENZO 2 a great hearing aid platform for everyone includes:
Superb Spatial Sense and Smart Hearing: While many hearing aids allow you to amplify and pick up sound, there aren't many that make it easier to understand the direction sounds come from. The ReSound ENZO 2 will help you focus on the key sounds around you, while still allowing you to be aware of other environmental sounds without completely muting them. With Smart Hearing, your hearing aid platform will also adapt and improve overtime, further increasing your ability to differentiate between conflicting sounds. Smart hearing will even help even those with profound hearing loss identify the many sounds around them with greater precision.
Compact Design, Stellar Battery and Durability: The ReSound ENZO 2 is designed with iSolate nanotech, which not only makes the small hearing aid sturdy but weather proof and water resistant as well. The ReSound ENZO 2 features a powerful 675 battery that, while small, will last a long time before needing to swap out thanks to the optimized hearing aid build. This is a hearing aid that is designed to sit comfortably in all sorts of ears, ensuring you have the perfect, stylish fit as you go about your day to day life.
ReSound Smart App: You can make a few small manual adjustments by clicking the buttons on the ReSound ENZO 2's body, but greater control is provided with the award-winning ReSound Smart app. You have a wide range of audio controls that will let you adjust volume, treble, bass, and more. With favorite settings and geo-tagging, you can also automatically adjust your hearing preferences depending on where you are. Lastly, with a built in Finder function, you can track down your hearing aids with the aid of your smart phone in case you forget where you've put them. The ReSound Smart App is available for mainstream smartphones, and also on Apple Watches too.
Made for Apple Hearing Aid: The ReSound ENZO 2 is one of the first hearing aids designed from the ground up for Apple products. As such, you can connect your ReSound ENZO 2 directly to your iPhone, iPad, and other MFI compatible Apple devices for direct audio streaming. Enjoy phone calls without holding your smartphone, watch your favorite TV program, or just jam out to music with superb, premium speaker level audio quality. While designed for Apple smart devices, many of these features are also available with other Android and Bluetooth-enabled smart devices as well.
The ReSound ENZO 2 is available in ten unique color options. Designed to be a comfortable wear for all sorts of ears, the ReSound ENZO 2 is available only in one, behind-the-ear style. If you suffer from mild to profound hearing loss and want a very smart-device compatible hearing aid, you will benefit greatly from consulting your hearing specialist about the ReSound ENZO 2!
---
ReSound LINX Quattro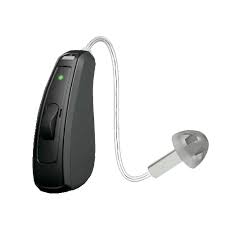 While we are surrounded by noises day after day, not all noises are of the same type or importance. Having a hearing aid that will make it easier to listen to conversations and music, while muting out the shrill and obnoxious background noises that fill the environment is vital for many people who suffer from hearing loss. For those who need a dynamic hearing solution that prioritizes separating out and enhancing the vital noises of the day, there is the ReSound LiNX Quattro hearing aid platform. Helping you stay connected in every environment, the ReSound LiNX Quattro will improve your day to day interactions with great features like:
Enhanced Sound Clarity: The ReSound LiNX Quattro is built to make all of the important and vital sounds in your life sound clearer, richer, and crisper. Whether it be for one on one conversations to picking up sounds from a far away stage, you'll have a far easier time listening in thanks to the ReSound LiNX Quattro. Furthermore, the ReSound LiNX Quattro is built with direct streaming for Apple, Android, and other smart devices, letting you listen to your favorite music, podcast, or have a phone call on the go. The enhanced audio clarity also adapts to the local environment, helping you focus on what you want to hear whether you're in a busy city or quiet home room.
ReSound Smart 3D Control: If you need to make a quick adjustment to your ReSound LiNX Quattro, one tap quick adjustments are often all you need. However, you can also set up personal profiles according to location, or just fine tune your hearing aid for the unexpected situation that you're in. The dynamic app works on smartphones, smart watches, and other smart devices, providing you with multiple options for fine tuning your ReSound LiNX Quattro hearing aid.
Personal and Remote Calibration: Making adjustments to your hearing aid often requires a trip to a hearing specialist, even if it's just a small fix you need to make. With the ReSound LiNX Quatro, you won't have make a visit in person if you just need a smaller adjustment. By using the built in ReSound Assist, you can use the ReSound 3D control system to finetune and update your hearing aid without having to waste your time at a clinic. With certain settings, you can also have your hearing care professional make adjustments over the internet for you, without them ever needing physical access to the ReSound LiNX Quatro.
On the Go, Personal Charging: A full charge at night will keep your ReSound LiNX Quatro charged up and ready for use throughout the day, but what if you need extra battery life or forget to recharge? The ReSound LiNX Quatro is designed for use with a small ReSound Charging Case, which fits in your pocket and provides charging on the go. Just 30 minutes of charging will provide 8 hours of battery life, while a full 3 hour charge will allow you to use the ReSound LiNX Quatro hearing aid for over 30 hours.
The ReSound LiNX Quatro is available in three different colors. As for the sizing and shape options, there is a receiver-in-ear, behind-the-ear, and custom completely-in-canal options all available for fitting with the ReSound LiNX Quatro. If you need a powerful hearing aid that will provide you with fantastic sound quality as you go about your day, you will definitely want to consider the ReSound LiNX Quatro hearing aid.
---
Hearing Associates of Las Vegas are here to help:
By visiting Hearing Associates of Las Vegas at one of our two Las Vegas clinics, you can get fitted and try out one of the above listed ReSound hearing aid platforms. With years of experience fitting and fine tuning ReSound hearing aids, we're also happy to help service older ReSound models as well. While we have tried to share some of the most important features and highlights of ReSound hearing aids with this page, there are some features you just have to experience personally in order to understand whether they will help with your hearing needs.
That is why we invite you to schedule an appointment and visit Hearing Associates of Las Vegas, so we can work with you to figure out what ReSound or other major hearing aid platform will be best suited to improve your hearing. Asking questions or scheduling an appointment is real simple, as you just have to visit our Contact Us link for help! We will reach out to you as soon as we can, whether to answer a simple question on how to improve your hearing aid or setting up an appointment for an in-person consultation. Whatever your needs, Hearing Associates of Las Vegas are here to help, so take care of any hearing problems you may have by scheduling an appointment today!