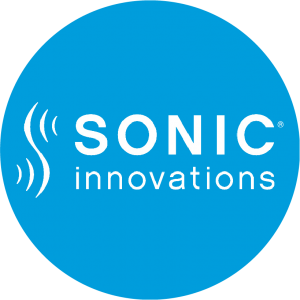 Founded in 1998, Sonic has spent the last twenty years developing premium hearing aids that have become some of the most innovative platforms within the market. Established by a team of engineers with backgrounds in digital recording, sonar systems, and microelectronics, Sonic Hearing Aids are well known due to their 4S Foundation, the goals they strive for with each of their hearing aids. The 4S Foundation Goals consist of:
Sound That's Natural
Speech Understanding in Noise
Simplicity in Everything We Do
Style That Stands Out
Every Sonic hearing aid accomplishes these objectives, but it can be difficult to tell the various Sonic models apart, along with figuring out which is best suited for your personal needs. Fortunately, we are here to help, with two clinics and hearing aid industry experts and veterans who all work together to form Hearing Associates of Las Vegas. Our family owned and operated clinics are here to help resolve all sorts of hearing related issues, from helping you determine which hearing aid platform is best suited for new wearers to servicing old models no longer covered by the manufacturer. Whether you just have a quick question or want a full in person consultation, we'll do our best to respond quickly if you just visit our
contact us
page. So, don't delay, and improve your hearing with the help of the Hearing Associates of Las Vegas!
---
Sonic Enchant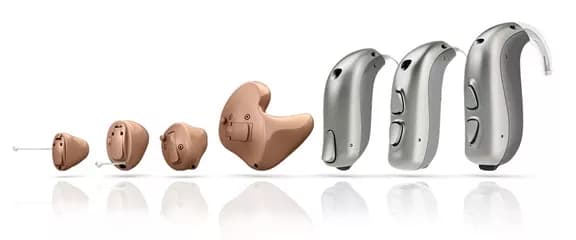 The Sonic Enchant is one of the most versatile hearing aid platforms available from Sonic, with multiple styles and technology levels to suit those with mild and severe hearing loss alike. Whether you need an entirely in-the-canal option, or something larger and easier to put on like their behind-the-ear model, the Sonic Enchant is designed to provide you with a personalized, comfortable hearing aid. Every version of the Sonic Enchant is fantastic, thanks to features such as:
Smart SoundDNA Platform: Many simple hearing aid platforms can be finicky, often requiring you to adjust or change the hearing levels depending on where you're at. The Sonic Enchant features SoundDNA, a smart device platform that allows it to adapt and automate your hearing levels wherever you go. Whether you're enjoying company at home, are in a busy conference, or just exploring the outdoors, SoundDNA will make the proper adjustments so you can clearly understand the sounds you capture more fully.
Environmental Noise Separation: As part of the SoundDNA programing, the Sonic Enchant will respond differently to specific sounds, amplifying music and conversation while muting out other background noise. The automatic programing is great, but sometimes you want to make additional adjustments on your own. Fortunately, there are five performance levels that will allow for quick changing, and even greater control with the Soundlink 2 smartphone application. Wherever you are, you'll be able to converse more easily with the assistance of the Sonic Enchant hearing aid.
Tinnitus SoundSupport: Tinnitus is a very common problem for those who suffer from hearing issues, so finding a hearing aid that has tinnitus relief options is vital. The Sonic Enchant is such a hearing aid, with sound relief options that will help you temporarily reduce the ringing you may experience when you suffer from a tinnitus episode. With just a press of a button, you'll be able to enjoy several different sound profiles that will help you handle tinnitus thanks to the Sonic Enchant hearing aid.
Soundlink 2 Smartphone Control: Thanks to the Soundlink 2 Sonic smartphone control app, you can have dynamic control over your Enchant hearing aid. If you need to make precise changes to the volume and audio detection, or you want to just try out a different hearing profile entirely, the Soundlink 2 makes it as simple as just a few taps to make your desired adjustments. Use the smartphone app to connect to TVs, tablets, computers, and other smart devices for direct audio streaming to the Sonic Enchant. With versatile Bluetooth compatibility, you won't lose access to any of your favorite electronic devices thanks to the Sonic Enchant!
There are seven colors available for the three behind the ear style models, and five colors available for the four in-the-ear style Sonic Enchant hearing aids. Every Sonic Enchant hearing aid is also available in five different technology power levels, which are designed for the following levels of hearing loss:
Sonic Enchant 20: Mild hearing loss.
Sonic Enchant 40: Mild to Moderate hearing loss.
Sonic Enchant 60: Mild to Severe hearing loss.
Sonic Enchant 80: Mild to Profound hearing loss.
Sonic Enchant 100: Mild to Profound hearing loss with extra sensitivity.
If you want an easy to wear hearing aid that requires little micromanagement for enhanced hearing capabilities day after day, you should consider the Sonic Enchant hearing aid.
---
Sonic Celebrate

The Sonic Celebrate is a hearing aid specifically designed for those with profound hearing loss that need a simple platform to enjoy their everyday lives. As a result, the Sonic Celebrate provides an extra emphasis on speech processing, increasing clarity while blocking out background noises that get in the way of conversation. The features that allow for enhanced speech clarity include:
Omnidirectional Listening: The Sonic Celebrate enhances face to face conversational hearing, but odds are just as many of your conversations will come from another direction. That is why the Sonic Celebrate has omnidirectional hearing, allowing you to pick up and precisely locate noise from anywhere within a 360 degree rotation. With the Sonic Celebrate, you'll enjoy enhanced conversational hearing even if you're talking with someone behind you or across the room.
Varied Noise Reduction: Just as important as amplifying conversational sound is muting out unimportant sound that gets in the way of meaningful words. The Sonic Celebrate has several noise guards and noise reduction programs that ensure that the day to day background noises won't get in the way of talking with your friends. From soft noise to wind noise, to reverb reduction and adaptive feedback cancelers, the Sonic Celebrate is a fantastic hearing aid for those who need help focusing on a conversation.
Data Logging Environmental Programing: The noise reduction and canceller systems are all helpful, but it's also true that the assistance you need is going to vary from location to location. Fortunately, the Sonic Celebrate allows you to save custom environmental profiles, making adjustments to your preferred settings every time you visit the geocached location. Alternatively, there is also the data learning functionality which takes a broader view of your adjustments so it can more easily predict your preferences when you visit somewhere new. This Sonic Celebrate is also fully functional on an airplane as well, with a custom airplane environmental setting for those who travel with their hearing aid.
Weatherproofed for Life on the Go: The Sonic Celebrate has a IP58 rating, ensuring that you can confidently use your hearing aid even on a stormy weather day. The sealed design protects the hearing aid against dust, earwax, sand, and other substances and elements that might occasionally try to lodge itself in your hearing aid. Whichever hearing aid style you go with, the Sonic Celebrate is built to ensure that you can train, hang out, and enjoy your typical day to day life with this durable hearing aid.
The Sonic Celebrate is available in two behind-the ear styles with six different colors, and four in-the-ear styles with five different colors. The Sonic Celebrate only features two technology levels, the Sonic Celebrate 80 and 100, making this a hearing aid mostly intended for those with severe (the 80/100) to profound (the 100) hearing loss. If you are interested in a hearing aid with dynamic speech enhancement functions, you should consult your hearing aid specialist about the Sonic Celebrate.
---
Sonic Cheer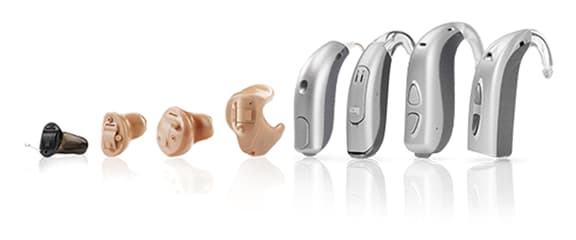 The Sonic Cheer is a hearing aid built for those with mild to moderate hearing loss, featuring extensive compatibility with Smart devices to enhance everyday technology use. Smartphones, computers, tablets, and other Bluetooth devices all connect well with the Sonic Cheer, a hearing aid that will improve not only speech clarity, but music clarity as well. There are a number of great features that will allow you to more fully enjoy concerts, movies, and other events with the Sonic Cheer hearing aid, features like:
Envelope Focus Range Compression: Some hearing aids are unable to properly compress music, leading to even beautiful masterpieces to sound scratchy and dull. The Sonic Cheer features Envelop Focus range compression that allows it to distinctly detect, separate, and compress very high and low frequencies alike. That way, the Sonic Cheer is able to make every song you listen to sound natural, crisp, and rich for a more enjoyable listening experience.
Frequency Transfer Speech Processing: Just as certain music can sound drowned out on a hearing aid, people with certain pitches and accents have a hard time getting picked up by basic hearing aids. Similar to the Envelope Focus feature, the Sonic Cheer has Frequency Transfer Speech Processing, which allows it to more easily capture and amplify low and high frequency speech alike. With the Sonic Cheer, you'll be able to once again talk to friends you may have been unable to understand with lesser hearing aids.
Adaptive Directional Microphone System: The adaptive directional microphone system is effectively two features in one. When you have someone standing in front of you, you'll be able to focus on their speech while muting out background noise. However, if someone else around the room wishes to converse as well, the microphone will adapt to incorporate their voice into the conversation while continuing to mute other sounds. With the adaptive directional microphone system, the Sonic Cheer ensures you can amplify conversations in every situation, from a private meeting to a busy conference room with multiple speakers.
Binaural Coordination: Binaural coordination refers to the rapid synchronization that empowers the Sonic Cheer. With constant, stable connectivity, sound you pick up in one ear will be transmitted to the other ear almost instantly, making it easier to identify where a sound is coming from when you hear something important. Binaural Coordination also allows for multiple sounds to be processed at the same time, making the Sonic Cheer a great option for one on one occasions, parties, and larger group events alike.
The Sonic Cheer is available in four behind-the-ear styles, with six different colors, and four different in-the-ear styles, with five different colors. There are three technology levels for the Sonic Cheer, consisting of the Cheer 20 (mild hearing loss), Cheer 40 (moderate hearing loss), and Cheer 60 (moderate/severe hearing loss). If a tech friendly, feature heavy hearing aid is important to you, consult your hearing specialist about the Sonic Cheer hearing aid platform.
---
Sonic Journey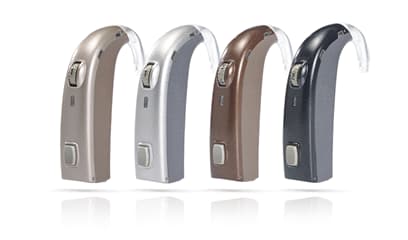 Do you suffer from extreme hearing loss, but want a sturdy hearing aid that will allow you to enjoy hiking, biking, and other common recreational activities? Then you will want to learn more about the Sonic Journey, a hearing aid built for athletes and high adventure enthusiasts who don't want to be restrained by hearing loss. Outside of a solid build that will ensure you can go almost anywhere with the Sonic Journey hearing aid, you can also expect great features like:
Automatic Sound Suppression: Utilizing similar sound suppression systems featured in other Sonic hearing aids, the Sonic Journey platform will block out most of the ambient and background noise you encounter day to day. Wind, whistling, and other constant or high pitched noises will get muted out, allowing you to push yourself while you train and explore the world without having to take out your hearing aid.
Short/Long Distance Noise Amplification: The directional microphone incorporated into the Sonic Journey hearing platform is built for short and long distance conversations alike. Whether sharing notes with a person in the office, or trying to hear commands yelled across the face of a cliff, you'll find it much easier to listen to other people with the Sonic Journey. As an added benefit, you also won't have to reposition yourself for optimal hearing with the Sonic Journey, unlike a few other basic hearing aid platforms.
Reverb and Feedback Reduction: One of the issues with basic hearing aids is that, while they can mute out noise, they can't do anything to absorb the reverb that comes with being in a very loud environment. The Sonic Journey has built in reverb and feedback reduction that will not only help you mute out background noise, but will reduce the intensity of vibrations felt with your hearing aid device. You can enjoy going to church, a concert, or any other cramped environment and still make great use of the Sonic Journey without worrying about the vibrations destabilizing the Sonic Journey hearing aid.
Environmental Adjustment: For those who are going on long exploration trips, the Sonic Journey is well suited for mountaineering and other recreational activities. The environmental adjustment settings will adapt per location and elevation, with great responsiveness whether you're visiting a new city or trying a hike for the first time. Custom environmental profiles further allow you to customize your hearing aid settings, further enhancing the comfort and assistance you'll receive from the Sonic Journey hearing aid.
The Sonic Journey is available in four different colors, and can only be worn as a single style behind-the-ear hearing aid. There are two technology levels for the Sonic Journey, available as the Sonic Journey 40 (for moderate to extreme hearing loss) and the Sonic Journey 80 (for extreme to profound hearing loss). If you are in need of a hearing aid that won't disrupt your active lifestyle, be sure to talk to your hearing aid specialist about the Sonic Journey hearing aid platform.
---
Sonic Charm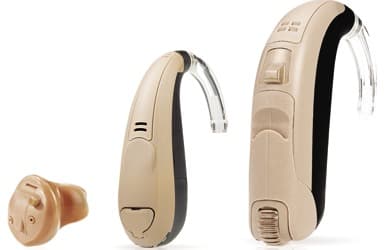 The Sonic Charm hearing aid platform is an older and more affordable hearing aid platform, while still providing a moderate number of features to enhance your general hearing. If you are looking to save money, and you only have mild to moderate hearing loss, the Sonic Charm is going to have everything you effectively need in a hearing aid platform. There are a few great features worth highlighting in this mid-level hearing aid platform, including:
Speech Priority Noise Reduction: While not quite as advanced as the noise reduction found in newer Sonic models, the Sonic Charm is designed to help mute out the sounds you don't need to hear. Wind noise reduction ensures you can wear the hearing aid outside and feel comfortable with the Sonic Charm, while soft noise and adaptive feedback cancellers allow for improved inside use as well. There are also multiple levels of soft noise reduction, allowing you to decide how much ambient noise you want to block out with the Sonic Charm hearing aid.
High Speed Speech Processing: 8 hHz frequency bandwidth and speech variable processing allows you to better understand all sorts of conversations. Whether you're trying to isolate a single voice with the fixed directionality microphone, or trying to follow along in a larger meeting or conference with the adaptive directionality programming, you'll find speech clearer with the Sonic Charm. Thanks to the high speed internal processing, you also won't encounter any noticeable delay when it comes to the hearing aid capturing and amplifying sound.
Long Lasting Battery Life: While it may be lacking in features, the more simply designed hearing aid benefits from a longer lasting battery life. While the Sonic Charm is not available in a rechargeable option, the 10, 312, and 13 disposable batteries all allow you to use the hearing aid for long periods of time without worrying about it dying out. Carry the spare battery or two on you, and you'll be able to enjoy the Sonic Charm day after day without having to worry about any disruptions to your hearing.
Extensive Hearing Aid Accessory Compatibility: If you do wish to improve the functionality of your Sonic Charm, you can buy a number of accessories from Sonic to have a wider range of performance abilities. Whether it be to directly connect to your TV or audio player, or to make use of entirely hands free calling, you can focus on the most important features you need for your Sonic Charm with a wide accessory lineup.
The Sonic Charm is available in six different colors if you select one of the two behind-the-ear style variants, and five different colors if you select one of the four in-the-ear style variants. There are just two technology levels for each of the Sonic Charm hearing aids, with the Sonic Charm 40 (for those with mild hearing loss) and the Sonic Charm 60 (for those with moderate hearing loss). If you are looking to save some money and don't need too many standout features from a hearing aid, you should discuss the Sonic Charm with your hearing aid specialist.
---
Sonic Pep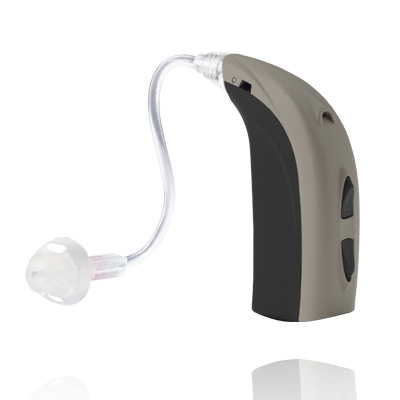 The Sonic Pep is the most basic, simple, and affordable hearing aid platform currently available as part of the Sonic hearing aid lineup. This is a very straightforward hearing aid to use, and while it may not have too many features the ones it does have are enough for those with mild hearing loss. Due to its performance, this is a popular pick for those trying out hearing aids for the first time, but typically not recommended for long time hearing aid users. The key features which we wish to highlight include:
Noise Management System: While being the most basic hearing aid available from Sonic, the Sonic Pep still features three systems that form its greater noise management system. Soft noise reduction will mute out ambient noise captured with the hearing aid, while adaptive noise reduction targets higher frequencies and loud noises depending on your environment and situation. With the adaptive feedback canceller, you won't have to worry about the shrill whistling that can occur when noises that are very close to the hearing aid are captured. While basic, the noise management system will still provide noticeable hearing improvement if you wear the Sonic Pep hearing aid.
Dual Directional MIcrophone: A somewhat uncommon feature in a very basic hearing aid platform, the dual directional microphone will provide hearing support for multiple conversations and sound sources at the same time. With the microphones working together, sounds which the Sonic Pep recognizes as voices or music will be amplified, with all other captured noise muted to prevent conversational disruptions. You won't have to stand out at a party or conference when you're wearing the Sonic Pep hearing aid thanks to the dual directional microphone.
Multiple Memory Programs: A universal program helps the Sonic hearing aid adapt to any new environment you wander into, but custom memory profiles allow for quick preference changing once you've set them up. While not as advanced as environmental profiles and geocaching, the basic programming works well in allowing you to switch to your preferred hearing settings with just the touch of a button. If you have a specific plate or type of destination you visit frequently, make sure to set up your own custom sound profile with the Sonic Pep.
Interchangeable Comfort Components: One of the key benefits with older hearing aid platforms like the Sonic Pep is the easier, more versatile component customization. You can select five different capture domes, two different tube lengths, and from several other components with the Sonic Pep. With this component customization, you can design a Sonic Pep hearing aid tailored for a truly snug and comfortable fit.
The Sonic Pep is available in four different colors for its two behind-the-ear style hearing aid and three inside-the-ear hearing aid wearing styles. All five wearing styles are only available as a Sonic Pep 20, and while there is an extra powerful variant, the Sonic Pep is recommended for those with mild hearing loss only. If you are new to hearing aids and want a simple to use platform that will help you adjust to wearing a hearing aid, we would suggest discussing the Sonic Pep with a specialist.
---
Hearing Associates of Las Vegas are here to help:
The hearing aid platforms above are the Sonic hearing solutions which we can currently help you get fitted with or even try out. With our years of experience servicing Sonic hearing platforms, we can also troubleshoot and resolve problems with older Sonic devices as well. However, Sonic hearing aids can be complicated, so determining which platform is best for you or trying to optimize its performance can be difficult by just looking at the features and specs alone. Hearing aids often won't respond the same way to different people, which is why figuring out which hearing aid is best suited for you is so difficult.
Fortunately, Hearing Associates of Las Vegas are here to help! With two clinic locations in the Las Vegas area, we have experienced teams of hearing aid specialists who are happy and ready to help you find the best hearing aid solution. Whether you are just starting to suffer from hearing loss or have been struggling with it for years, our experts will work with you to find a hearing aid solution that enhances your daily hearing while remaining comfortable and easy to wear. To reach out and ask us a question, or to set up an in person consultation, we invite you to reach out to us by filling out our simple form available at our Contact Us page, which you can access by clicking on the link. We'll review your message and reach out to you as quickly as we can, and are happy to discuss and service Sonic hearing aids, along with several other popular brands. So, if you suffer from hearing loss and need assistance determining which hearing aid platform will assist you the most, be sure to visit Hearing Associates of Las Vegas to address your hearing needs.