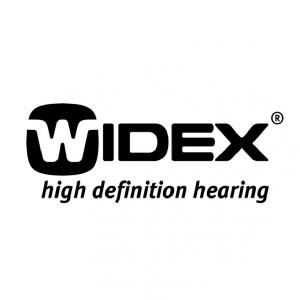 Widex is one of the top hearing aid manufacturers in the world, a long staple in the industry since their first Widex 561 released back in 1956. Founded by Erik Westermann and Christian Topholm, the family owned and operated company has established a history of being a hearing aid innovator. In 1995, Widex was the first company to release a fully digital hearing aid with the Widex Senso, and in 2005 the Widex Inteo was the first hearing aid that provided a tailor made sound experience for the user. With new models taking digital sound processing to new heights, and a company focused on environmentally CO2 neutral operations, Widex is a well regarded hearing aid manufacturer for many reasons!
At Hearing Associates of Las Vegas, we are excited to help you find the perfect Widex Hearing Aid for you. Our family-owned and operated clinic has two locations in the Las Vegas area that will help you learn, try out, and fit Widex hearing aids. The below listed Widex hearing aids are the Widex options we currently fit, but thanks to our years of experience we're comfortable servicing older Widex hearing platforms as well. So, if you are interested in a Widex hearing aid, we recommend you come visit Hearing Associates of Las Vegas today!
---
Widex MOMENT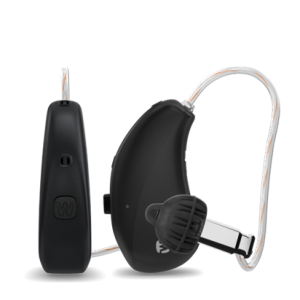 Two major problems with hearing aids is that they don't quite sound natural enough, and that there is a jarring delay in the time it takes for a hearing aid to process sound it has picked up. These are the two major areas which the
Widex MOMENT
have focused on resolving, offering fantastic sound quality while being up to ten times faster than some premium hearing aid platforms. Some other great features built into the Widex MOMENT include the following:
Rapid COMPASS GPS Fitting: Fitting a hearing aid and recalibrating it as your hearing shifts and adjusts is often an annoyingly time consuming process, and often difficult as well. That is why Widex has focused hard to develop their latest version of the COMPASS GPS fitting software. With COMPASS GPS fitting, you'll just have to follow three simple steps before your MOMENT will be fitted and ready for use.
Compact, Long Lasting Rechargeable Battery: Rechargeable batteries are often long lasting, but they're typically rather large and heavy. Replaceable batteries are quite small, but they don't quite last as long and can be tedious to swap out. The Widex MOMENT aims to be better than both with a compact, rechargeable lithium-ion battery. With the lithium battery, the result is that the MOMENT will provide many hours of assistance, while also being extremely easy to recharge when not in use.
Advanced Nano Coating: Afraid of water leaking into your hearing aid, or worried the hearing aid might break if accidentally dropped? The Widex MOMENT is built with an advanced, water-resistant nano coating that significantly reduces the chance of suffering moisture damage. With a connector o-ring, durable mic, and new mic inlet design, this hearing aid is built tough and with very few gaps to worry about moisture seeping into.
Versatile Connectivity and Control: Real time machine learning helps the Widex MOMENT improve its listening profile day by day, but you also have several direct control and connectivity options as well. Both the MOMENT app and TONELINK app are compatible with the Widex MOMENT, giving you the ability to dictate precisely what you want to hear day by day. DEX and 2.4GHz compatibility are also induced, allowing you to directly stream a variety of electronic audio devices as well.
The Widex MOMENT is currently available in a wide range of thirteen color options. The Widex Moment is available in six different styles, including three in-the-ear and three behind-the-ear sizes. For those who suffer from minimal to severe hearing loss alike, you will want to consider the Widex MOMENT hearing aid.
---
Widex EVOKE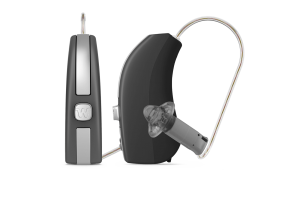 Having a hearing platform that will respond differently to different sounds and occasions is important, which is the major focus for the Widex EVOKE hearing aid. You can use your connected hearing aid application to control the EVOKE with just a press of a button, or leave it to automatically adjust to the typical day to day sounds you'll encounter. Able to differentiate between classical music and rock, to a private conversation to a rambunctiously loud party, the Widex EVOKE will be able to keep up and even learn from the sound environments you encounter. Everytime you wear and hear something with the Widex EVOKE, it will be a little bit smarter and able to predict your preferred listening settings as you wander into specific environments. This is the first machine learning hearing aid, though there are a few other great features with the Widex EVOKE you'll want to know about, including:
Global Sound Learning: While your personal device will learn and adapt thanks to the sounds you encounter on a day to day basis, that isn't the only avenue it's learning from. The Widex EVOKE is connected to the greater world wide network of Widex users, collecting data anonymously to learn more about listening habits. That way, even when your Widex EVOKE is not in use, it's finding ways to improve itself for your next listening experience.
Automatic and Manual SoundSense Function: Do you want to further personalize your automatic SoundSense responsiveness without having to look for new sounds? Then make use of manual SoundSense learning to help you personalize your listening experience. You will be given two sound options to choose from, and will be asked which option you prefer. Selecting your preferred option will lead to automatic sound profile adjustments based upon the pattern you create through the service. You can train your SoundSense profile as often as you like, so keep at it until your Widex EVOKE sounds great.
Lifelike Sound and Noise Cancelation: The EVOKE is designed specifically to make everyday sounds come off as more natural, Widex working hard to remove the distortion that comes with picking up a trickle of water or the echo of your foot steps. Hearing aids can also often pick up too much sound, which the EVOKE strives to avoid in part with its built-in controller. If you find yourself distracted or unable to properly listen to a conversation due to the noise around you, just change a couple settings and you'll pick up every subtle detail of a conversation with the Widex EVOKE hearing aid.
Versatile Connectivity: The EVOKE application has been designed from the ground up for use with the Widex EVOKE, helping you control and keep track of the hearing aid. IF you want to interact or connect to other electronic devices directly, you can also make use of the TONELINK app for great control over key functions. DEX compatible devices can all be connected directly to the Widex EVOKE as well, providing further support for streaming and audio listening.
The Widex EVOKE hearing aid is the most customizable platform from Widex, with sixteen colors, six behind-the-ear models, and four in-the-ear models. There are also four different tiers of the EVOKE available, designed for the following users:
Basic 110: Affordable, entry level option with automatic hearing adaptation and three listening categories. Best for those with minimal hearing loss.
Standard 220: Four listening categories along with automatic adaptation and environmental memory. Best for those with minimal to moderate hearing loss.
Advance 330: Seven listening categories, with an emphasis on understanding speech and outdoor recreation. Best for those with minimal to severe hearing loss.
Premium 440: Fully autonomous Widex hearing aid with eleven listening categories. Best ability to understand speech, along with industry-leading wind noise reduction. Built for those with any kind of hearing loss and want an extremely adaptive hearing aid.
With plenty of colors, sizes, styles, and features to choose from, the Widex EVOKE is one of the smartest, most responsive hearing aid platforms on the market.
---
Widex CUSTOM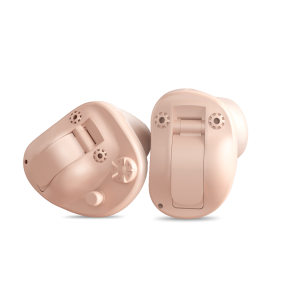 An evolution of the popular Widex UNIQUE hearing aids, the Widex CUSTOM hearing aids offer discrete sizing and new fitting options that will help you hear without sacrificing performance. This is the hearing aid option best suited for those who want to capture the wide range of sounds you will encounter throughout the day, but with a hearing aid that won't distract people when you're talking to them. There are a few great features with the Widex CUSTOM, including:
Automatic Detection: Manual volume control is available, but you can also set the CUSTOM for automatic adjustment as well. That way, you can enjoy improved hearing with the CUSTOM hearing aid and focus on what's going on in your life, without having to make micro adjustments every few minutes like some other hearing aids.
CAMISHA Fitting: CAMISHA is the laser development technology that helps the WIDEX CUSTOM have such a great fit. If you want something that's built specifically for your ear and is so discreet most people you encounter will never even notice you have a hearing aid, the Widex CUSTOM is the hearing aid for you.
Rapid Battery Changing: Some hearing aids have a secure battery that's hard to change out, or a battery that's easy to swap but with a short life span and falls out easily. The Widex CUSTOM has the best of all worlds with a hard locking battery that can also be popped out in seconds after you make use of its long battery life.
DEX Communication Device Compatibility: If you have a DEX compatible device, you will find great connectivity with the Widex CUSTOM. Improve your television, mobile, landline, or other audio equipment listening experience with the WIDEX Custom.
The Widex CUSTOM is currently available in three color options. It is an in-the-ear style hearing aid only. If you suffer minimal to moderately severe hearing loss, you will want to consider going with the Widex CUSTOM hearing platform!
---
Widex SUPER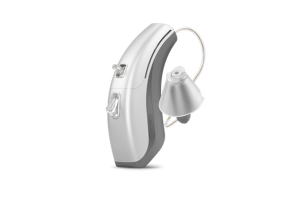 The Widex SUPER is a powerful, in-the-ear receiver that is built with long lasting power and superior listening capabilities. Whether you're trying to enjoy your TV or radio, or you need assistance when you head to work or a busy restaurant or event, you will have the sound support you need with the Widex SUPER. With a powerful 675 battery, this is also a hearing aid you can use for up to three weeks without having to recharge! Some of the other great features we want to highlight include:
Front to Back Listening: Some hearing aids aren't great at providing you contact of where sounds are coming from, so Widex made sure you have correct audio contextualization to emphasize which direction you're hearing from. With the Widex SUPER earpiece, you'll be able to pick up sounds near and far, ahead and behind you, allowing you to keep up and be aware of everything that is going on around you.
Audibility Extender: The SUPER has a promise that you may even start to hear sounds you've never heard before, and we believe it thanks to the Audibility Extender technology. The Widex SUPER will not compress high pitched audio it picks up, but instead adjust the pitch so that you have an easier time understanding it.
Natural Listening: Poorly made ear pieces may be great at picking up sounds, but they often distort, compress, or otherwise unnaturally alter the sounds it helps you hear. The Widex SUPER is specifically designed to help conversations, music, and the other sounds it picks up sound more natural. You won't have to worry about your friends and family sounding robotic when using the Widex SUPER!
Weather Resistant Design: Having an earpiece you can use in any weather is important, since you can't just pause your life on snowy or rainy days. With the Widex SUPER, you can comfortably wear your hearing aid and expect the same great performance no matter the weather you may encounter.
The Widex SUPER is currently available in thirteen color options. It is available in three in-the-ear/in-the-canal styles, along with six behind-the-ear sizes. There are also two versions of the Widex SUPER, with the following advantages and disadvantages:
VS SUPER 220: Smaller, compact, more affordable. Well suited for home use, classroom settings, and one on one conversations. Not great for the outdoors or very loud events or social gatherings.
VSD SUPER 440: Larger, heavier, but more durable. Well suited for indoor and outdoor use, including prive settings and large, public events. More expensive, premium hearing aid option.
If you suffer from severe to profound hearing loss, the Widex SUPER is the hearing aid platform that you will want to consider!
---
Widex CROS – BiCROS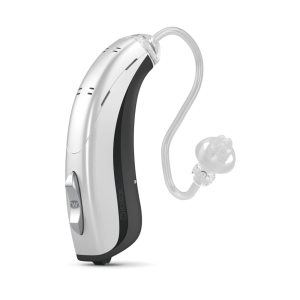 Not everyone suffers from hearing loss the same way, or even the same from ear to ear. For those who are deaf in one ear and have no hearing loss in the other, there is the Widex CROS hearing platform. Alternatively, if you are deaf in one ear but suffering from a degree of hearing loss in the other, Widex also has the BiCROS hearing solution. The CROS series is designed to provide you with superb sound quality with no distortion, linking the ear pieces together to stream sound from one sound to the other while reducing the head shadow effect. There are a few other important features included with the Widex CROS platform, including:
DREAM Range of Fitting: The CROS/BiCROS is combined with the DREAM family to help you find the perfect hearing solution for you. With the aid of a healthcare professional, you'll find the perfect model from the wide lineup in order to have a hearing aid that accommodates your personal level of hearing loss.
Multi-Directional Hearing: If you are deaf in one ear, it can be extremely difficult to locate the precise location from where sound is coming from. With a hearing aid in your deaf ear transmitting to your working one, the CROS system is designed to help you overcome this hurdle. You won't have to turn your head anymore to get a better read on the direction the sound comes from with the Widex CROS/BiCROS hearing platform.
Long Lasting Battery: Hearing aids already have a limited lifespan, and CROS hearing platforms often drain even quicker than your traditional hearing aid solution. Widex focused on including battery saving technology that allows the CROS to operate at just a third of the power of other hearing aid solutions. If battery life is one of your biggest concerns in a CROS hearing solution, you will want to consider the Widex CROS/BiCROS options.
Simple to Use Hearing Platform: It's very easy to use and wear the CROS/BiCROS solutions, as they work just like a typical behind-the-ear hearing aid. You won't have to worry about echoes, noise distortion, or other glitches that are typical of a CROS hearing platform. Whether it's listening to see where traffic is coming from or following a conversation, you won't have a problem listening with the Widex CROS/BiCROS solutions.
The Widex CROS is available in three different colors. Any Widex DREAM behind-the-ear, and a couple other Widex behind-the-ear hearing platforms, is available in a CROS/BiCROS solution. So, for those who have uneven hearing loss, Widex provides a superb CROS/BiCROS hearing platform that is very well suited for those who have a deaf ear already.
Widex Pediatrics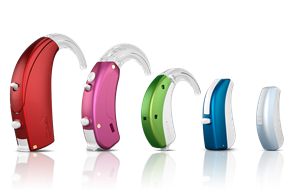 Finding the right hearing aid for children can be difficult, but not with the Widex Pediatrics lineup. The Widex Pediatrics are child friendly versions of the adult EVOKE, BEYOND, UNIQUE, and other great Widex hearing aids used for adults. Built with a comfortable but child friendly fit that kids can grow into and continue to use as teenagers, there are several different reasons you will want to consider the Widex Pediatrics hearing aid for your child. Some key features include the following:
Dynamic Sound Processing: The Widex Pediatric hearing aid has nine different sound profiles that will provide automatic adjustment depending on your child's situation. One profile will help your child hear better in a classroom, while another will help your child listen to friends as they play outside on windy days. Widex has worked hard to help the Pediatric hearing aid sound natural for your child, no matter their situation.
2.4 GHz connectivity: As kids grow up, technology will matter more and more in their personal lives. That's why Widex has made sure that their Pediatric hearing aids would have direct streaming capabilities, with direct streaming with 2.4 GHz iPhones and iPads. This connectivity is versatile, and should work with the majority of phones, computers, consoles, TVs, and other devices that rely on a 2.4 GHz connection.
FM+DEX Flexibility: To help your kids listen even better at school, the Widex Pediatric hearing aids are also compatible with FM and DEX receivers. If the teacher wears a FM receiver, your child can get a direct steam directly into their Widex Pediatric hearing aid. The Widex Pediatric can also be used for telecoil for loop systems, or as headphones with the use of a direct audio input plug.
Baby Sizing: Finding a good hearing aid for children is difficult, but finding one for a baby is even more rare. That is why the Widex Pediatric lineup also includes the Widex BABY hearing aid, which is built to be lightweight but tough with babies in mind. The Widex BABY is comfortable enough that if you need a hearing aid that a baby can wear all day long, definitely consider the Widex Pediatric BABY hearing air.
The Widex Pediatrics hearing aid is currently available in five different colors. It is available as a behind-the-ear and receiver-in-canal option. If you have a child or teen looking for a cool yet comfortable hearing aid, you will want to consider the Widex Pediatric hearing aid.
Hearing Associates of Las Vegas are here to help:
This has been a simple highlight of the major styles and features provided by Widex hearing aids, but you may have lingering questions about Widex hearing platforms. Furthermore, while features and specs will help you get a good feel for what you might be interested in, there's nothing better than coming in to try a hearing aid to see if it's well suited for you.
That is why we visit you to visit one of our two Hearing Associates of Las Vegas locations. We will be happy to answer any questions you may have about Widex in person, and are here to help you find the best hearing aid solution that will fit your needs. If you own any of the older Widex hearing aid models, our hearing specialists can also help you, either with their repair or help you choose a new model. Because, no matter if you struggle with tinnitus, profound hearing loss, or other hearing issues, our hearing specialists can find you the right hearing aids for your needs.