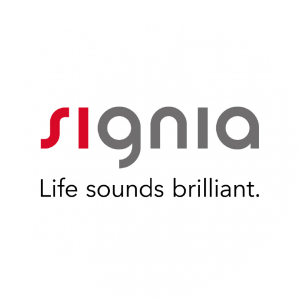 Signia is a relative newcomer to the hearing aid industry, but they are quickly making a name for themselves with their brilliant, powerful, and comfortable hearing aid lineup. Their rapid growth is due in large part due to their affiliation with Sivantos, Inc. one of the leading worldwide manufacturers of hearing aids. With over 140 years of experience and hearing aids available in more than 120 different countries, Signia is now considered one of the major staples of the hearing aid industry.
With many different hearing aids to choose from, it can be difficult trying to select the Signia hearing aid platform that will best improve your hearing. That is why we're here to help, with two different hearing aid clinics you can visit that form Hearing Associates of Las Vegas. Our family owned and operated clinics are staffed with experts and veterans of the hearing aid industry, all of whom are happy to help you get fitted with a new Signia hearing aid or to service an older model. So, if you are interested in a Signia hearing platform or would like to even try one out for yourself, be sure to contact us or schedule an appointment with Hearing Associates of Las Vegas for an email, phone, or in person consultation today!
Signia Insio Nx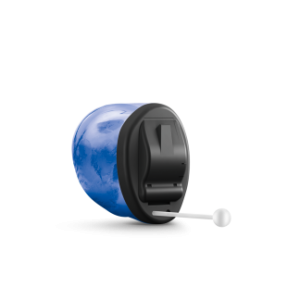 The Signia Insio Nx is the latest Insio hearing aid, and is tailor made to fit your ear and counteract hearing loss with a powerful but compact and comfortable hearing aid. The Insio Nx is very small, and is designed so you will hardly remember wearing it until you realize where your improved hearing must be coming from. Despite its tiny size, there are a number of great features also built into the Signia Insio Nx, including:
Powerful, Dynamic Microphone: Having face to face conversations with people is one of the major priorities of hearing aids, picking up the words you want to listen to while muting out background noise. That is the central design of the Signia Insio Nx, with a sensitive microphone that will help you hear everything being said to you while reducing any background noise you might be catching with the Signia Insio Nx. The speaker is built to support several volume levels, allowing those with mild to severe hearing loss to both make use of the Signia Insio Nx.
Durable, Easy to Remove Design: Wax, water, and other particles and liquids can all damage common hearing aids, but not the Signia Insio Nx. The small hearing aid is almost entirely sealed, with different guard options to help you find a tight but comfortable to wear hearing aid. The Insio Nx also has a removal cord, allowing you to easily pull out your hearing aids when you don't need to use them, and vents that will further reduce discomfort while in use, especially on windy days.
Tinnitus Therapy: Tinnitus is a very common problem for those with hearing loss, which is why the Signia Insio Nx features several therapy programs to counteract any ringing episodes you experience. Five static noise types and four ocean wave signals are incorporated into the hearing aids, with a therapy signal only or mixed static/wave mode both available as well. Whatever your preference, the Signia Insio Nx will provide soothing, relaxing sounds you need when your ears start to ring.
touchControl/myHearing Connectivity: It may be a small hearing aid, but you will still have great control thanks to the touchControl application that's compatible with your Signia Insio Nx. With this smartphone app, you can adjust the volume, bass, treble, and other aspects of sound at just the touch of a button. Additionally, with myHearing application compatibility, you can also enjoy special listening exercises or consult a digital manual to make the most of your hearing aid. myHearing will also allow you to connect to hearing care specialists from your phone, allowing you to troubleshoot your hearing aid and make adjustments without having to even visit a clinic in person.
The Signia Insio Nx is available in eight different colors, or four colors for each of the two wearing styles. Both Signia Insio Nx models are worn inside the ear, with a completely-in-canal (CIC) and invisible-in-the-canal (IIC) options both available from Signia. For those who suffer from mild to severe hearing loss, you will have a discreet but powerful hearing aid solution with the Signia Insio Nx hearing aids!
---
Signia Silk Nx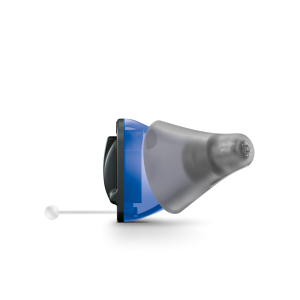 Having a compact, small, and comfortable hearing aid that doesn't compromise on sound quality is a difficult balance to find, but that is what the Signia Silk Nx achieves. Now 20% smaller than previous hearing aids, the Signia Silk Nx is built for those who want to enjoy music, Television, and the other wonderful background noises in life without dealing with a cumbersome behind-the-ear hearing aid. There are also a few other features that the Silk Nx has to improve your hearing, such as:
Crystal-clear Noise and Speech Quality: Whether you're having a private discussion with a single conversational partner, or hoping to take part in a stacked conference, you will be supported by the Signia Silk Nx. Speech Quality is a feature that prioritizes speech clarity in all situations, while Sound Clarity is the aim to reproduce natural, lifelike sound no matter your environment. Whether you're attending a concert or just want to chat with your family, you will find your hearing improved with the assistance of the Signia Silk Nx.
Full Ultra HD e2e Broadcasting: A major problem with many hearing aids is that they are often noticeably delayed in broadcasting noise once picked up. The Signia Silk Nx avoids this problem with its continuous, powerful Ultra HD e2e full-bandwidth network, which allows for rapid processing and transmission from ear-to-ear. You get a near instant amplification of the sounds you're hoping to hear, without having to deal with a poor quality as is the focus of some other rapid transmission hearing aids.
Extensive Smartphone and miniPocket Control: As with other Signia hearing aids, you can access the touchControl and myHearing smartphone applications to control the Signia Silk Nx. Something else you can also pair up with the Signia Silk Nx and other Signia hearing aids is the miniPocket. The miniPocket is a small remote that will allow you to change various hearing aid settings, such as listening mode and volume, with just the touch of a button. Small enough to fit on your key ring, you can have precise control over your Signia hearing aid without ever needing to even access your smartphone.
Click Sleeve Customization: Are you someone that finds that a hearing aid is comfortable one day but no longer fits as well the next? Are you worried about keeping your hearing aid clean despite using it day after day? Whatever your reason, you will probably benefit greatly from the Click Sleeves that are available for the Signia Silk Nx. These small, soft silicone sleeves click onto your Signia Silk Nx in seconds, and will help you find a great fit for your hearing aid without having to wait for a custom-made housing unit. If you need to adjust to a new size, or if you want to help your Signia Silk Nx look as good as new, you can take off and swap out the Signia Click Sleeves in seconds as well.
The Signia Silk Nx is available in two color variants, and can only be worn as an in-the-ear hearing aid. If you suffer from mild to severe hearing loss and need a hearing aid that will help you capture all the great sounds of life with minimal loss of quality, you should discuss the Signia Silk NX hearing aid platform with a hearing aid specialist.
---
Signia Insio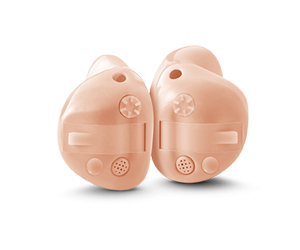 While an older model, the Signia Insio remains a popular hearing aid platform for many people who suffer from hearing aid loss. The tiny hearing aid features four different wearing styles, helping everyone find a hearing aid that matches their preferred method of wearing. As many people live life on the go, the Signia Insio has advanced SPEECH functions that will help you hear a conversation no matter the background noise, from heavy wind to a passing train. A few other key features that will help you make full use of your hearing includes:
Dynamic SPEECH Functions: What is SPEECH? SPEECH is the catch all term for all of the great speech enhancement systems included with the Signia Insio. Narrow directionality makes it easier to pick up conversations, while noise reduction will block out unnecessary background noise as you talk. eWindScreen is specifically included to reduce wind noise, one of the most common yet annoying distractions that will impact hearing aid performance. With SPEECH, Signia Insio also adjusts overtime, improving its ability to prioritize speakers while muting out the background and ambient noise you are sure to encounter every day while wearing the Signia Insio hearing aid.
EchoSheild Vibration Guard: Sometimes, it's not just the noise itself that will make listening to people difficult, but the vibrations caused by how much noise is going on in the background. With the Signia Insio EchoSheild, not only do you have superb speech recognition with the SPEECH functions, but your Signia Insio hearing aid will hardly vibrate from the many echoes that it picks up from around the room. If you've struggled to speak with someone in a conference from or in the foyer of a major event, you'll find it much easier to do so with the Signia Insio hearing aid platform
HD Music Functionality: Music is an important part of all of our lives, and with the Signia Insio you don't have to lose out on enjoying music even with a hearing aid. Whether you're just trying to listen to your stereo or are attending a concert, whether you are streaming music directly or are even creating music yourself, you won't miss a beat thanks to the HD Music enhancements. For the best audio quality though, you'll want to directly stream music to your Signia Insio, which you'll learn about next as part of the easyTek feature.
easyTek Audio Streaming: While the Signia Insio is a powerful hearing aid system, it also functions as a high-quality stereo headset as well. With easyTek, you can connect your hearing aids to your smart phone for a direct call, or to your favorite music playing device for direct Signia Insio hearing aid streaming. If you are attending school or a conference, FM compatibility will let you have a direct stream of the speaker's microphone audio, while Bluetooth compatibility works with other TV, computers, adn smart devices. With the aid of easyTek and the Signia Insio, you'll be able to connect and improve your hearing with most smart electronic devices on the market!
The Signia Insio features eight different colors, with different choices depending on the wearing style you choose to go with. In total, there are four different Signia Insio inside-the-ear hearing aid models, including a IIC, a ITC, a ITE, and a CIC style model. If you suffer from mild to profound hearing loss and want a versatile, dynamic, and powerful inside-the-ear hearing aid, you should discuss the Signia Insio hearing aid platform with a hearing aid specialist.
---
Signia Styletto X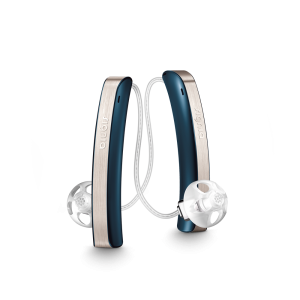 The Signia Styletto X is the fruit of Signia's resolve to create a stylish, feature heavy, rapid charging behind-the-ear hearing aid. Ergonomic comfort was a large priority for the Signia Styleeto X, resulting in a hearing aid you can slip on in seconds and hardly even remember that you're wearing throughout the day. The Signia Styletto X truly stands out with some fantastic features, and a few of which we want to highlight include:
Dynamic Soundscape Speaker with Own Voice Processing: The Signia Styletto X is built with dynamic soundscape processing that allows its great speaker to differentiate between music, conversation, and unimportant background noise you encounter every day. One of the great features also included is Own Voice Processing, or OVP. With OVP, the Signia Styletto X will learn and improve its processing of your own speaking voice by providing instant hearing. The Signia Styletto X will even improve the sound of your own voice by separating it out from all other voices and sounds your speaker catches, providing for an even more dynamic hearing experience.
IP68 Design, with Acoustic Motion Sensors: The Signia Styletto X is IP68-rated, ensuring that it is resistant to moisture, sweat, wax, sand, dirt, and other elements and liquids you may encounter while wearing the hearing aid. This is also a great hearing aid for athletic and active wearers thanks to comfortable but snug fit and the included Acoustic-motion sensors. The motion sensors are combined with powerful acoustic sensors that will measure and process sound differently according to your personal movements in real time. With the Signia Styletto X, you can train and workout without suffering any disruption to your hearing aid capabilities.
Responsive Signia Assistant Smart Application: The Signia Assistant smartphone application is just like having a hearing aid consultant in your back pocket! The Signia Assistant app pairs with the Signia Styletto X, learning and adapting your hearing aid system according to your personal preferences day after day. You can use the application to make manual changes as well, and rely on either smart AI help or consult a hearing specialist through the application to configure your Signia Styletto X. With this machine learning application, you'll find your Signia Styletto X hearing aid improving each and every day you wear it.
On the Go Rapid Charging: One of the great features also included is the powerful pocket-sized portable charger. If you forget to charge your Signia Styletto X overnight, you just have to insert them into the small portable charger to top off your hearing aid system. As for the portable charger itself, it has enough juice to recharge the Signia Styletto X from empty to full four days in a row before it too needs to be recharged!
The Signia Styletto X is available in five different color models, and is only available in one behind-the-ear wearing style. If you are looking for a powerful, long lasting hearing aid and suffer from mild to profound hearing loss, you will want to discuss the Signia Styletto X with your hearing aid specialist.
---
Signia Pure X/Pure Charge & Go X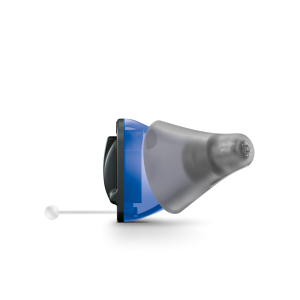 The Signia Pure X/Pure Charge & Go X is the preferred platform for those who are always on the move, whether it be to get a morning run in or for assistance filtering out noise at international conferences and airports. This hearing aid platform shares many of its features with the Signia Styletto X, including acoustic motion sensing, IP68 protection, and the machine learning Signia Assistant application. There are a few other noteworthy features as well that will further assist you day after day, including:
TwinPhone miniReceiver 2.0: Signia's latest receiver speaker technology has been incorporated into the Signia Pure x/Pure Charge & Go X, with four different lengths and power levels to accommodate those with mild to profound hearing loss alike. TwinPhone telephone signal technology has also been incorporated, ensuring that all audio transmissions are nearly instantaneous and maintain a high quality while transmitting from one ear piece to the other. The Signia Pure X/Pure Charge & Go X is part of the new Signia Xperience lineup, ensuring that you can hear clearly no matter your situation and what you're doing.
Directional Speech Microphone: The big promise with the Signia Pure X/Pure Charge & Go X is that you will find it easier to pick up speech wherever you are, and that's made possible with the directional speech microphone. The microphone improves speech understanding by amplifying the noise in front of you, while muting out any irrelevant background noise that might be disrupting your conversation. This directional microphone isn't just for private conversation though, and will help you pick up conversation in any direction around you. Whether you're trying to chat in the office, the conference room, or outside as you head to lunch with coworkers, you'll be able to keep up with the flow of the conversation thanks to the Signia Pure Charge & Go X hearing aid.
Exchangeable Housing: The Signia Pure X/Pure Charge & Go X is one of the rare hearing aids that has a compact and sealed housing design that is also fully interchangeable as well! The housing can be swapped out with different colors if you feel like changing up your look, and is also a helpful feature for swapping out damaged, chipped, or just old looking hearing aid housings. As you swap out your housing, the Signia Pure Charge & Go X will help you have a hearing aid platform that always looks great, no matter the occasion or how often you use it.
Direct Bluetooth and Versatile Connectivity: Streaming audio is an important aspect of many hearing aids, and with the Signia Pure Charge & Go X you'll find plenty of connection options. Direct Bluetooth connectivity will allow you to listen to your phone call audio with your hearing aid, and with the StreamLine Mic system you don't even need to hold onto your phone either. You can connect to many smart devices, such as TVs, tablets, computers, and more for streaming your favorite music, podcast, audiobook, or other program that you want to listen to with ease. With the dynamic Signia smartphone application, you can even have extensive audio control options not matched by many quality speaker and headphone options on the market.
The Signia Pure X/Pure Charge & Go X is available in ten different colors, with interchangeable housing that will allow you to swap out the color depending on your mood. This hearing aid platform is only available in a behind-the-ear style, but it does feature four different cord lengths and power options, ranging from S (mild hearing loss), M (moderate hearing loss), P (severe hearing loss), and HP (profound hearing loss).
There are technically two distinct separate models, but the Signia Pure X and Signia Pure Charge & Go X are almost identical in every way. The Signia Pure X features a disposable 312 battery, while the Signia Pure Charge & Go X features an integrated rechargeable battery and portable charging case. The Signia Pure X can also be fitted with a telecoil, while the Signia Pure Charge & Go X cannot. All other performance and features for the Signia Pure X and Signia Pure Charge & Go X are the same.
If you live an active and busy life that will have you traveling all over and need a long lasting, rechargeable hearing aid that performs as great as it looks, discuss the Signia Pure Charge & Go X with your hearing aid specialist.
---
Signia CROS/BiCROS Systems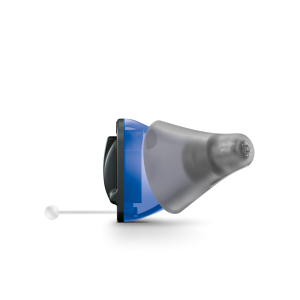 Unlike some other hearing aid manufacturers,Signia makes a large number of their hearing aid platforms available in CROS and BiCROS formats. If you are unfamiliar with these terms, CROS hearing aids are for those who are deaf in one ear but can hear normally in the other. BiCROS systems are for those who are deaf in one ear and suffer hearing loss in the other. Almost every Signia Model listed above is available in a Signia CROS/BiCROS format, and supports the same features as the traditional hearing aids. Signia CROS/BiCROS hearing aid compatible systems include the following devices, which you can learn more about by visiting their respective sections above:
Signia CROS/BiCROS Insio Nx
Signia CROS/BiCROS Silk Nx
Signia CROS/BiCROS Insio
Signia CROS/BiCROS Pure
Signia CROS/BiCROS Pure Charge & Go
Important Note: The Signia Styletto X is not available in a CROS/BiCROS system at this point of time.
---
Hearing Associates of Las Vegas are here to help:
While we've done our best to provide you an overview of the benefits provided by Signia hearing aid systems, what platform is best suited for you will depend on your personal situation. It's also important to note that just because a Signia hearing aid looks great and has all of the features you need, it might not perform as you expect or even fit well once you try it. Hearing aids are also going to perform differently for different people, making it difficult to find a true one size fits all solution.
That is why we invite you to schedule an appointment and visit one of our two Hearing Associates of Las Vegas clinics! We are happy to help you fit and try out a new Signia hearing aid, or even help you determine if another brand might be better suited for your hearing needs. With our expertise in Signia hearing aid platforms, you are also welcome to bring in an older model to get it serviced, whether it be to help you have a better fit or troubleshooting any glitches you may have. Setting up an appointment or just asking us a question is really easy, as you just have to visit our Contact Us page for help! Once we receive your message, we'll do our best to answer any questions you may have, or help you set up an appointment if you need an in-person consultation. Whether you're brand new or have used hearing aids for many years, Hearing Associates of Las Vegas is happy to take the time to find a solution for your hearing needs!