When you are concerned about your hearing and need answers, you shouldn't have to be worried about what to expect from your hearing specialist appointment. Here at Hearing Associates of Las Vegas, we make it our mission to ease your concerns and provide you with the answers to all your questions. To make your appointment smoother, we recommend you do a couple of things:
Download and fill out the patient forms prior to your first appointment with us.
Bring a loved one with you to help you remember all the information we will provide.
If you come without these things, it also fine as the forms can be filled out at our hearing clinic locations.
1. Visiting Our Waiting Room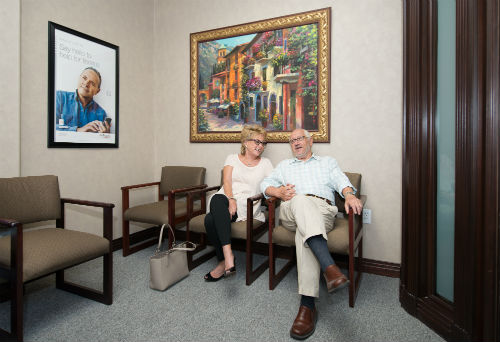 Once you enter our office, you will be greeted by one of our Patient Care Coordinators and the smell of fresh cookies. We make sure to always keep fresh baked cookies available and play the show Cheers in the waiting room to make the time before your appointment more comfortable.
If you haven't been able to fill out the new patient form, the Patient Care Coordinator will provide you with the form you need.
2. Personal Hearing Interview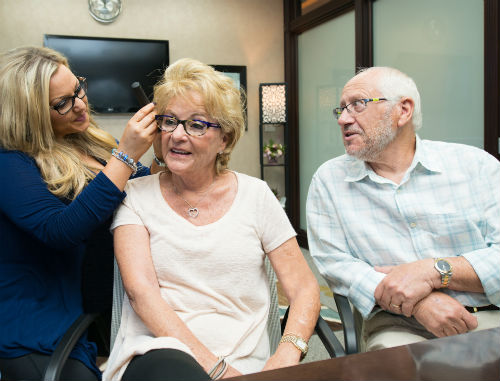 Once you have been called back for your appointment, one of our board-certified hearing instrument specialist team members will conduct a personal hearing interview. We have several highly-qualified hearing specialists on staff, all of whom are vetted by our lead hearing instrument specialist, Robyn Lofton.
During this interview, the specialist will discuss with you why you made the appointment, and how you are currently dealing with your hearing situation. To ensure you have all your questions answered, the specialist working with you will give an informative overview of how hearing works, and what some common hearing issues are seen by our specialists. Feel free to stop the hearing instrument specialist at any time if you have a question.
3. Diagnostic Hearing Evaluation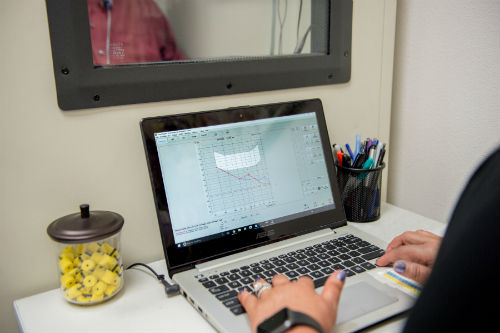 To properly assess your hearing, you will be conducted into our noise-controlled sound booth for a two-stage test which will be conducted by one of our hearing instrument specialists. You will be asked to respond to different audio stimuli during these tests. These tests are:
Tone Threshold Test – A range of pure-tone sounds will be played at different pitches and frequencies to assess the range of your hearing.
Speech Recognition Test – This test checks your ability to hear and recognize words spoken at different volumes. The hearing specialist will say a word for you to repeat and give you a way to indicate when you could not hear them.
Our office uses the latest technology when it comes to our hearing diagnostic equipment so that we can provide you with the most accurate results. Which results typically allow us to determine your level of hearing difficulty and your potential candidacy for hearing aids, tinnitus treatment or other hearing devices.
4. Discussion Of Hearing Test Results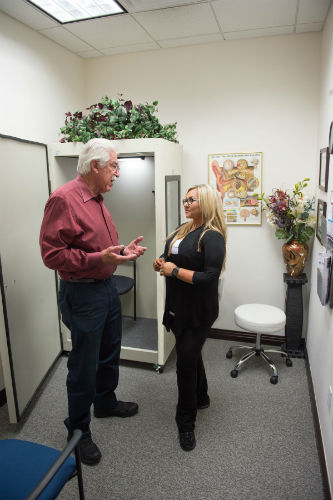 After the hearing evaluation has been completed, the hearing specialist will give you an in-depth explanation of what your hearing results mean for you. The specialist will also provide you with an overview of your hearing treatment options.
Depending on the hearing treatment you need, the hearing specialist you are working with will demo some of the best hearing technology for your hearing needs. The hearing devices which you have been shown are available to be taken home with you the same day of your appointment, which can be especially important for those struggling with severe tinnitus.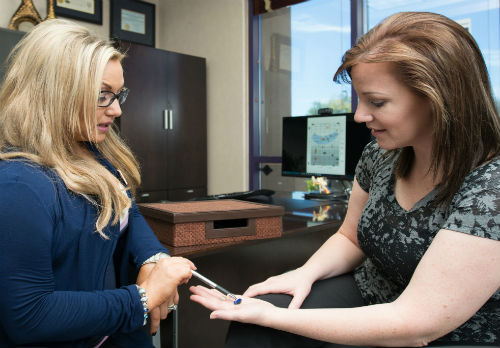 When you find the device that is best suited for your needs, you can try before you buy and take the hearing device home for a test run. By being able to use the hearing device in your own environments, you can see how it performs under the pressure of your daily life. After the trial run, you will revisit the office to ask any remaining questions and finalize your decision.
Here at Hearing Associates of Las Vegas, we have a passion for helping people improve their quality of life through better hearing. You will never be rushed through an appointment with one of our hearing instrument specialists, and you should always feel free to ask any questions. As we are an independent hearing instrument specialist office, you can be assured that we will tailor our recommendations to your personal needs.
If you are ready to take control of your hearing, contact us today for an appointment at one of our hearing clinic locations.