For many people with hearing trouble, making the first appointment is the most difficult part of the process. For those first experiencing hearing loss, knowing what to expect is important. We understand that you probably have many questions and we aim to answer all of them. We do this by putting your mind to rest while we find the best possible solution to help you hear better. Since you will receive a lot of information during your visit, we recommend a loved one accompany you to this appointment. When you make your first appointment, here's what to expect when you arrive at our office.
Greeting from our friendly Patient Care Coordinator. She will provide you with a short medical history intake form to complete or you may print them off here.
Personal interview with Board Certified Hearing Instrument Specialist Robyn Edgson, discussing why you've made the appointment and how you currently handle your hearing situation. She provides an informative overview of how hearing works and how common hearing issues arise. There is plenty of time to ask questions in our personal and relaxed atmosphere.
Diagnostic Hearing Evaluation a painless test performed in two stages in our noise-controlled sound booth. First will be the Tone Threshold Test followed by the Speech Recognition Test. You are asked to respond to various audio stimuli. Our office uses the latest in hi-tech hearing diagnostic equipment. Results from these tests typically allow us to determine your level of hearing difficulty and your potential candidacy for hearing aids, tinnitus treatment or other hearing devices.
Discussion with our Specialist Robyn, where she will explain in-depth what your test results mean and provide you with an overview of your treatment options. She shows you various devices that work to treat your degree of hearing difficulty. Robyn wants you to be totally informed about your hearing so that you can make the decision that's best for you. She will demo some of the latest technology available the same day that you are in the office. When we find the device that is best suited for your needs, you are able to try before you buy by taking it home and experiencing better hearing in your world and seeing how you do in your environments. After which, you revisit the office to ask any remaining questions and finalize your decision.
Robyn loves what she does. She has a passion for improving one's quality of life through better hearing. Robyn knows that treating hearing loss is a very personal decision, often affecting the whole family. Robyn never rushes her patients through an appointment. She prioritizes developing long-term relationships with each patient and their loved ones while focusing on ways to improve their quality of life.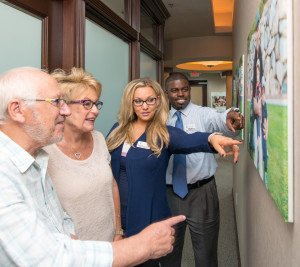 She does this by offering various hearing solutions that are personalized to your individual needs. When you leave Hearing Associates of Las Vegas, we hope you feel like you are part of our family.