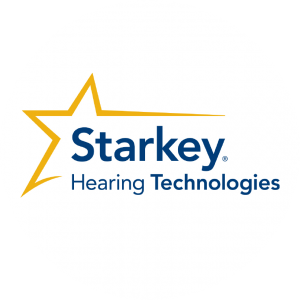 Starkey is an American-made hearing aid manufacturer, and one of the most recognizable hearing aid providers in the world. With powerful, long lasting hearing support that is very comfortable to wear, Starkey has been the go to hearing air platform for many important figures, from Mother Teresa to President Ronald Regan. Starkey strives to be one of the world leaders in both the hearing aid and health care industry, partnering and backing other companies including Audibel, NuEar, MicroTech, and more.
By visiting Hearing Associates of Las Vegas, you can get the help you need to determine which Starkey hearing platform is the best solution for your hearing needs. Located in the Las Vegas area, our family owned and operated hearing aid clinics have two different locations you can visit. Whether you want to get fitted and try out a new hearing aid, get your older Starkey platform serviced, or learn more about several other prominent hearing aid solutions, we here at Hearing Associates of Las Vegas are here to help you find the optimal hearing aid solution!
Livio AI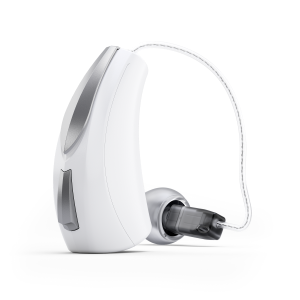 Hearing health is interconnected with body health, and monitoring the latter will help you with the former. That is the central idea behind the Starkey Livio AI, which is the world's first Healthable, activity tracking hearing aid. With integrated brain and body activity tracking, the Starkey Livio AI is designed to help its wearers have optimal hearing settings no matter their situation. The Starykey Livio AI is also a powerful hearing aid platform thanks to the following features:
Superior Sound Memory: The Starkey Livio AI features a powerful speaker, but it's a speaker that's also enhanced over time thanks to the dynamic memory capabilities. As you repeatedly visit locations, your Starkey Livio AI will create getagged memory profiles, automatically adjusting your settings the moment you enter the area and visit similar locations. This is one of the few hearing aids that have also been updated with a mask mode, boosting conversational performance and making it easier to understand others when they're wearing a mask.
Fully Rechargeable, 24 Hour Operational Use: This is one of the smallest hearing aid platforms on the market with a fully rechargeable battery solution. On a full charge, the Starkey Livio AI will provide up to 24 hours of performance, ensuring you can use the Starkey Livio AI from the moment you wake to the moment you go to bed. When not in use, the Starkey Lvo AI will also automatically shut itself off or turn on as it picks up important noise, extending the overall lifespan of the battery power.
Direct Streaming Capabilities: Direct streaming connectivity will allow you to enjoy music, TV, podcasts, and other audio programs with enhanced clarity not matched by many hearing aid platforms. You can also connect to your phone and answer calls with the touch of a button, ensuring you don't have to awkwardly deal with a phone while using the Starykey Livio AI.
Intelligent, Smartphone Assistance: Not only can you use the Starkey Livio AI to answer calls, but with a smartphone you'll get dynamic controls and functions as well. Thrive Assistant will provide troubleshooting solutions, and Hearing Care Anywhere will help you make small adjustments to your hearing aid without visiting a hearing clinic. If you lose your phone, you can even use your hearing aid to help you find it with the touch of a button.
The Starkey Livio AI is available in seven different color shades. As for the style, the Starkey Livio AI is available in three receiver-in canal rechargeable and non-rechargeable options, and one behind the ear option. If you suffer from mild to severe hearing loss and are looking for a dynamic hearing aid that responds to your day to day activities, consult your hearing specialist about the Starkey Livio AI hearing platform.
---
Starkey Livio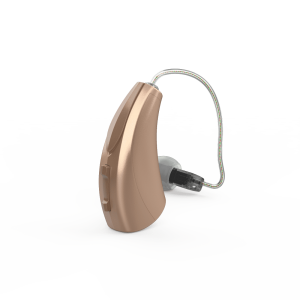 The Starkey Livio is a more basic version of the advanced Starkey Livio AI, built for those who want a more affordable option and only suffer from mild to moderate hearing loss. While it lacks the adaptive body and brain fitness capabilities, it does share a number of other great features that still make it a great, dynamic hearing aid platform. A few key features we think are worth highlighting include:
Adaptive Audio Settings: Having a conversation or going to a specific location isn't the only audio experience that adapts with use. An adaptive car mode will greatly reduce the irritating sounds that come with driving while helping you listen to passengers. Alternatively, the auto experience manager will help you carry over settings from previous Starkey hearing platforms, helping you adjust to new hearing aids more quickly. With direct, easy performance control, the Starkey Livio hearing aid platform is a solution that gets better and better with time.
Hearing Reality Feedback Cancellation: The Starkey Livio is designed to be used in intimate settings and in noisy, bustling parties and events alike. You will be able to cancel out the feedback and whistling that comes with being close to people, while also focusing on speech clarity even with a ton of background noise filling the area. Whether you're interacting with a couple of people or many of them, you will benefit from the Starkey Livio hearing solution.
Universal Wireless Connectivity: To keep up with the fast changing world around us, we need to make use and have access to a wide range of technology platforms. The Starkey Livio is designed to work with all sorts of devices, allowing you to keep up and enjoy technology more fully. Stream audio from your TV or other electronic devices directly to your hearing aid, and make use of a remote microphone to talk to your phone, Alexia, or other devices without being hands on. Outside of manual controls provided with the Starkey Intelligent Assistant, you can also get a manual remote control for precise Starkey Livio control at the press of a button.
Durable, Weatherproof Design: You shouldn't be afraid of using your hearing aid on a rainy day, which is why the Starkey Livio hearing aid is built with Surface NanoShield construction for a moisture-repellent design. The Starkey Livio is not only weatherproof, but is sealed and durable to prevent other irritants, like wax and sand, from disrupting the hearing aid as well. This is a long lasting hearing aid that, with just a little proper care, can be used day after day without the fear of it breaking apart.
Like the Starkey Livio AI, the Starkey Livio is available in seven different colors and in three in-the-ear styles with one behind-the-ear model. However, the Starkey Livio provides further customization with its three technology levels, ranging in price and performance. They consist of:
Starkey Livio Select: The most affordable but least powerful Starkey Livio solution. Designed for home use, restaurant use, and in other quiet to small gathering environments like a business meeting or a church worship service.
Starkey Livio Advanced: A balanced solution that offers a mixture of an affordable price with above average performance. Can be used in nosier settings filled with background noise, such as a mall, around the office at your workplace, and at your typical home party.
Starkey Livio Premium: The most expensive but most capable Starkey Livio solution. This hearing aid is designed to be used everywhere, providing great hearing assistance no matter the occasion. If you need assistance deciphering sounds in a crowd of people, the ability to hear more when you go to a theater, or suffer from more severe hearing loss in general, the Starkey Livio Premium is the best solution.
If you are interested in a reliable, trusted hearing aid platform that doesn't have as many bells and whistles as the Starkey Livio AI, you can save money and still have great support with the Starkey Livio.
---
Starkey Halo iQ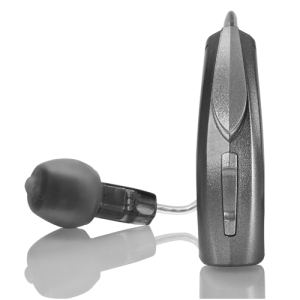 The Starkey Halo iQ is a hearing aid platform designed specifically with smart device connectivity in mind. With TruLink application connectivity, you will have a hearing aid that provides precise hearing aid control along with pristine audio and easy device connectivity. Some of the great features provided by the Starkey Halo iQ includes the following:
Dynamic Music Control: You will have direct streaming access from a large number of Bluetooth compatible devices, and while streaming you can even further finetune music listening. The dynamic music control is available in both automatic and manual adaptive options, allowing you to focus on key settings to improve audibility, loudness, and sound quality. With the Starkey Halo iQ, soft sounds that you typically cannot hear in music will be very easy to pinpoint thanks to the control provided by this great hearing platform.
SoundSpace Noise Manager: The Starkey Halo iQ is a great hearing aid solution for those that need a platform that will keep up and respond to all sorts of noise environments encountered throughout the day. Personalized control allows you to make micro adjustments when needed, but most of the time you'll be benefited by the great SoundSpace Noise Manager programming. The Halo iQ also can save up to twenty geocached locations, automatically adjusting to your preferred levels the moment you step into the saved location.
Customizable Tinnitus Relief: The advanced Multiflex Tinnitus Technology is designed specifically to provide extra relief for those who suffer from Tinnitus. With this hearing aid, you will be able to listen to soft, soothing, relaxing sounds that will help you ignore and recover from ringing episodes brought on Tinnitus. By working with your hearing specialist or on your, you can even make further adjustments for a personalized Tinnitus relief program.
Designed for Life on the Go: The Starkey Halo iQ is a comfortable, durable, easy to wear hearing aid platform meant for retired elders and active adults alike. This is a hearing aid that stays in while you're running or walking, swimming or talking, or engaging in all sorts of other fun or relaxing activities alike. With a weatherproof build, you don't have to leave your hearing aid at home on a rainy day either.
The Starkey Halo iQ is available in eight different colors. There are two behind the ear styles with the Starkey Halo iQ, one of which also features an in-the-canal transmitter. Like the Starkey Livio, the Starkey Halo iQ is also available in one of three technology levels:
Starkey Halo iQ Select: The most affordable but weakest hearing aid solution, meant for those with mild to moderate hearing loss. Ideal for private settings and to help you with small meetings of less than five people.
Starkey Halo iQ Advanced: A balanced priced and power hearing aid solution, meant for those with mild to severe hearing loss. Ideal for some moderately sized gatherings, such as parties and meetings with around ten to twenty people.
Starkey Halo iQ Premium: The most expensive but powerful hearing aid solution, meant for those with mild to profound hearing loss. Ideal for larger gatherings or long distance events, such as parties with more than twenty people or going to the theater.
If you need a hearing aid platform that will help you capture the intricate sounds of like, talk to your hearing aid consultant about the Starkey Halo iQ.
---
Starkey CROS – BiCROS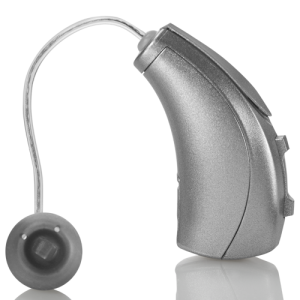 Hearing loss isn't often even across both ears, and some people who suffer from hearing loss may even be deaf in one ear and able to hear in the other. To help those with uneven hearing loss, Starkey offers the CROS system for those with normal hearing in one ear, and the BiCROS system for those suffering from hearing loss in their functional ear. The Starkey CROS/BiCROS system is a great hearing platform, in part due to the following features:
Twin Compressors: Human conversation is very different from music, TV audio, and other audio programs or files you might need access to throughout the day. With the twin compressor design, the Starkey CROS/BiCROS solution is able to more accurately distinguish the two. That way, if you're watching football with friends or chatting with the family while the News plays in the background, you'll be able to more easily identify sounds and where they're coming from with the Starkey CROS/BiCROS system.
Synergy Sound Platform: Coupled with the ability to better differentiate sound sources is the enhanced processing power of the Starkey CROS/BiCROS system. The current iteration is over five times faster at processing sound, getting rid of much of the delay that plagues many other CROS/BiCROS systems. Expanded dynamic range and low distortion processing makes it easier to identify low and high frequency sounds, providing a richer listening experience to music and conversations alike. Lastly, efficient data management extends the battery life, and allows the Starkey CROS/BiCROS system to improve its listening settings over time.
Baby/Child Learning and Analyzing: The Starkey CROS/BiCROS hearing system is one of the few deaf hearing aid solutions available for babies and small children. The first major system is Acuity Binaural Imaging, making the system comfortable to wear with a more natural sounding experience. The second other major feature is Acuity Lifescape Analyzer, which automatically detects and adjusts audio according to seven major classes. With the Starkey CROS/BiCROS system, young ones who are deaf in one ear will still get the great support they need in order to learn, develop, and grow without suffering from poor communication due to a lack of hearing.
Virtually Drop-Free Connectivity: Another major problem that plagues CROS/BiCROS systems is the constant dropping that comes from not just using the hearing aid platform, but from connecting with wireless devices as well. The 900synch technology incorporated into this Starkey system has improved connectivity by 98% over past models, providing a streaming range that has nearly doubled from previous versions. As long as you are connected within the normal user range, you will very rarely experience a drop while using the STarkey CROS/BiCROS system.
The Starkey CROS/BiCROS system is available in seven different colors, with two in-the-ear and two behind-the-ear wearing styles. The three technology levels available for the Starkey CROS/BiCROS systems are as follows:
Starkey CROS/BiCROS Select: The most affordable platform solution of the three. 16 sound imaging channels, minor speech optimization and noise reduction.
Starkey CROS/BiCROS Advanced: A moderately priced platform solution with enhanced capabilities. 20 sound imaging channels, with moderate speech optimization and noise reduction.
Starkey CROS/BiCROS Premium: The most expensive but advanced version of this hearing solution. 24 sound imaging channels, with fantastic speech optimization and noise reduction capabilities.
No matter your age or level of hearing loss, if you are deaf in one ear and needing hearing aid assistance, you will want to discuss the Starkey CROS/BiCROS hearing aid solution.
---
Hearing Associates of Las Vegas are here to help:
The above listed hearing aid platforms are those that we currently help fit and provide trials of at our clinics, but with many years of experience we are happy to service older Starkey models as well. The features above provide a few reasons why you want to consider a Starkey hearing aid platform, but there is more you should learn about before picking the best hearing aid solution. While you can learn a lot from features and specs, getting a device fitted and trying it out for yourself is the best way to figure out which Starkey hearing aid is best suited for you.
That is why we are here to help, with two clinics as part of the Hearing Associates of Las Vegas.
If you would like to make an appointment for an in-person consultation or just to ask a message, you can click the Contact us link to reach out to us for aid. Whether you need to find a new hearing aid solution or just want to reconfigure and troubleshoot an older device, you can visit Hearing Associates of Las Vegas for help, so be sure to schedule your appointment today1