Everyone experiences tinnitus differently, whether it is how their tinnitus sounds or how severe it is, no case is exactly the same. That is why our tinnitus experts at Hearing Associates of Las Vegas provide a variety of tinnitus management options such as Neuromonics tinnitus treatment, so you are sure to find the right solution for your tinnitus needs.
What Is Neuromonics
Neuromonics is a medical device company that focuses on tinnitus treatment devices. Inventor Paul Davis, Ph.D., began working on these devices in the early 1990s to assist those who were suffering from tinnitus but had nothing to help them. Today, Neuromonic devices are FDA-cleared to be used for long-term tinnitus relief.
As more is discovered about tinnitus, Neuromonics has evolved its product line. While they used to produce the Haven and Sanctuary tinnitus relief devices, Neuromonics does not offer these devices anymore. It is like due to the fact that the Haven and Sanctuary were for short-term tinnitus relief, rather than the long-term relief than many tinnitus sufferers need.
To meet the needs of those who struggle with mild-to-severe tinnitus, Neuromonics has two main devices it offers now—the Oasis and the Oasis Pro.
Neuromonics Oasis Pro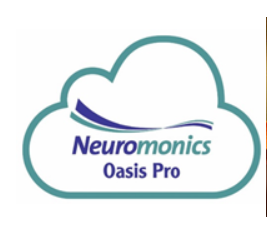 Designed to fit seamlessly into your life, the Neuromonics Oasis Pro can be downloaded onto your compatible iPhone or iPad to provide you with easy-access tinnitus treatment.
By following five easy steps, you can be fitted and use the Neuromonics Oasis Pro to treat your tinnitus. These basic steps at our hearing clinic are:
Tinnitus expert assessment – Our hearing specialist meets with you to evaluate your tinnitus symptoms and perform a hearing evaluation. For some people with tinnitus, there is an aspect of hearing loss, so it is important that our specialists check if there is any hearing loss present, as Neuromonics is not designed to assist with hearing loss.
Customizing the Oasis Pro – Depending on your tinnitus needs and your preferences, our hearing specialists will customize and program the Oasis Pro to suit your needs.
Stage 1 treatment – For about 2 months in the first stage, you will need to use the Oasis Pro daily for at least 2 hours a day. This usage should occur as you go about your regular, daily activities.
Stage 2 treatment – Once stage 1 is completed, over the course of 4 months, you will continue to use the Oasis Pro 2 hours a day to start. As time goes on and your tinnitus lessens, you can taper off how often you use the device.
Tinnitus management maintenance – At the end of the main treatment cycle, our hearing specialists will work with you to develop a longterm tinnitus management plan which will allow you to keep your tinnitus under control.
Neuromonics Oasis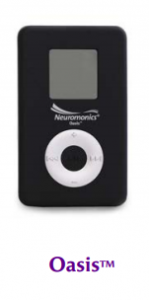 If you don't have a compatible iPhone or iPad to use the Oasis Pro, another option is to use the Oasis. Designed to resemble an MP3 player so you can use it discreetly, the Oasis works just like the Oasis Pro. The only difference is that you use the Oasis device, rather than your own Apple device.
Find Neuromonics And Other Tinnitus Treatment At Hearing Associate Of Las Vegas
Our hearing specialists make a point of offering a variety of tinnitus treatment including Neuromonics. That way, you can find the right tinnitus treatment for your needs. Some of the other popular options you may want to investigate with our tinnitus experts are:
Hearing aids – Many major hearing aid manufacturers now develop hearing aids with tinnitus support, such as Widex Zen Therapy, ReSound Relief, and others. Even if you don't have hearing loss, using hearing aids as portable sound generators is a great way to manage your tinnitus symptoms.
Levo System – Another FDA-approved tinnitus management devices, the Levo System uses a neuroscience-based approach to treating your tinnitus. Once your device is programmed to match your tinnitus, you will wear it at night to desensitize you to the sound of your tinnitus during the day.
Tinnitus Relief Studio – For short-term tinnitus relief, you can stop by our hearing clinic and use the tinnitus relief studio. In this relaxing room, you can enjoy our zero-gravity massage chair and de-stress. As stress is a huge trigger for tinnitus, visiting our Tinnitus Relief Studio can be a helpful part of your tinnitus management plan.
Counseling and education – Along with direct management strategies, you can learn more about tinnitus and receive tinnitus counseling at our hearing clinic with one of our specialists.
If you are interested in trying Neuromonics Oasis Pro or other tinnitus treatment options, contact us for an appointment with one of our hearing specialists. They can go over your options, and you can test different tinnitus treatment devices to see what helps you manage your tinnitus best.