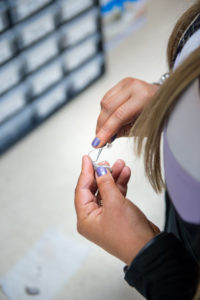 Minor hearing aid repairs are crucial to making sure your hearing aids are performing at their best. Ear wax, dust and dirt can cause your hearing aids to underperform. We can clean and repair most hearing makes and models, even if you got them elsewhere, right here in the office, often while you wait. Most major repairs are covered by the manufacturers warranty. Unsure if your devices are under warranty? We can look that up for you and arrange for them to be sent in for repair.
Many times a thorough cleaning is all you need to get your hearings back to the way they did when you first got them. Good cleaning will also help to extend the life of your devices too. If your hearing aids are broken or not working the way you like, schedule a visit and we'll check them out for you.
Schedule a time to bring in your hearing aids for a repair in our Henderson or Summerlin office.