Dr. Dale Carrison is an emergency room physician at The University Medical Center here in Las Vegas. After serving in the Navy, a stint in law enforcement and working in the family business, Dale Carrison decided to go to medical school. The community of Las Vegas is better off for his decision, as he's treated thousands of patients and help train hundreds of new ER doctors.
Dr. Dale knew from his career in law enforcement and his hobby of fixing up cars he had been exposed to loud noises over extended periods that would lead to his hearing loss. After a misunderstanding with a director at the hospital, he decided it was time to deal with his hearing loss as he is a man of action. "When it started impacting my work, I knew I had to do something" he recently told us. Added to that, his family was yelling at him because the TV was too loud.
Hearing Aids Save Lives Everyday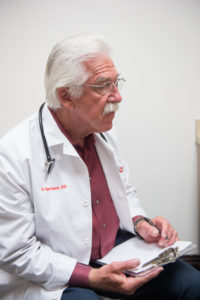 The emergency room of a hospital is a fast paced, unpredictable work environment. Decisions need to be made quickly. Dr. Dale realized he was relying on lip reading and not his ears to make up for understanding. As Dale learned early in his medical training, if you listen the patient will tell you what is wrong with them. For this reason alone – his hearing aids are priceless. In addition to attending to incoming patients, he needs to quickly confer with family members, other physicians and nurses to determine the best course of treatment. All of this is dependent on being able to hear and understand what is being said.
As an emergency room doctor, he sees first-hand the importance of treating hearing loss. Falls are the leading cause of emergency room trips for older people. Untreated hearing loss impacts spatial and situational awareness, both critical for balance. Falls often lead to other medical complication in older populations.
In addition to falling, untreated hearing loss has been linked to depression and cognitive decline. It's important to keep your brain engaged, and being able to hear is an major component to maintaining an active mind.
Past the age most are enjoying retirement, Dale shows no signs of slowing down either. In addition to his duties in the ER, he is chair of The Emergency Medicine Department at the University of Nevada School of Medicine, and the medical director at many major events in Nevada including Burning Man.
If you find yourself having difficulty keeping up at work, Dr. Carrison prescribes getting your hearing tested. After working with Robyn Edgson and Hearing Associates of Las Vegas, Dr. Carrison says enthusiastically, "I've got my life back." Don't let hearing difficulties impact your work, come see us and get your life back. Your co-workers and families are counting on you.