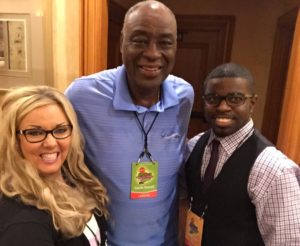 In July we a were asked by supplier partner EarQ to attend the 2016 Legends Conference to advance EarQ's mission to educate members of the National Basketball Retired Players Association (NBRPA) about hearing health and why it is a priority.
The conference for former pro players—such as members of the NBRPA—to network, learn about more ways to be active in the community, and discuss life after their playing career. Because hearing health is a relevant issue for retired players, EarQ asked us to help at the event
EarQ is the official hearing healthcare provider for the NBRPA. Our job was to perform hearing screenings, hearing aid fittings, and answer any questions former players had about hearing health.
While one in eight people in the United States have hearing loss, studies show former professional athletes experience it at an even higher rate. One research study showed basketball referees had an extremely high rate of hearing difficulties. We also know that arenas reach dangerously high noise levels during games and those kinds of levels, without hearing protection can cause permanent hearing loss. Left untreated, this loss can negatively impact an individual's social and professional life.
"People are aware of their hearing loss for an average of seven years before they decide to treat it," said Ed Keller, President of EarQ. "If we continue to educate former professional players on this pervasive issue, they can feel empowered to take control of their own hearing health and spread awareness."
Earlier this year EarQ also had us work with the NFL Players Association's Professional Athletes Foundation to bring better hearing to former pro athletes and discuss preventative measures for future athletes. While it is a lot of fun to spend time to get to know some of these retired athletes (legends!!!) it is rewarding to know we can help them in their post playing days.