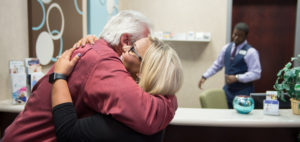 In the age of chain stores and big box retailers, independent locally owned businesses are a rarity. In the hearing industry, independent practices are even more rare as hearing aid manufacturers own their own retail chains or partner with mega-sized superstores. What becomes lost in all of this, is patient care. In Las Vegas, one husband and wife team are committed to providing independent advice and exceptional hearing care.
Locally Owned Private Practice
Robyn Edgson, BC-HIS and Lionel Lofton are the husband and wife business partners behind Hearing Associates of Las Vegas. Robyn, the lead practitioner and her husband Lionel Lofton are partners in the office and at home. Ask either one and they'll say its the other that makes their business successful. In other words, they bring the best out of each other. Together they are committed to providing exceptional care for each and every patient.
Hearing Aids are only as Good as the Professional Fitting Them
Robyn began helping people hear better more than a decade ago. Over those years, the technological advancements have made hearing aids more responsive, smaller, and that deliver far better sound quality. With that, one thing remains constant, the importance of fit and programming. Each patient is unique in terms of their loss, their communication environments, even their anatomy. This requires a professional fit and programming to address those variables. In order to hear your best its important that your hearing aid fits properly with the shape of your ear lobe and canal. The devices also must be programmed to meet your hearing loss as well as your day to day activities. These things can't be accomplished off the shelf or online, it takes an expert to get this right and adjust to your unique situation.
Better Hearing is a Journey
Your hearing loss developed over time, so adjusting to the sounds that are reintroduced through your hearing aids will take time as well.  And over time, your hearing is likely to continue to change. For these reasons it is important to choose a provider that will be with you, helping you along that journey to make sure you are getting the most from your investment in hearing aids. Lionel Lofton, co-owner with his wife Robyn, likens this level of service to Tiffany's signature blue gift box. With the blue box, you know your are getting something outstanding of the highest quality. With Hearing Associates of Las Vegas, Robyn, Lionel and their whole team are committed to providing outstanding hearing experience that you can't get anywhere else.
Call us today, your locally owned, independent hearing care professionals, 702-857-8188.