Flying for most people flying is a matter of booking a ticket and checking in and hoping to make connections without any problems. But if you struggle with hearing loss, it can be a much different experience. Here are a few tips on how to improve your experience.
Checking In for your Flight
Airports are often wide open with high ceilings making them the perfect place for background noise to bounce from point to point. If you wear hearing aids, it may be difficult for you to focus on one voice at check-in.  It might be beneficial to call the airlines ahead of time to notify them you will be traveling with hearing aids.
They will provide you with help during check-in, security, and getting to your gate. They will make sure you know when it is time to board, and help you get to the plane.
Most airlines have phone apps that you can download. The app allows you to check in, purchase baggage, and receive updates on your flight. It's still important to check in at the gate counter to let them know you are traveling with hearing aids, so they can help you have a comfortable flight.
Many airports have PA systems that include loop facilities. If you have a telecoil in your hearing aid, you can switch the aid to the "T" setting and position yourself near a loop so you can hear the announcements.
Hearing Aids and TSA Security
You don't need to worry about your hearing aids during the security check. They won't set off a metal detector or an x-ray machine. If the alarm sounds, security may use a wand or handheld metal detector to pinpoint the source. If this is the case, explain that you wear hearing aids so they can eliminate that as a source. People with hearing aids go through airport security every day, and the screening is a routine part of the trip.
Can the Metal Detector Damage My Hearing Aid Batteries?
There is a slight possibility that a metal detector may affect the sound quality of your hearing aids. To reduce the chance of this happening, you may want to turn off your hearing aids before going through the metal detector. You can also check with your hearing aid provider to determine if your hearing aids will be affected.
Can Hearing Aid Batteries Go in Checked Luggage?
Most batteries are safe to go in both carry-on and checked luggage. It is recommended that you carry spare batteries in both types of luggage in case of loss or damage. If you have a long trip, you will want to have batteries near you as a replacement option. Keep your batteries in their original packaging to keep them safe and dry. Place them in an easy-to-access compartment in your carry one.
Hearing Aids in Flight
You can wear your hearing aids during takeoff and landing. However, if you have Bluetooth wireless hearing aids, you will need to put them in airplane mode. This will save the life of your battery. If you are unsure how to do this, check your instruction manual.
Let the cabin crew know that you have hearing aids and would like to be notified in person if there are inflight announcements or safety information.
Sitting on an airplane with hearing aids may be too noisy for you and you may want to remove your hearing aids during the flight. Let your flight attendant know in advance that you will need visual cues for communication. If you choose to remove your hearing, remember to switch them off to preserve battery life.
IN-FLIGHT ENTERTAINMENT
Check with your airlines for specific entertainment options. They may offer inflight movie captions.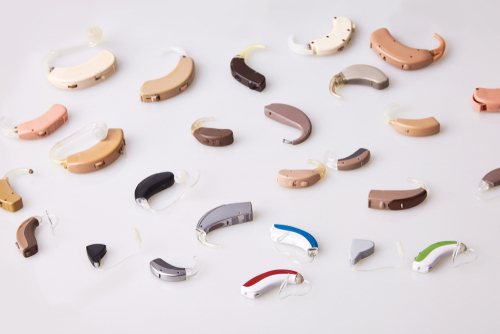 TIPS FOR TRAVEL WITH HEARING AID BATTERIES
Hearing aid batteries are not subject to the same rules as lithium batteries, so keeping spares with you isn't a problem.
Airlines keep an updated list of what is permitted in luggage on the plane. It is important to check with your airline the current prohibited items list.
It's important to keep your batteries in the original packaging. Be sure to keep them away from metal objects, like jewelry, keys, coins, and other batteries to keep them at peak performance.
What should I do if I lose my hearing aids during a trip?
If you purchase travel insurance, your hearing aids might be covered. You can also contact your hearing specialist to see what the warranty is on your hearing aids. If all else fails, you may want to consider purchasing hearing aids from a local hearing aid. If you are in Las Vegas, contact us. We will help you with your hearing aid replacements.