Hearing is an important part of our daily lives. It helps us speak, enjoy music, and stay safe by letting us hear important sounds around us. But as we get older, our hearing may worsen simply due to old age or because of extended exposure to loud noises. The good news is that improving your hearing doesn't just mean getting hearing aids. It also means learning about how our brains and sounds work together. At Hearing Associates of Las Vegas, we focus on this with our state-of-the-art live speech mapping technology. Continue reading to learn what you can do to improve your hearing health, how the brain responds to sound, and what speech mapping is all about.
What Is Live Speech Mapping?
Our skilled team uses the latest technology to not only assess your hearing health and find the proper hearing aids for you, but we also explain our processes and help you "see" your hearing health through our advanced live speech mapping technology.
The process starts with Real-Ear measurements to ensure your hearing aids provide the best fit. This measurement process lets our technicians fine-tune your hearing aids, giving you the amplification and assistance you need. During the process, we invite a family member to join us so we can test the hearing aids using voices and communication you're familiar with. Live speech mapping verifies the Real-Ear measurements by placing small microphones within your ear canal to measure the hearing aids response while also considering the size and shape of your ear. This highly effective process allows you to get the assistance you need in a safe and comfortable setting.
Real-Ear measurements in conjunction with live speech mapping have been shown to increase the outcome of fittings, reduce follow-up visits, provide tangible results that are easy to understand, and more.
How Does the Brain Respond to Sounds?
When sound waves hit our ears, they set off a complicated chain of events that leads to our ability to hear and understand what we hear. The outer ear, which guides sound waves into the ear canal, is the first part of the hearing process. When these waves reach the eardrum, they vibrate it, sending the sounds to the middle ear when three tiny bones amplify the sound.
The sounds are then sent to the cochlea, a spiral-shaped inner ear structure filled with fluid, and hair cells turn the vibrations into electrical messages inside the cochlea. The auditory nerve then sends these messages to the parts of the brain that process sounds.
Ultimately, the brain's reaction to sound is a complex and nuanced process that includes many different parts working together to give us a rich and meaningful auditory experience. Our ability to handle sound lets us interact with the world around us and clearly talk to other people.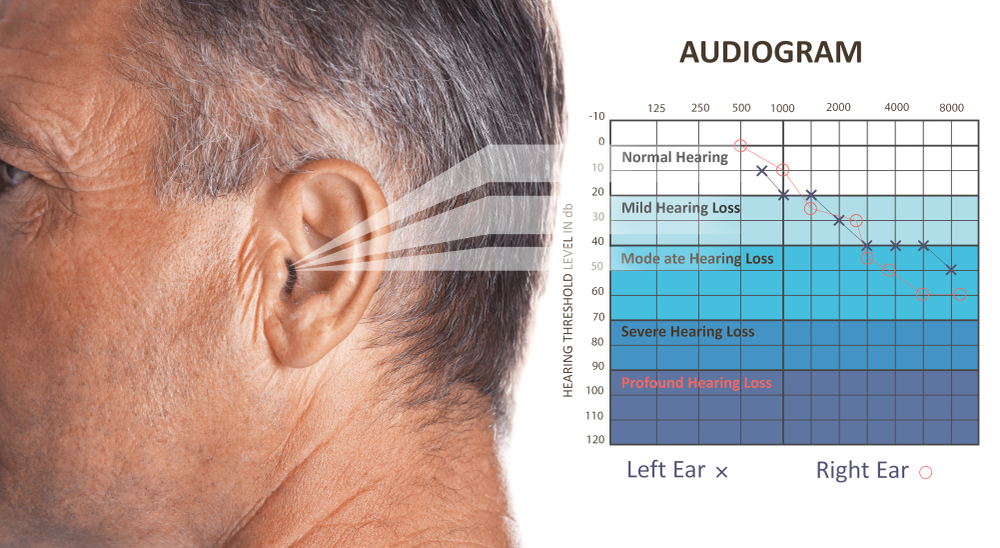 How Can You Manage Your Hearing Loss at Home in Addition to Wearing Your Hearing Aids?
In addition to consistently wearing your hearing aids, there are several things you can do at home to improve communication and your hearing health at home. Here are some tips that will help:
Reduce background noise:
Turn off unnecessary appliances or devices.
Close windows.
Use sound-absorbing curtains to reduce background noise in your living area.
Plan the best layout: Make the most of your living area by creating a layout that makes it easier to hear. For example, face other people when you talk or watch TV to see their mouths and how they move their lips.
Advocate for yourself: Encourage your family to face you when talking, make eye contact, and speak clearly and at a moderate speed. Explain that yelling or speaking louder will only distort communication more.
Use captioned media: When you can, watch TV shows, movies, and online videos with subtitles or closed captions. This will help you keep up with the conversation and enjoy the story more.
Take care of your ears: Keep them clean and dry to avoid infections. Talk with our team about the proper way to clean your ears, and if you have earwax buildup, schedule an appointment for safe removal.
Stay busy and communicate regularly: Regular physical and social activities can help your mental health and your ability to communicate. The more you use your communication skills, the better they can be.
Talk With Our Team Today to Assist With Your Hearing Needs
Using hearing aids is a great way to improve your hearing health, but there are also steps you can take at home. If you're curious about your hearing or concerned about a loved one's hearing loss, contact our team to see how we can help. We will start with an evaluation to assess hearing needs and develop a customized plan for treatment. At Hearing Associates of Las Vegas, our team takes the time to ensure you get exactly what you need for your hearing health. Don't wait any longer. Visit us online or call to set up an appointment today.