Last fall, hearing industry provider Ear-Q invited us to be their partner at the NFL Players Association meeting here in Las Vegas. Our job was to provide hearing screenings of former players and record the data as part of an ongoing study of players' hearing health.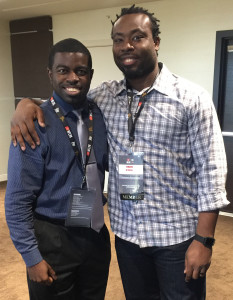 During the session we were introduced to former Oakland Raider player Oren O'Neal. O'Neal, a standout multisport athlete from Stuttgart, AK built a reputation for his determination. A walk-on player at Arkansas State, he was sidelined by a rare lung disorder and had part of his lung removed. Determined to play in the NFL, Oren worked hard to make it back on the the team. His do whatever it takes spirit earned him a scholarship position with the team. Because of his illness the NCAA did grant him a rare sixth year of eligibility.  CBS Sportsline told his story and named him National Walk-on Player of the Year for 2006.  Drawn by his work ethic and tenacity on the field, the Oakland Raiders drafted O'Neal as the 175 pick overall with their sixth round pick in 2007.
His coach Lane Kiffin named him the rookie player of the year having earned playing time on both offense and defense in 14 games. A knee injury kept him off the field in the 2008 season and he was eventually cut prior to the the 2010 season. His playing days over, O'Neal went to work for General Electric.
Oren tells us his post playing days are very difficult, with many health issues including side effects of Traumatic Brain Injury which impacts his memory.  One symptom is a persistent case of tinnitus.  "It's a pinging sound that I have every day nonstop, like my Big Momma."  Big Momma is his affectionate name for his grandmother who also struggles with tinnitus..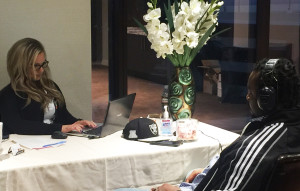 Oren's tinnitus symptoms are so severe he is unable to work and is extremely sleep deprived. Debilitating headaches often fills his days. After evaluating him, we were able to see a more complete picture on the effects of his tinnitus and his everyday life.  We fit him with Sivantos Binax hearing aids that have a built in tinnitus therapy function.  This provides him with various therapy signals that offer him a calming listening experience.   "I find the ocean sounds very soothing. It helps when I get racked up," Oren describes.
While it isn't known whether head injuries from his hard playing football days or a genetic connection caused his tinnitus, O'Neal continues to find the tinnitus masker very relaxing months after first trying out the hearing aids at the NFLPA meeting here in Las Vegas.
Fortunately, the NFL Players association and Ear-Q are committed to this long term study.  Hearing Associates of Las Vegas is happy to be a part of the research team.  Information gathered from players like Oren will help identify the connection , prevalence and extent of hearing loss throughout the NFL player population. Oren is grateful for this partnership. When asked if he has any regrets about the pain he suffers today, "Football has opened doors for me." We have no doubt Oren's spirit and fierce determination will help him overcome his debilitating tinnitus.