From earaches to aging, hearing loss affects millions of people every day. It's difficult to determine what type of hearing loss you have if you aren't feeling well. Hearing loss can occur in different parts of your ear and signals you that something isn't working correctly.
5 Types of Hearing Loss
Hearing loss is cataloged by how your auditory system is affected. There are five different types of hearing loss: functional, sensorineural, central conductive, and mixed.
Hearing loss, like eyesight, has different treatments, and a hearing specialist will provide you with options during your first visit and diagnosis.
Conductive hearing loss transpires when sound waves do not travel to the inner ear from middle and the outer ear. This common type of hearing loss, in most instances, is reversible. People with earwax buildup, fluid in the eustachian tube, or a perforated eardrum experience conductive hearing loss. More severe cases like a blockage in the ear canal or disease of the bones in the middle ear can also cause conductive hearing loss.  Some cases require surgery and if the damage is extensive a hearing aid might be prescribed.
Sensorineural hearing loss is the most common type of hearing loss for which hearing aids are prescribed. Damage to the acoustic nerve or in the inner ear prevents sound signals from reaching the brain. Also known as retro-cochlear hearing loss or nerve deafness, this type of hearing loss is irreversible in most cases. However, there have been some breakthroughs in audio technology that help treat once thought of as untreatable cases.

Aging is the most common cause of sensorineural hearing loss, but extended exposure to noise, blood circulation, or fluid disturbance also contributes to this type of hearing loss. Infrequently drugs, disease, heredity, or nerve issues contribute to hearing loss.
Hearing aids are the most common treatment for this type of hearing loss. In more extreme cases, a cochlear implant may be used to restore hearing if the hearing loss is advanced.

Central hearing loss occurs when the central nervous system (CNS) prevents the brain from processing sound signals. The brain is unable to decode or decipher conversations from other noise. An affected person struggles with being able to filter multiple competing sounds, like background noise in a restaurant. They struggle with hearing conversations.
Functional hearing loss takes place when there is no medical explanation for the hearing loss. There is an underlying emotional or psychological. This type of hearing loss is difficult to diagnose and treatment usually includes therapy.
Mixed hearing loss – is a combination of hearing loss categories. A mix of conductive and sensorineural hearing loss is the most common. However, there can be other types of combined hearing loss diagnosed.
How Do I Find a Hearing Aid to Fit my Needs?
You are going to need to see an audiologist or hearing specialist. You may need a medical referral for this. An audiologist is a hearing specialist who will walk you through a series of hearing tests to diagnose your hearing loss. After conducting a comprehensive evaluation, the audiologist with talk with you about your lifestyle, hobbies, interests, and communication needs.
They will help you determine what hearing aid is best for you through a physical exam of your head, neck, and ears.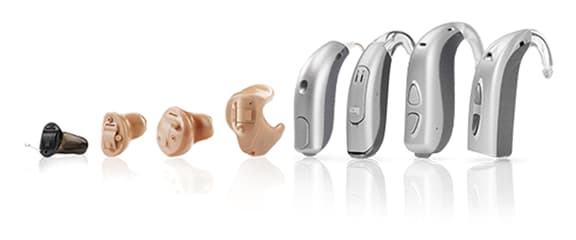 How Do I Choose the Right Hearing Aid and Brand?
It can be overwhelming to choose a hearing aid that is right for you due to all of the choices available. Before making decisions about hearing aid brands, you should prepare to discuss with your audiologist your specific hearing needs.
What is your budget? Hearing aids can cost anywhere from $100.00 to $7,000 a pair.
What do you want in the style and features of your hearing aids do you want automatic sound adjustments and background noise reductions?
What type of fit do you want?
What is your lifestyle? Are you active or sedentary?
Your audiologist is the specialist with the knowledge to help you choose the best type of hearing aid and the best brand that works for your individualized needs.
At Hearing Associates of Las Vegas, we are here to help you make the hard decisions about choosing hearing aids. We are a caring family practices with the knowledge to help you select the hearing technology for you. We will take time to listen to your needs and walk you through each step of the process. We want you to hear better so you can live the quality of life you deserve.