For many people, hearing aids are the answer for their hearing loss, allowing them to hear clearer and communicate more effectively. However, like most things, hearing aids don't last forever, and you need to know when it's time to replace them. At Hearing Associates of Las Vegas, we can assist you with an updated hearing test and explore what hearing aids work best for you, as well as provide you with the latest hearing aids on the market. It's important to know when to change your hearing aids and get new ones so that your hearing health and quality of life stay at their best. It's also essential to have an experienced audiologist team on your side. Continue reading to learn some signs that it's time to upgrade.
Signs That Point Toward Needing New Hearing Aids
The following signs are the most common ones that point toward needing new hearing aids. If any of these apply to you, consider scheduling an appointment with our team to determine your options.
Hearing Aids That Don't Work as Well: If you find that sound is less clear through your hearing aids than it once was, this could be a sign that they are getting old. Like most electronic devices, hearing aids have parts that can break down over time.
Frequent Repairs: If your hearing aids need to be repaired often, it could mean that your existing devices aren't as reliable as they used to be. Not only that but fixing hearing aids all the time can be annoying and cost you more money over time than simply purchasing new ones that are more reliable and might offer more benefits.
Lifestyle Changes: If your lifestyle or hearing needs have changed since you got your current hearing aids, it might be time for an update. For example, you might want to look at new choices if you've become more active and need hearing aids that can handle water or connect to Bluetooth.
Outdated Technology: Technology for hearing aids is constantly changing. Newer models often have more functions and better ways to process information. If your hearing aids are over a few years old, you might want to get new ones to use the latest technology.
Concerns About Battery Life: If you notice that the battery life of your hearing aids has decreased, it could be a sign that they are wearing out. Most newer hearing aids are made to use less energy and have longer batteries. Also, many newer hearing aid batteries are rechargeable, so you don't have to worry about the batteries dying at an inconvenient time.
Physical Damage or Wear: If you see damage, cracks, or other signs of wear and tear, it might be time to replace them. Physical damage can make them work less well and make it harder for you to hear well.
Awkward Fit: Over time, your ear shape or size may change, which could make your present hearing aids fit or feel bad. If your hearing aids hurt or slip out of your ears often, you may need new ones that fit better.
Audiologist Recommendation: Regularly seeing our team is the best way to check your hearing health. If we notice that your present hearing aids don't meet your needs or are outdated, we can discuss alternatives and ensure you're fitted for ones that work better for you.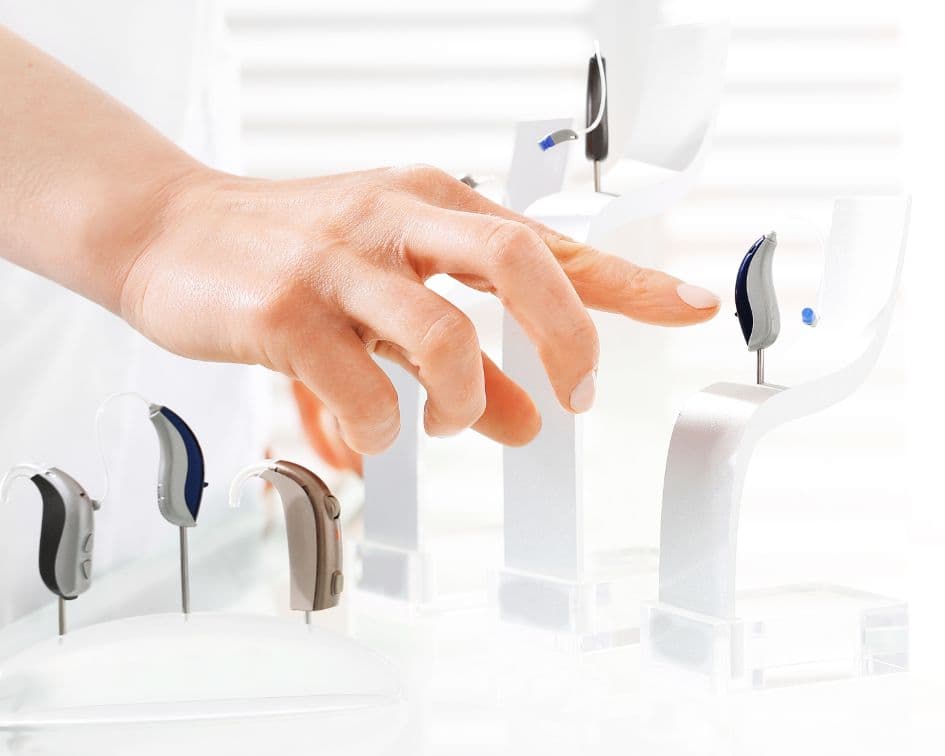 Caring For Your New Hearing Aids
Hearing aids are an essential investment in your general health, and when the time is right, getting new ones can make a big difference in how you live your life. If you're concerned about the state of your hearing aids, talk with our team today. Once you've found the best pair for you, you can adequately care for them by following the tips below.
Clean Your Hearing Aids Often: Clean the outside of your hearing aids daily with a soft, dry cloth to get rid of dirt, sweat, and oil. Don't use water, cleaning products, or alcohol because they can damage the parts.
Keep them dry: Moisture can hurt hearing aids. Store them in a dehumidifier or a cleaning kit made just for hearing aids when you're not using them. Don't put them on in the shower or when you're swimming.
Handle Them Carefully: When you put the hearing aids in or take them out, do it over a soft surface like a table. Don't drop them or mistreat them in any way.
Batteries: If your hearing aids use batteries that need to be thrown away, keep spares on hand. Open the battery box when you're not going to use it to stop corrosion.
Avoid Extreme Temperatures: Extremely hot or cold temperatures can hurt how hearing aids work. Keep them somewhere cool and dry, and don't leave them in a hot car or in the sun.
Use a Protective Case: When you are not wearing your hearing aids, keep them in a strong, protective case to keep them from getting damaged.
Regular Checkups: Schedule regular checkups and maintenance with our team to ensure the devices work well.
How To Know When You Have Quality Hearing Aids
The first step is to talk with our team. We can help you determine your needs and suggest the best hearing aids for your hearing loss and lifestyle. We offer a variety of well-known brands with advanced features like background noise reduction, directional microphones, feedback suppression, and wireless connection to help you hear better.
The best hearing aids are designed to fit your unique ear shape and meet your specific hearing needs.
We take the time to ensure your new hearing aids hit the mark, as well as explain the fitting process for you and answer any questions you have. Contact our team today whether you need new hearing aids or are concerned about your hearing and think you might need hearing aids.