Finding the right hearing aids to treat your hearing loss can seem overwhelming, as there are hundreds of different hearing aids from a wide variety of hearing aid brands. But, luckily, you don't have to figure out what hearing aids are best for you on your own.
Here at Hearing Associates of Las Vegas, we have helped many people find their ideal hearing aids. Our recommendations are always based on what best suits our patient's hearing loss needs as well as what hearing aids provide the kinds of features that the patient has prioritized.
However, if you are looking for all-around excellent hearing aids, there are three hearing aids that are our top picks for dependable, high-tech hearing aids.
What Hearing Aids Made The Cut For Our Top Picks
The three hearing aids that have made the cut as our top picks are Oticon Opn S, Widex EVOKE, and Starkey Livio AI. These hearing aids are packed with exciting new features and have a lot to offer users.
Oticon Opn S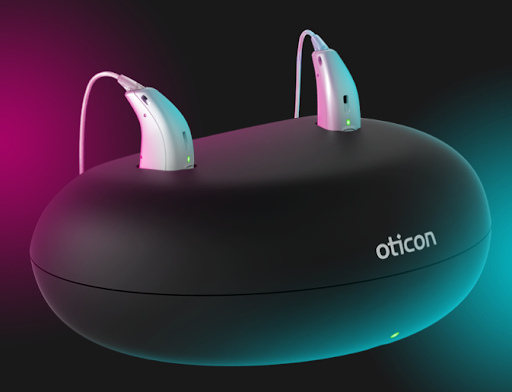 Newest addition to the Oticon brand, the Opn S is an improvement on the already-popular Opn hearing aids. These sleek hearing aids come with a range of engaging features to help improve your hearing experience.
One of the standout features of the Opn S is the 360-degree sound experience. Rather than having a narrow band of sound capturing, Opn S hearing aids help you remain aware of what is going on around you.
Opn S hearing aids are Made For iPhone, which means you can directly stream music, phone calls, and other audio from your iPhone, iPad, or other compatible Apple products. For other Bluetooth-capable devices, you can connect to the Opn S with hearing accessories.
If you struggle with tinnitus, you can utilize the Tinnitus Sound Support feature built into these hearing aids. There are a variety of soothing sounds to choose from, and they can be customized for your needs.
You can pair your Opn S hearing aids with the Oticon ON app to help you take greater control of your hearing aids. With the ON app, you can adjust the volume on your hearing aids, use it to locate them if your hearing aids are lost, change listening programs, and other helpful control features.
The miniRITE style of the Opn S is rechargeable, coming with a lithium-ion battery. Simply pop your hearing aids onto their charger at night and wake up to fully-powered hearing aids.
There are also a number of hearing aid accessories you can pair with the Opn S to help increase their utility and make connectivity easier. The available hearing accessories are:
Charging station (comes with the purchase of Opn S miniRITE R)
TV adapter to stream shows to your hearing aids
Remote control for your hearing aids
ConnectClip to assist with streaming calls, music, and audio
Phone Adapter 2.0 for landline telephones
Widex EVOKE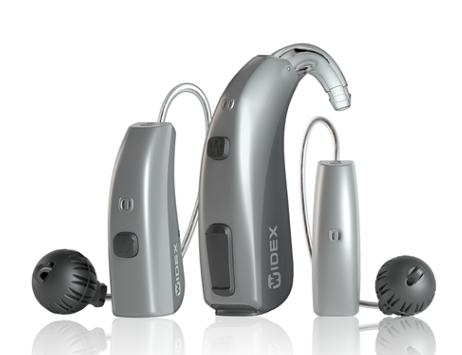 The most powerful hearing aids offered by Widex, the EVOKE hearing aids come in a range of styles and colors. While the features can vary depending on the style of EVOKE hearing aids you choose, these hearing aids have impressive features to offer users with mild-to-severe hearing loss.
EVOKE hearing aids are a powerful hearing loss tool that learns as you use it. As you make adjustments to your hearing aid volume and programs, EVOKE hearing aids store the information and can start to automatically adjust.
Using ZPower rechargeable batteries, you can either purchase rechargeable EVOKE hearing aids or have your existing pair of EVOKE hearing aids retrofit to be rechargeable.
Remote care is available with the EVOKE hearing aids. With this feature, our hearing instrument specialists can perform adjustments to your hearing aids without you needing to come into our clinic.
Depending on what style of EVOKE hearing aids you have, you can either use the TONELINK app or the EVOKE app. These apps perform essentially the same functions—allowing you to change the volume on each hearing aid, change the directional microphone, select your hearing aid program, and more.
You can also pair your EVOKE hearing aids with a variety of hearing aid accessories to help improve your ability to communicate with others.
COM-DEX allows you to stream Bluetooth and used as a microphone
PHONE-DEX is best for landline phones to allow hands-free streaming
UNI-DEX can be plugged into any aux port to help stream audio
FM+DEX is an FM streamer and can help stream signals from telecoils
CALL-DEX plugs into your phone's jack to use your cell phone hands-free
Starkey Livio AI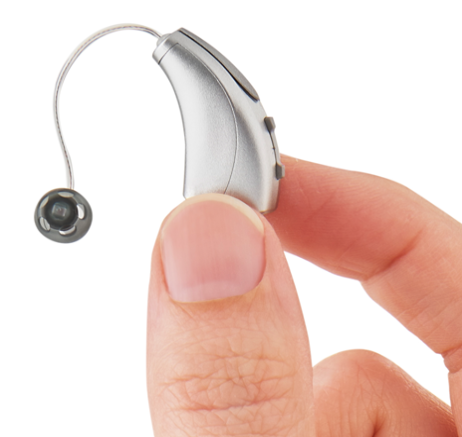 First hearing aid designed to take your body and brain health into account, the Starkey Livio AI is meant to help users take greater control over their healthcare and lives. Designed along discreet lines, the Livio AI hearing aids are full of helpful features.
Sensors are built into the Livio AI hearing aids. These sensors allow these hearing aids to track how long and how often you wear your hearing aids. With this information, it can help you monitor your brain health. Also, the sensors can detect if you have fallen and call your programmed contacts for help.
Stream phone calls, music, TV, and other audio media directly to your Livio AI hearing aids. Some styles of this hearing aid will require an additional hearing aid accessory for connectivity.
The RIC hearing aid style of the Livio AI hearing aids are rechargeable. A compact recharging station is included in your purchase to make recharging your hearing aids easy and quick.
Pair the Livio AI hearing aids with the Thrive app to take discreet control of your hearing aids. Geotag locations with automatic hearing aid programs, change the individual volume on your hearing aids, see your hearing aid wear time, and more.
There is also a handful of hearing aid accessories you can pair with the Livio AI hearing aids, depending on what you need from your hearing aids.
TV device to stream audio from your TV to your hearing aids.
Remote Microphone+ allows you to stream audio from the microphone to your hearing aids.
Mini Remote Microphone discreetly performs the same function of Remote Microphone+.
Remote allows you to control your hearing aids without using a smartphone.
Find These Hearing Aids In Las Vegas, NV
Whether you are looking for the Opn S, EVOKE, or Livio AI hearing aids, you can find all of them at Hearing Associates of Las Vegas. We also carry many other hearing aid brands and styles, so no matter what you are looking for, we can help!
If you are interested in trying one of our top pick hearing aids or other hearing aids and accessories, please contact us. We look forward to helping you enjoy the best hearing possible!