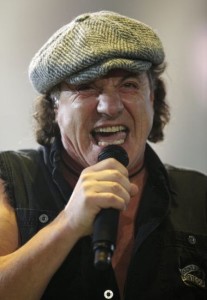 Fans of rock band AC/DC were thunderstruck by this bit of news: The remainder of their North American tour was cancelled. Doctors advised lead singer Brian Johnson to stop touring immediately or risk permanent deafness according to a press release from the band. The band had tour dates scheduled throughout the east coast as well as a European leg.
As classic rock fans know, AC/DC guitarist Malcolm Young left the band in 2014 due to the onset of dementia. We don't know many details of his diagnosis. What we do know is there is an extensive body of medical research showing a strong link between hearing loss and cognitive decline. Dr. Frank Lin of Johns Hopkins has been studying the brain loss-hearing loss connection to prevent an impending health crisis as our population ages.
Do Loud Concerts Cause Deafness?
Absolutely yes! We know of countless rock musicians with hearing troubles. AC/DC is known as one of the loudest bands to ever perform, setting a record of 130 decibels. Exposure to sounds over 85 decibels can cause permanent noise induced hearing loss. After the normal aging process, excessive noise exposure is the leading cause of hearing loss. Musicians, soldiers, construction workers are all at high risk for causing permanent hearing loss. We strongly encourage hearing protection for people that are regularly exposed to loud noises.
The performers aren't the only ones at risk. Turn down the volume on headsets and ear buds when enjoying your favorite music. Teens especially are at high risk for developing permanent hearing loss. We are blessed with so many wonderful concert choices in Las Vegas, but you should really think about wearing hearing protection at shows. Security personnel, ushers, stagehands and performers are all wearing hearing protection and you should too.
Take steps to protect your ears at work and play, as they are the only ones you have! Ask us about our custom hearing protection options.