At the Cosmopolitan of Las Vegas, major hearing aids manufacturer Widex is holding a conference May 3-4, 2018, to roll out a new kind of hearing aid. According to Widex, the new hearing aid technology they developed has the potential to become the new gold standard for hearing aids.
As leading providers of hearing aids and hearing-related services, it is only natural that the Hearing Associates of Las Vegas attend this exciting conference. That way, we can continue to bring you the latest information and hearing-related products, which information we are happy to share with all our patients.
This conference was fantastic and we were glad we could attend! It was quite the experience to learn more about this new technology and we can't wait to share more of it with you.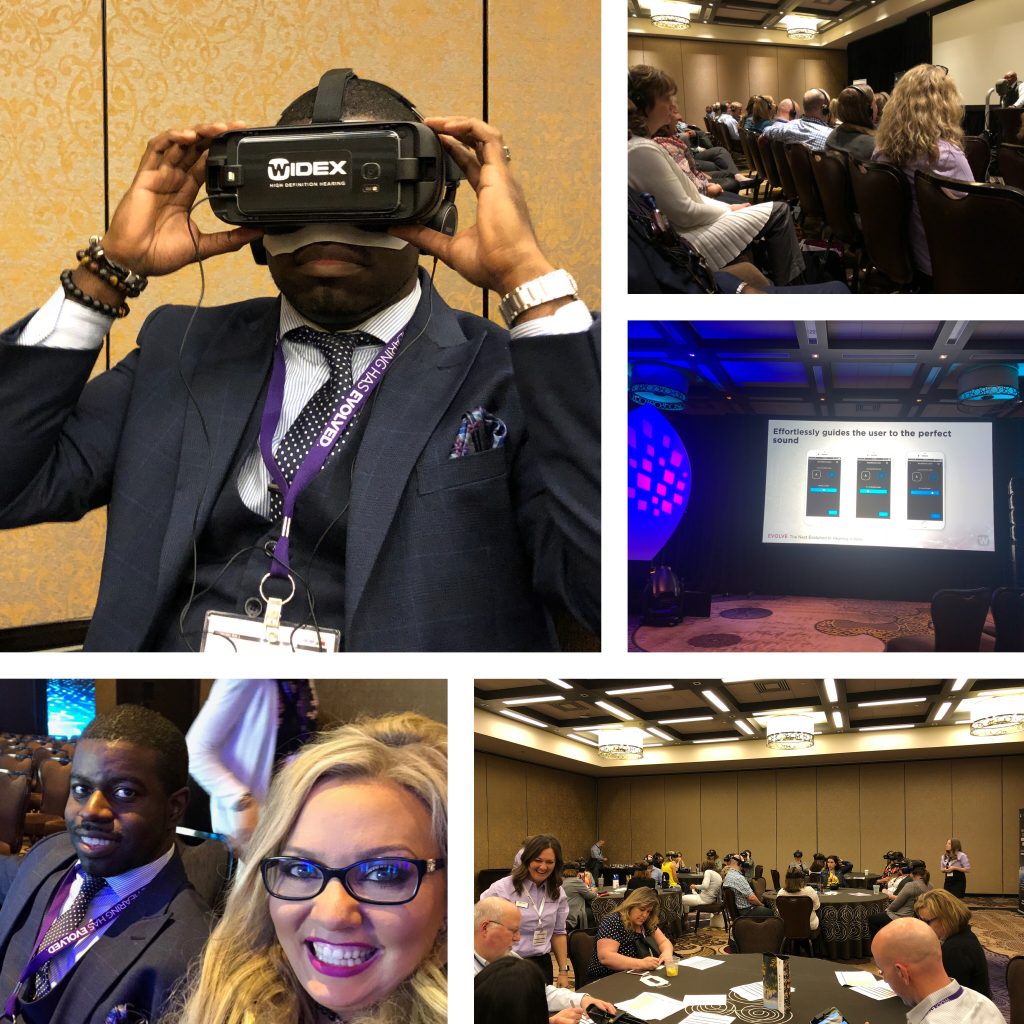 Widex EVOKE Hearing Aids Have Real-Time Learning
Say you have hearing aids and are out having lunch with friends at a noisy cafe. It may have become second nature for you to try and fumble for the volume adjustment on your hearing aids. This process isn't very convenient and depending on your dexterity and hearing aids style, you may have to remove your hearing aids to properly adjust your hearing aids.
This process can be much more streamlined with the Widex EVOKE hearing aids. These hearing aids come with Widex's new SoundSense technology, which should be paired with the EVOKE smartphone app. So, instead of fumbling with the different volume dials, you can simply pull out your smartphone and choose between various sound suggestions on the EVOKE app to adjust the sound input of your hearing aids.
The Widex EVOKE app can even be taught to recognize an calibrate between sounds.That way you can turn down the cafe noises and tune into the conversation with your friends.
Even better, say the example cafe is one of your favorite lunch spots. Well, the SoundSense technology will remember your preferences and automatically adjust when processing similar sounds. Should circumstances be similar in other areas, the Widex EVOKE hearing aids are supposed to be able to remember your previously logged preferences and apply that to your real-time hearing experience.
Hearing Aid EVOKE App Adjustments Can Help Others
Another interesting feature the Widex EVOKE hearing aids is the worldwide experience sharing. If a Widex Evoke hearing aid user in London common uses public transit and has logged their sound preferences, those preferences can be shared with your Widex EVOKE hearing aids.
Naturally, you are free to alter the shared Widex EVOKE SoundSense adjustments. However, thanks to the ability to receive and use input from all Widex EVOKE hearing aids users, these hearing aids should be able to deliver an improved hearing experience with little input from you needed.
Where You Can Find Widex Hearing Aids
The Widex EVOKE hearing aids started to become available to the public at the end of April, with the Widex EVOKE conference officially launching the new hearing aids. As for where you can find Widex EVOKE hearing aids, you only need to contact us at the Hearing Associates of Las Vegas. As we work with the best hearing aids manufacturers, you can be sure to find an extensive selection of the best hearing aids when you come into our offices.