Experiencing worsening symptoms of tinnitus at night? Many people with tinnitus find that their symptoms get worse in the evening and early. Whether you are experiencing tinnitus short term or if you have been experiencing tinnitus for a long time, you may be wondering why our tinnitus symptoms seem to be louder at night.
Why is Tinnitus Louder at night?
The ringing in your ears at night doesn't get louder. It only seems that way because of the environmental noise around quests at night. When outside noises like television, family, and electronics are turned off, the ringing in your ears might seem louder because there is no static noise to help you ignore the ringing.
Tinnitus can become especially distracting when you close your eyes because your eyes use visual stimulation to help you understand your surroundings. When you close your eyes to fall asleep at night, you lose that visual stimulation or distraction. Without that visual stimulation, your ears become your main sense. With nothing to see or hear at night, you think your ringing is louder and more distracting.
This can cause you to feel like your tinnitus is worse when you are trying to fall asleep. It might become a key focus of your nighttime thoughts and make it much more difficult to fall asleep, reducing the number of hours you sleep each night. Losing sleep can cause additional problems to your health. When your body becomes sleep deprived, you can experience serious side effects such as;
Difficulty with attention
Decreased mental focus and clarity
Inability to solve problems
Slurred or slowed speech
Lower energy and stamina
Fatigue
Nausea
Vertigo
What can you do to Reduce Tinnitus at night?
So what can you do to reduce the symptoms of tinnitus at night? Several treatments can help you and your audiologist or hearing specialist find the best treatment for you. Here are a few possible solutions.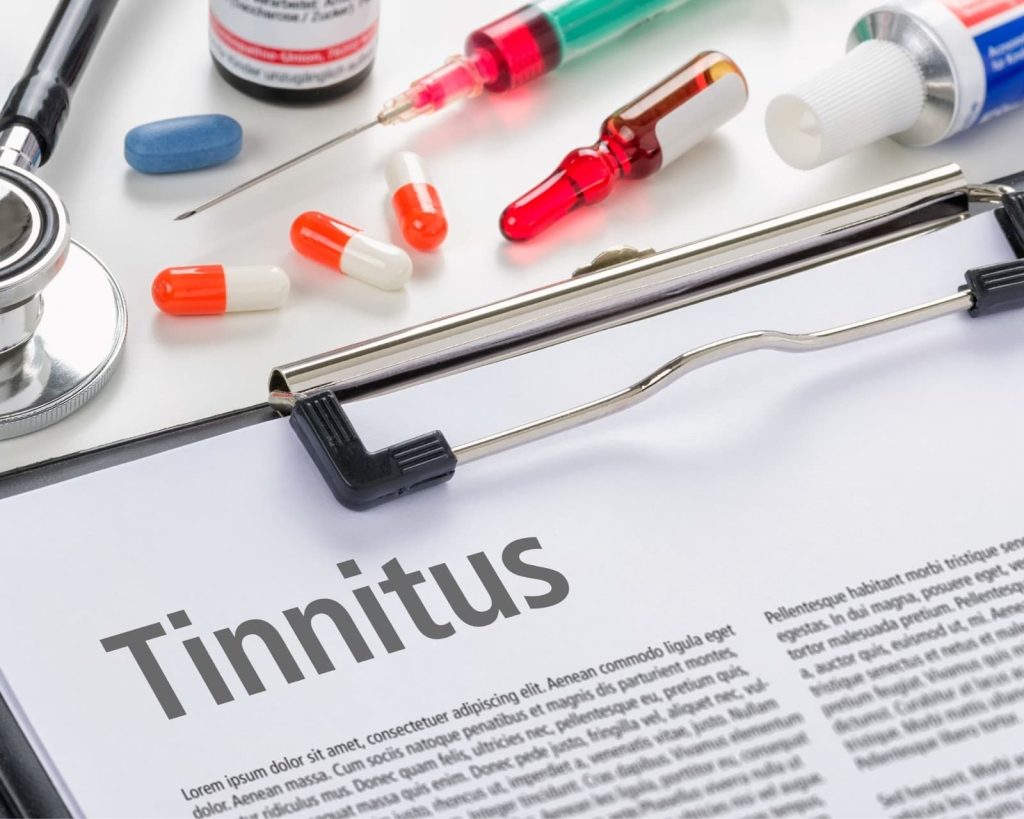 Sound Generators
Sound Generators use white noise auditory devices to block out tinnitus ringing sounds.
Tabletop sound generators are placed beside your bed to reduce the ringing sounds you experience while sleeping.
Tabletop sound generators are placed on your bedside table to reduce the ringing sound experience while sleeping. They use natural sounds like birders, rainfall, wind, or a heartbeat as distractors for the ringing.
If you are not a fan of natural sounds, you can also use a sound generator that emits white noise which is a very low-level constant whooshing sound similar to radio static or a fan.
Tabletop sound generators are fully portable and usually battery-powered or plug-in.The device can be left on throughout the night to distract users from tinnitus ringing first thing in the morning.
Wearable sound generators can be placed in or be in the ear much like a hearing aid. They generate white noise to block out the ringing of tinnitus.
Tabletop sound generators are commonly put by the bedside to ease ringing sounds experienced while sleeping. They usually emit natural sounds like rainfall, wind, birds, or a heartbeat to distract users from tinnitus.
Practice good sleep hygiene.
If bedtime is stressful at night due to your tinnitus and you are anxious and struggling to fall asleep, create a calming sleep experience. Make your bedroom a peaceful and relaxing space by using blackout curtains, a weighted eye mask, and aromatherapy. Take away your electronic device at least 30 minutes before bedtime. Add yoga or meditation to your nighttime routine. Good sleep habits won't cure your tinnitus, but creating a sleep routine will help make falling asleep easier.
Tinnitus diagnosis and Treatment
Tinnitus diagnosis and treatment is a complex and challenging process. You can make an appointment with your hearing specialist to discuss your symptoms. Your audiologist will evaluate your hearing by taking you through several auditory tests to determine the type and severity of your tinnitus.
They will also give you a comprehensive exam of your head and ears to rule out other possible causes of tinnitus such as earwax buildup. They may recommend a visit to your primary care physician for further testing to rule out head injury or anemia.
They will ask you to explain to the best of your ability how you experience tinnitus. Do you hear ringing, whooshing, humming, or ringing? Try to be as specific as possible.
Your audiologist will provide you with a treatment plan based on your diagnosis. This may include hearing aids, cognitive behavior therapy, or a combination of multiple treatments.
If you are struggling during the day that worsens at night, contact our Las Vegas hearing loss center. We will create a personal hearing plan for you to help improve your hearing and reduce your anxiety so you can have a better night's sleep!