Millions of Americans have some degree of tinnitus, and millions of people worldwide also struggle with this hearing condition. Yet, even with so many people suffering from tinnitus, there is no definite cure. Worse, depending on what health care professional you work with, treatment and management can vary widely.
While our hearing specialists would like nothing more than to present our patients with a cure for tinnitus, the reasons why there is no cure for tinnitus are complex. These reasons range from lack of understanding tinnitus to difficulties assessing tinnitus at all.
To help you get a clearer idea of the progress toward a tinnitus cure—and currently available treatment and management for tinnitus—your Las Vegas tinnitus experts are here to explain.
Research Around Tinnitus Is Still Limited
Tinnitus isn't a new issue. However, professional research surrounding tinnitus is still pretty thin on the ground, especially when you compare it to other chronic conditions such as hearing loss, depression, and other issues. Without more in-depth research, it is next to impossible to find a cure for tinnitus.
That is not to say that there never will be enough information on tinnitus. There are several grant-supported researchers who are working on expanding our knowledge of tinnitus as well as Ph.D. candidates who are studying tinnitus. That way, eventually, we can more effectively treat and potentially cure tinnitus.
Tinnitus Subtypes Can Make Finding A Cure Difficult
Another issue that comes up when seeking a cure for tinnitus is that tinnitus can be a bit of a catch-all term that includes a range of disordered hearing issues.
As we briefly mention on our educational tinnitus page, there are different types of tinnitus, as well as various ways tinnitus sounds can be expressed. Even our overview is limited, as there isn't enough information on tinnitus subtypes. And, like other diseases that have variations, the cure for different subtypes of tinnitus will likely need to be different, or at least varied.
Better Equipment To Assess And Measure Tinnitus Is Needed
Evaluating tinnitus is also a tricky spot when it comes to finding a cure for tinnitus. At this time, a tinnitus evaluation revolves around a hearing health care professional discussing your medical history, evaluating your hearing, and for you to describe your own tinnitus symptoms.
While this method works to an extent, for a tinnitus cure to be uncovered, hearing health care professionals will need better equipment to assess their tinnitus patients. To help give you a better idea of the difficulty of finding a cure for tinnitus—even with the right equipment—see the tinnitus cure map below.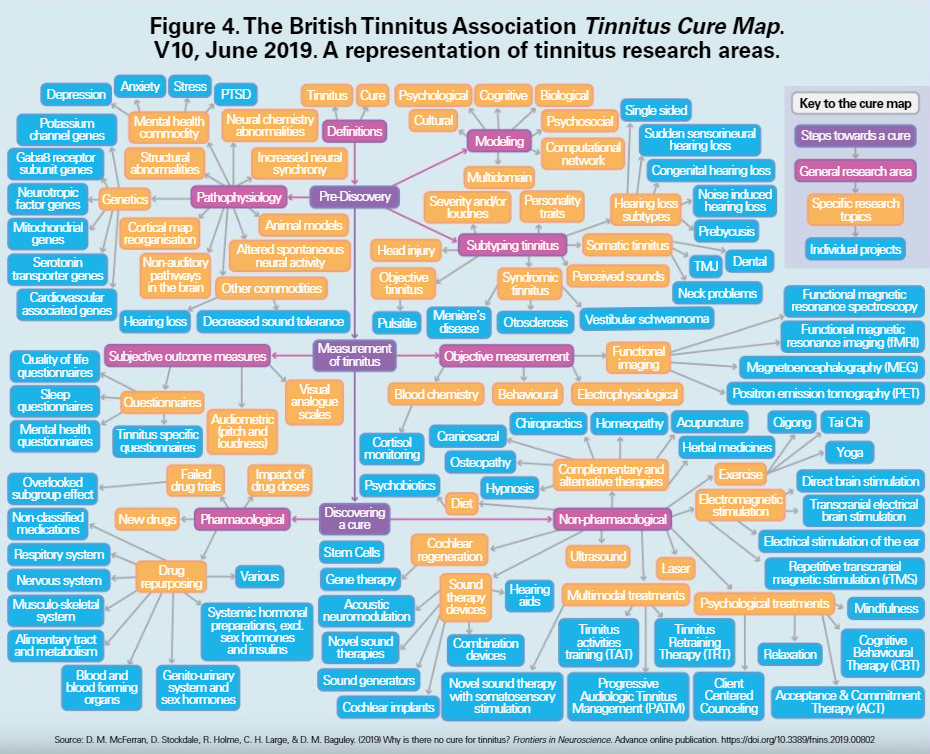 (Image source: Tinnitus Today)
As you can see, it is far from easy to even start finding a cure for tinnitus. However, that is not to say that you can't find effective treatment and management tools to help with your tinnitus while researchers look for a cure.
How To Avoid Tinnitus Treatment And Management Frustration
An interesting factor to consider when it comes to your tinnitus treatment is what health care professional is the best suited to help. Some people instinctively turn to general practitioners, but often, these professionals lack experience and knowledge of how to help with a patient's tinnitus.
According to a survey of tinnitus patients in the United Kingdom, the health care professionals who were most helpful when treating tinnitus were specialized hearing health care professionals, such as audiologists, hearing instrument specialists, and hearing therapists. So, why waste your time with other healthcare professionals when you can go to the source?
Here at Hearing Associates of Las Vegas, one of our specialties is caring for those who struggle with tinnitus. We offer a variety of tinnitus treatment and management tools, such as:
Hearing aids with tinnitus management built-in for easy daily treatment
The Levo System, to train your brain to ignore tinnitus as you sleep
Tinnitus education and counseling with our hearing health care specialists
Medical referrals to help manage tinnitus
Relaxation in our Tinnitus Relief Studio
To find compassionate and effective tinnitus treatment and management tools in the Las Vegas area, please contact us today and let us help you take care of your tinnitus.