It may seem like a footnote in the hearing aid buying conversation, but what color of hearing aids you get can make a difference in how you feel about your new hearing devices. You may not know it, but there are actually a lot of hearing aid color options! Not all hearing aids are either beige or silver, though you can still pick those colors if you prefer.
If you are looking for hearing aids in Las Vegas, we want to help you learn about the options you have when it comes to your new hearing devices. So, to help you decide if you should go bold or discreet with your hearing aids, check out some of the options we can order for you!
For Hearing Aids That Blend In—Go Hair Or Skin Tone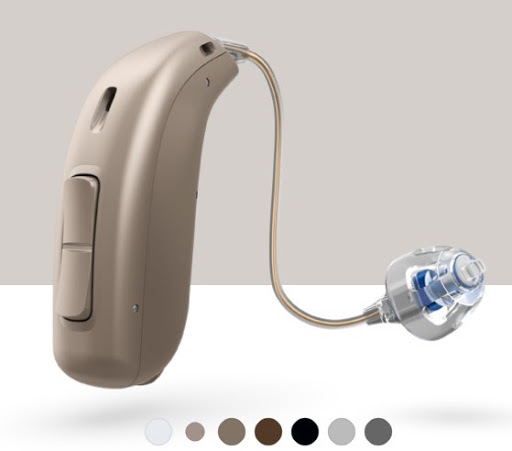 There is nothing wrong with wanting discreet hearing aids that won't compete with your other style choices for attention. Most major and minor hearing aid brands will have skin tone and hair color hearing aid options, like the Oticon Opn S hearing aid pictured above.
For a hearing aid that blends in, you are better off going with one that blends in with your hair rather than your skin tone. The coloring on the skin toned hearing aids isn't all that close to anyone's coloring, while it is easier for a hair colored hearing aid to blend in.
Wear Statement Hearing Aids—Pick A Bold Metallic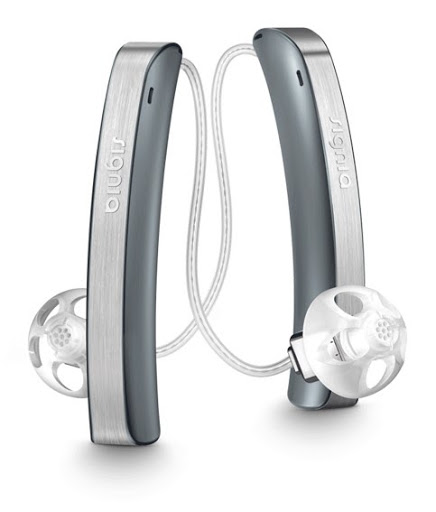 You may have seen metallic hearing aids before, but you likely haven't seen anything like Signia's Styletto hearing aids. These bold, metallic hearing aids are uniquely shaped, as Signia redesigned the rechargeable lithium battery, resulting in the stand-out shape of the Styletto hearing aids.
To complement the bold shape of these hearing aids, the Styletto hearing aids come in these color combinations—Cosmic Blue and Rose Gold, Dark Granite and Silver (shown above), and Snow White and Rose Gold. These brushed metal hearing aids are definitely statement hearing aids and are great for those looking for fashionable hearing aids.
Try Something Unique—Grab Camo Hearing Aids
A unique style that isn't as commonly seen is camo hearing aids. While these hearing aids aren't likely to camouflage in with your hair when you wear them, they are a fun way to embrace your camo-loving style.
Not as many manufacturers carry this color style. The ones pictured above are from ReSound. Specifically, these color options are available with the ENZO Q series of hearing aids. These hearing aids are ideal for those with mild-to-profound hearing loss.
Fun Hearing Aids For Kids—From Colorful To Discreet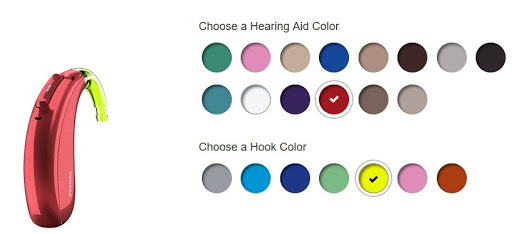 Kids aren't known for being into neutral colors, so why should their hearing aids be any different? With the hearing aid manufacturers that make children's hearing aids, you can find a fun array of color options to help your child be more excited about wearing hearing aids.
For instance, Phonak has the Sky Marvel hearing aids that allow options to be made with both the hearing aid casing and the hook. Kids can mix and match their colors for a unique hearing aid color combo.
Embrace Simplicity—Go Black Or White
To keep your hearing aids from trying to compete with your style choices, you can always go clean and simple, opting for a black or white hearing aid. Since the casing on most hearing aids is plastic, it should be relatively easy to keep white hearing aids in their original color, though that will depend on your cleaning routine.
The pictured hearing aids are from Starkey as part of their newly-released Livio Edge AI. So, along with a sleek hearing aid, you can enjoy the latest in hearing aid tech, such as wireless streaming from your smartphone, improved hearing technology, rechargeability, and more.