When you are looking for the perfect pair of hearing aids, you may not be aware of the strides that have been made in hearing aid technology. With the innovations continually being made, you can more easily find hearing aids that can help improve not just your hearing, but your overall quality of life.
One hearing aid brand that has been making exciting strides is Oticon. In some of our recent posts, we have talked about Oticon accessories and specific hearing aids from Oticon. Well, for this post, we wanted to talk about Oticon's Kaizen and HearingFitness, two new features that aim to make your hearing more intuitive and natural.
Learn More About Kaizn And HearingFitness
Our hearing health care professionals make it a point to stay on top of all of the latest hearing research and technology. And, while the news about Kaizn and HearingFitness came out a while ago, our hearing specialists have found that there still isn't a great understanding of what these Oticon features can do for you.
Below is an overview of the features Kaizn and HearingFitness and how these features can improve your hearing.
Kaizn
Designed to be an AI hearing assistant, Kaizn has been created to learn all about your hearing needs and preferences. It will collect information on the different listening environments that you find yourself in, and analyzes how your Oticon hearing aids can be best adjusted to help you perform better.
For instance, say that you go into your favorite cafe during the lunch rush. Kaizn will notice the noise and send a push notification to your phone, asking if you want the volume and sound balance altered. Over time, once Kaizn learns your preferences, the hearing aid AI will change the settings of your hearing aids automatically.
HearingFitness
How you use your hearing aids can have significant impacts on your physical, mental, and emotional well-being. Similar to how step trackers keep you aware of your movement, HearingFitness will track how many hours you are wearing your hearing aids, and help you set daily goals regarding hearing aid use.
HearingFitness will also send you reminders to use your hearing aids, help track what kind of listening environments you are in, and provide you with advice regarding your hearing health.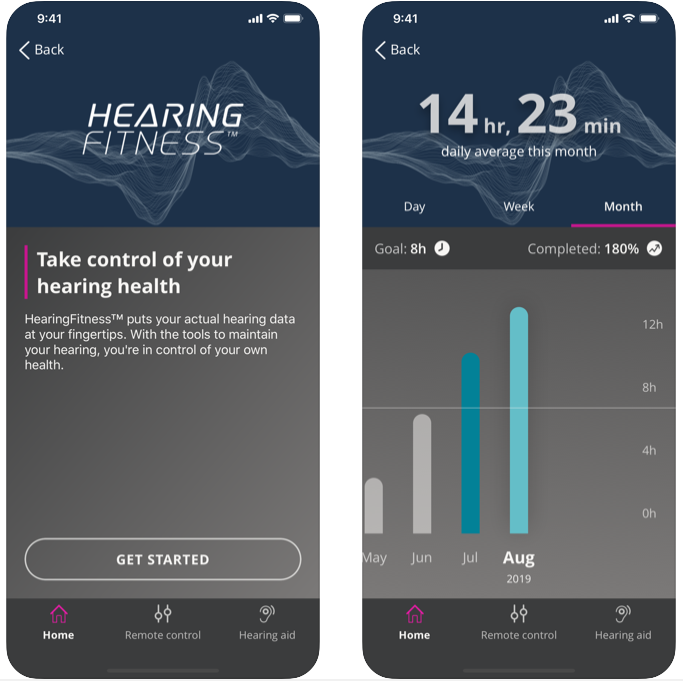 Which Oticon Hearing Aids Have HearingFitness?
Now, as we understand, at this time, Kaizn has not been completely implemented by Oticon as of the time of writing this post. It has been implied that Kaizn will be its own separate app that will connect to your hearing aids and collect data, but that is not set in stone.
However, the hearing aids that are compatible with the HearingFitness feature are more clearly defined. As long as your hearing aids can connect to the Oticon ON app, you can use the HearingFitness feature, as it is one of the things the ON app allows you to access. The hearing aids that can connect with the ON app are:
Opn S
Opn
Opn Play
Xceed
Xceed Play
Siya
This list is not comprehensive and will depend on what model within the hearing aid line you choose. If you are concerned, be sure to mention to our hearing instrument specialists that you would like your Oticon hearing aids to be able to sync with the Oticon ON app.
Test Out Oticon Hearing Aids At Hearing Associates Of Las Vegas
Should you be interested in learning more about Oticon hearing aids in Las Vegas, you are in luck! As your independent, family-owned hearing clinics in Las Vegas, Hearing Associates of Las Vegas are ready to help you achieve your hearing goals.
With a complimentary hearing evaluation, our hearing health care professionals can help determine what level of hearing aids you need to assist with your hearing loss. After your assessment, you can work with one of our hearing instrument specialists to find the Oticon hearing aids—or any other hearing aid brand—you would like to test. We offer a risk-free trial period with your new hearing aids so that you can determine if they really are the right hearing aids for you.
If you would like to learn more about Oticon hearing aids, or are ready to test out your own pair, feel free to contact us today to set up your appointment with our hearing health care professionals. We are ready to help you find the perfect hearing aids so that you can start enjoying your hearing again!