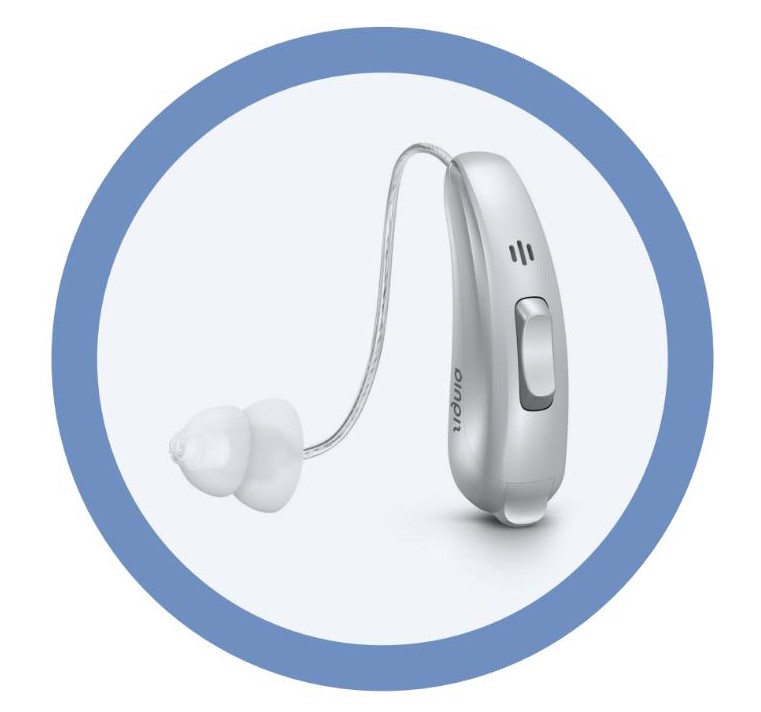 Thanks to constant innovation, modern digital hearing aids come with a wide variety of features to improve your hearing experience. Different features available will vary based on the hearing aid style and manufacturer. 
Below is a chart covering common hearing aid features:
Hearing Aid Feature
Function of Feature
Benefit of Feature
Reduces noise interference from speech and environmental sounds
Less noise pollution and improved clarity
Allows the hearing aid to differentiate between normal speech and sharp sounds
Sharp sounds are not amplified, and speech is enhanced
Reduces wind interference when sound signals are processed
Improved outdoor signal quality and hearing comfort
Controls noises which leave the ear and create uncomfortable feedback sounds
Improved comfort with fewer feedback noises
Directional Microphone Systems
Allows for sound isolation in direction of microphone while eliminating background sounds
Greater speech comprehension with less noise pollution
Hearing aids communicate and work together to manage sound input
Clearer sound capturing, fewer sound processing delays, and less noise
Multiple Compression Channels
Increases volume of speech sounds while reducing the impact of loud environmental sounds
Increased sound speech quality, more comfortable listening
Hearing aids learn from your settings input and remember
Faster listening adjustment, less handling required
Preferred listening settings are stored on hearing aid memory unit
Hearing instrument specialist can access information for hearing aid adjustments
Listening programs stored on hearing aid and can be accessed as needed
Easy swaps between various listening environments, greater listening clarity
Hearing aid automatically changes settings as it recognizes particular hearing environments
Improves ease of use, hands-free adjustment, and develops more over time
Bluetooth / Wireless Connectivity
Connect hearing aids to TV, smartphone, tablet, or other Bluetooth-enabled devices
Enjoy hands-free sync and improved clarity
Use loop systems to stream sounds from various audio systems like the telephone, theater, and lecture hall
Improve clarity and quality of audio in difficult hearing environments
Allows hearing aid connection to FM system
Often helps children, easy to use and increased audio quality
Keeps dust and some moisture out of the hearing aid
Greater protection for hearing aid circuitry, extends lifespan
Holds charge for 24-28 hours, and can be recharged to power hearing aids
No need to buy disposable batteries or change batteries out
Selecting the Best Hearing Aid Technology

The technology available in today's hearing aids is much more complex than what patients have seen in the past and it's for good reason. Hearing aids of today use artificial intelligence (A.I.) which gives them the ability to have machine learning. Meaning the more you wear your devices the smarter they become. The use of A.I. allows your hearing aid to personalize your listening experience uniquely to your individual lifestyle. The different features of your hearing aid all work together to make hearing easier than ever before. The difference between Basic, Advanced, and Premium technology has become more important than in previous years. The more advanced the hearing aid technology is the more natural the sound picture can become, making it easier to listen, especially when in background noise. This personalization will help take the strain out of listening so hard when in a restaurant, at a meeting, visiting with family, and many more complex listening environments.
Different lifestyles require different levels of technology. Basic level technology will be less expensive than advanced or premium and is a good budget option. However, choosing basic technology for your hearing aids when your lifestyle requires something more advanced can end up costing you more in the long run. It is important to spend time with your hearing care professional to determine which technology is best suited for your individual needs.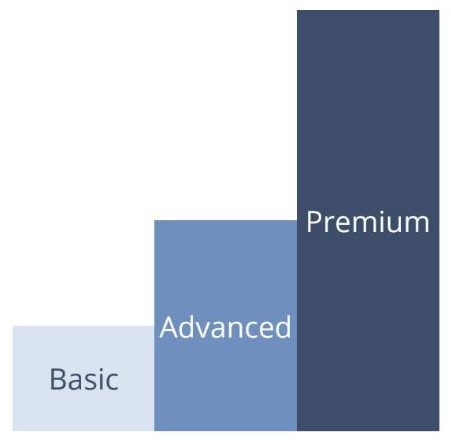 Benefits To More Features In Your Hearing Aid

The many functions available in today's hearing aid technology are designed to improve your everyday listening experience.
Your hearing care professional has more tools available for programming a premium set of hearing aids, making them more automated so that you do not have to manually adjust them. More advanced hearing aids can be programmed for specific, everyday scenarios. These hearing aids would automatically adjust for a particular environment – from loud restaurants to quiet living room conversations. Technology that is more basic does not have quite as many automatic adjustments available and would often require manual adjustments as you change between noisy and quiet places.
"It is so important to have a good quality hearing aid because it does more than just magnify sound. Everybody can get hearing aids that magnify sounds, but the ability to discriminate at the frequencies for your hearing loss, and not just make everything louder,… makes it a more normal hearing."  -Dr. Dale Carrison, UMC of Southern Nevada Chief of Staff and Head of ER
With more advanced features in your hearing aid, the sounds around you are more natural. Premium hearing aids with more advanced features ease the burden of trying to listen and makes hearing an effortless act once again.
Discovering Which Hearing Aid Is Best For You

It is recommended that you work with a hearing care provider to best understand your hearing needs and therefore, the best set of hearing aids to rehabilitate your hearing loss. A hearing care professional will fit your hearing aid so they are comfortable and unburdensome. They will work with you to assess your needs based on your lifestyle and level of hearing loss. Then, your provider can adjust the settings within your hearing aid, allowing the many features to work together to provide an effortless and worthwhile hearing experience.
Today's hearing aids are very advanced, with many features that work together to create a comfortable and exceptional listening experience. However, a hearing aid is only as good as the professional that fits it. It is important to work with a licensed hearing care provider that is familiar with current hearing aid models. They should be knowledgeable of the product they are fitting.
Work with the licensed hearing care provider to try different hearing aid models before purchasing them. Rehabilitation with a hearing aid can take weeks and even months for some to fully acclimate. A trial run with them before purchasing will give both you and your provider the ability to see that the technology you have been fit with is the right hearing aid needed for your journey to better hearing.
---
"The difference [when using hearing aids] is absolutely amazing. You're able to look at someone and have a conversation and not have to go "huh?", "excuse me?", "what?" 
It's a tremendous difference. It was life-changing, essentially." 
– Dr. Dale Carrison, UMC Southern Nevada Head of ER and Chief of Staff


---
Table of Contents
---