Have you ever experienced hearing loss due to impacted ear wax? If you're like most people, the answer is probably yes. Ear wax removal can be uncomfortable and embarrassing if not done properly. Fortunately, there are ways to safely and professionally remove ear wax without the hassle or worry of potential damage.
The process of removing ear wax doesn't have to be complicated or intimidating. With the right tools and knowledge, anyone can learn how to properly clean their ears in a safe and effective manner. By following a few simple steps, you can ensure that your ears remain clean and free from build up of wax that can lead to hearing problems.
Definition Of Ear Wax
Ear wax, also known as cerumen, is a combination of secretions from glands in the ear and debris such as skin cells. It's normal for our ears to produce it, and it has several functions: lubrication, cleaning, protection against bacteria and insects, and prevention of water from entering the ear canal. Generally speaking, it works its way out of the ear canal naturally.
However, sometimes ear wax can become impacted due to various reasons such as over-production or by using cotton swabs incorrectly. Impacted ear wax can lead to pain and hearing loss if not treated properly. It can also cause ringing in the ears (tinnitus) or a feeling of fullness in the affected ear.
For this reason, it's important to properly remove excess ear wax when necessary.
Why You Need to Remove Ear Wax
Removing ear wax is necessary for many reasons. It can help prevent hearing loss, reduce the risk of infection, and alleviate discomfort. Hearing loss can be caused by a build-up of wax blocking the ear canal. This can cause muffled hearing or ringing in the ears. Infection can occur when too much wax accumulates in the ear canal and traps bacteria, leading to inflammation and pain. Furthermore, if a large amount of wax is present it can cause itching or pressure in the ears that can be uncomfortable.
Cleaning the ears is also important for overall hygiene purposes. Wax buildup on the outer portion of the ear can make it harder to remove dirt and debris from them which may lead to itching and flaking skin on the outer ear. Additionally, a large amount of wax accumulation can attract dust particles or other allergens that may trigger allergies or asthma symptoms.
It is best to use professional cleaning methods when removing excess ear wax from your ears to ensure safe removal without damaging your eardrums or inner structures of your ears. Professional methods include using an irrigation tool like an ear syringe or using special drops that are designed to soften and remove wax buildup in the ears.
Methods to Remove Ear Wax
Having discussed the reasons for removing ear wax, it is now important to explore the various methods that can be used for its removal. There are a number of solutions available for this purpose, and each has its own advantages and disadvantages.
The first method of removal is ear irrigation. This involves using a syringe with lukewarm water to flush out the wax from the ear. It is usually done by a doctor or other qualified professional in a medical setting. The advantage of this method is that it can effectively remove large amounts of built-up wax quickly and easily. However, there is a risk of damage to the ear canal if not done correctly.
The second method is manual removal, which involves using an instrument such as a curette or looped tool to gently scrape away wax from the inside of the ear canal. This technique requires skill and patience, and should only be attempted by an experienced professional such as an audiologist or ENT specialist. The advantage of this method is that it can remove stubborn wax without causing any damage to the delicate structures inside the ear canal.
Finally, over-the-counter kits are also available which allow people to remove their own ear wax at home without any assistance from a medical professional. These kits contain drops and syringes which are used to dissolve and flush out the wax, although they should always be used with caution as there's always a risk of damaging your hearing if not used properly.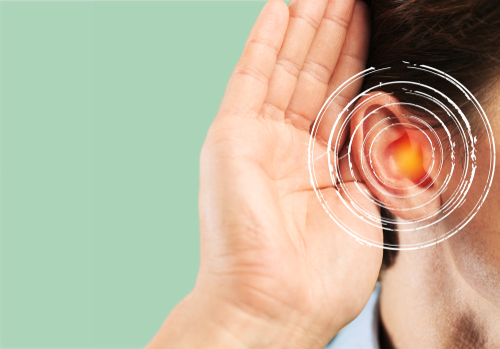 Over-The-Counter Solutions to Remove Ear Wax
Over-the-counter solutions can be a great way to begin tackling your ear wax problem. The most common OTC solution for ear wax removal is an ear wax dissolving drops, such as Debrox or Cerumenex. It's important to read the instructions on the bottle carefully before using the product, and it may take several days of use before the wax is dissolved.
If you wish to use an OTC irrigating device, there are a few options available. Gently irrigating your ears with a bulb syringe filled with warm water can help to soften and remove wax build up. You should never insert any objects into your ear canal; instead use the syringe from at least one inch away from the entrance of your ear. If using a soft rubber bulb syringe, always make sure that it is clean and dry before using it.
OTC products like these can be effective in removing moderate amounts of built up ear wax, but if you are still having difficulty hearing or experiencing pain after trying an OTC solution, it's best to consult a doctor or audiologist for further treatment options.
Professional Cleaning Tools for Ear Wax Removal
Professional cleaning tools are essential for safely and effectively removing ear wax. For example, a bulb syringe is an effective tool for suctioning out the wax. It should be filled with warm water and gently inserted into the ear canal. The bulb can then be squeezed to create a vacuum that will pull out the wax. A professional may also use an otoscope or microscope to inspect the ear canal and look for any blockages that need to be cleared away.
Another tool used by professionals is an ear curette. This instrument has a small loop at the end which is used to scoop out any hardened wax in the ear canal. The user must be careful not to insert it too far into the ear as this could cause damage. Additionally, an irrigation system may be used in combination with other tools to flush out any remaining debris in the ear canal.
All of these tools can help ensure that ear wax is removed safely and professionally without causing harm or discomfort to the patient. They should only be used by trained professionals who have experience with these instruments and can ensure their safe use.
At Hearing Associates of Las Vegas, we specialize in professional ear wax removal using irrigation and other techniques. Contact our Las Vegas or Henderson hearing center to schedule your appointment.
Removing Ear Wax At-Home Techniques
Now that you know the best professional tools for removing ear wax, it's time to look at some techniques that can be done from the comfort of your own home. The first technique is to use a bulb syringe for gentle suction. This method should only be used if the wax is soft and pliable, as hard or dry wax can cause injury. To begin, fill the syringe with warm water, tilt your head to one side, and slowly insert the tip into your ear canal. Gently push down on the plunger, letting out small amounts of water until you feel suction pulling on your ear. Then remove and repeat on the other side.
The second technique that can be used at home is a homemade solution of hydrogen peroxide and rubbing alcohol in equal parts. This solution helps soften any hardened wax so it can then be removed more easily with a bulb syringe or cotton swab. Simply mix together equal parts of hydrogen peroxide and rubbing alcohol, then using an eyedropper apply several drops into each ear canal while laying on your side with the affected ear facing up. Wait 5-10 minutes before gently wiping away any softened wax with a cotton ball or swab. If you're still experiencing discomfort after this procedure, visit an audiologist for further help.
At-home removal methods are convenient but may not always completely remove all of the excess ear wax in the canal. If you suspect that something more serious is going on in your ears such as an infection or blockage due to impacted wax, it's best to seek medical attention from an audiologist who has specialized tools and techniques to safely remove it from your ear canal.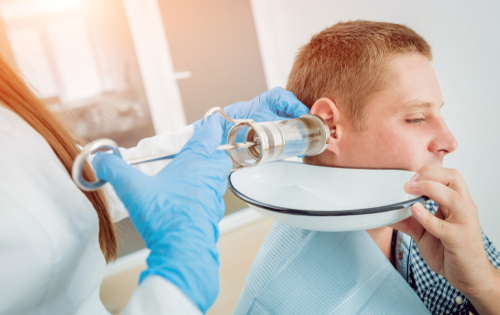 Cleaning Tips & Precautions
When cleaning the ears, it is important to take certain precautions. First, never insert any foreign object into the ear canal as this can cause damage. It is also important to use a soft cloth or cotton swab that is dampened with either water or saline solution. This prevents irritation of the delicate skin inside the ear and helps loosen any wax build up. If a person has a history of eardrum perforations or infections, it is best to avoid any type of self-cleaning and see a doctor instead.
Next, when using an ear wax removal kit, be sure to read all instructions carefully and follow them closely. Different kits may have different concentrations, so it is important to read the label before using it. Additionally, always start out with the lowest concentration and gradually increase if needed; never use higher concentrations than recommended. Lastly, if there is still wax in the ear after multiple treatments, it's best to consult with an audiologist or physician for further evaluation and treatment recommendations.
To sum up, when attempting to remove excess ear wax at home, it's important to take certain precautions and follow instructions closely when using an over-the-counter product. If wax remains after multiple treatments or there are any symptoms of infection such as pain or drainage from the ear canal, medical attention should be sought immediately.
Potential Risks And Complications
The potential risks and complications of removing ear wax should not be overlooked. It is important to note that attempting to remove ear wax on your own can cause further damage to the inner ear, leading to infection and hearing loss. This is why it is best to seek professional help if you are experiencing any changes in hearing or believe you have an excess amount of wax buildup.
Professional removal of earwax can also cause discomfort and irritation in the eardrum. If not done properly, it can lead to bleeding, scarring, and even puncturing of the eardrum. Additionally, there is a risk of temporary dizziness or vertigo if too much pressure is applied during the removal process.
To protect your ears from potential harm, it's essential to take all necessary precautions when removing wax buildup. Seek out medical advice whenever possible, avoid using sharp objects such as cotton swabs or hairpins for at-home cleaning methods, and always use soft cloths when wiping down the outer ear area. Taking these steps will help ensure a safe and successful removal process with minimal risks and complications.
When To Seek Medical Attention for Ear Wax
In certain cases, it is best to seek medical attention when dealing with ear wax. If you experience significant pain or dizziness in your ears, these may be signs of an ear infection that requires medical treatment. In addition, if you have hearing loss due to an accumulation of ear wax, it is important to consult a doctor before attempting to remove the wax. They can help you determine the safest and most effective way of removing the wax without risking further damage to your ears.
If you have a perforated eardrum or any other type of injury to your ear canal, it is best to avoid trying to remove the wax yourself. Only a doctor should attempt to remove the wax from this type of delicate area as there is a risk of further damage if done improperly.
A doctor can also provide advice on how best to take care of your ears and prevent buildup in the future. This includes using over-the-counter products such as ear drops or sprays, or avoiding activities that could lead to excessive amounts of wax entering the ear canal.
Alternative Treatments for Ear Wax
Having discussed when to seek medical attention, it is also important to consider alternative treatments for ear wax removal. When done properly and safely, these alternatives can be effective in removing ear wax buildup.
The first alternative is the use of a softening agent such as mineral oil or olive oil. These oils should be placed in the ear canal and left for up to 24 hours before attempting to remove the softened wax. It is important that too much oil not be used, as this can cause excessive pressure in the ear which can lead to hearing loss or pain. Furthermore, it is best to avoid cotton swabs when using an oil-based treatment, as this may push the wax further into the ear canal or damage the sensitive tissue of the ear drum.
Finally, a water irrigation system may also be used for cleaning out accumulated wax from the ear canal. This should only be done with caution and following instructions from a healthcare provider. If done incorrectly, water irrigation can cause permanent damage or infection in the inner ear. Therefore, it is highly advisable to use this method only with professional guidance and supervision.
Schedule an Appointment for Ear Wax Removal
The removal of ear wax is a delicate process and should be handled carefully. Even when using over-the-counter solutions, it's best to follow the instructions on the label and take precautions to avoid any complications. Professional cleaning tools are often the safest option for removing wax buildup, as they are designed for this purpose.
If you're unsure about your ability to remove ear wax safely or have any concerns about potential risks or complications, it's best to seek medical advice rather than attempting to do it yourself. Your doctor can provide information on alternative treatments that may be safer and more effective in some cases.
Its important to remember that ear wax plays an important role in protecting our ears from infection and debris, so we must take care not to damage this protective layer while trying to remove excess wax. With proper care and caution, you can safely remove ear wax and keep your ears healthy.