Noise exposure is one of the most common occupational hazards in construction. The constant barrage of noise can cause permanent damage to your ears if you're not careful. So, if you work in a construction environment, it's important to know how to protect your hearing. In this article, we'll take a look at some of the best ways to safeguard your ears while on the job.
From earplugs to over-the-counter hearing protection, there are plenty of options available for keeping your ears safe from harm. Using these products correctly and consistently is key for avoiding long-term damage from loud noises like jackhammers and drills. Of course, taking precautions beyond just wearing protective gear is also essential for keeping your hearing intact in a noisy workplace.
Risks of Hearing Loss in Construction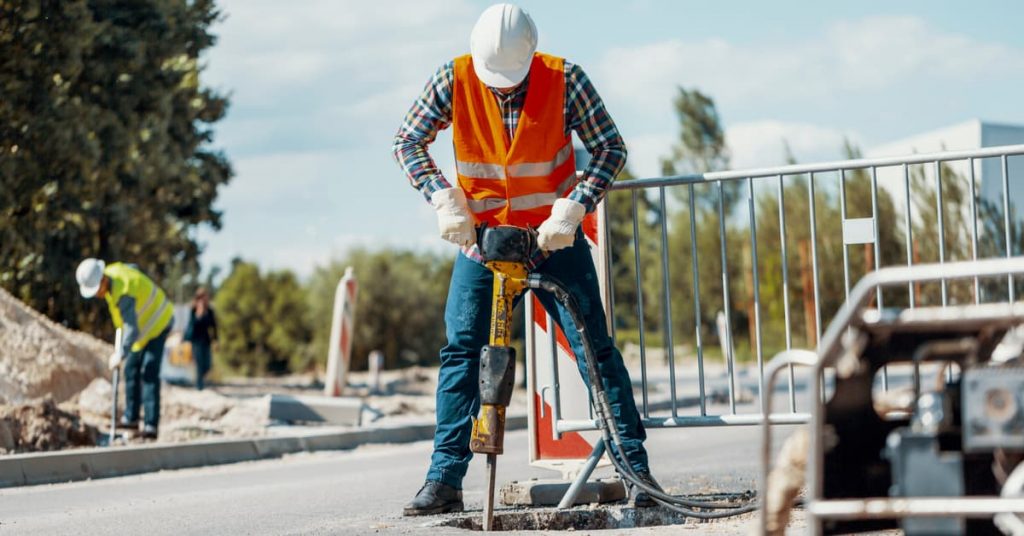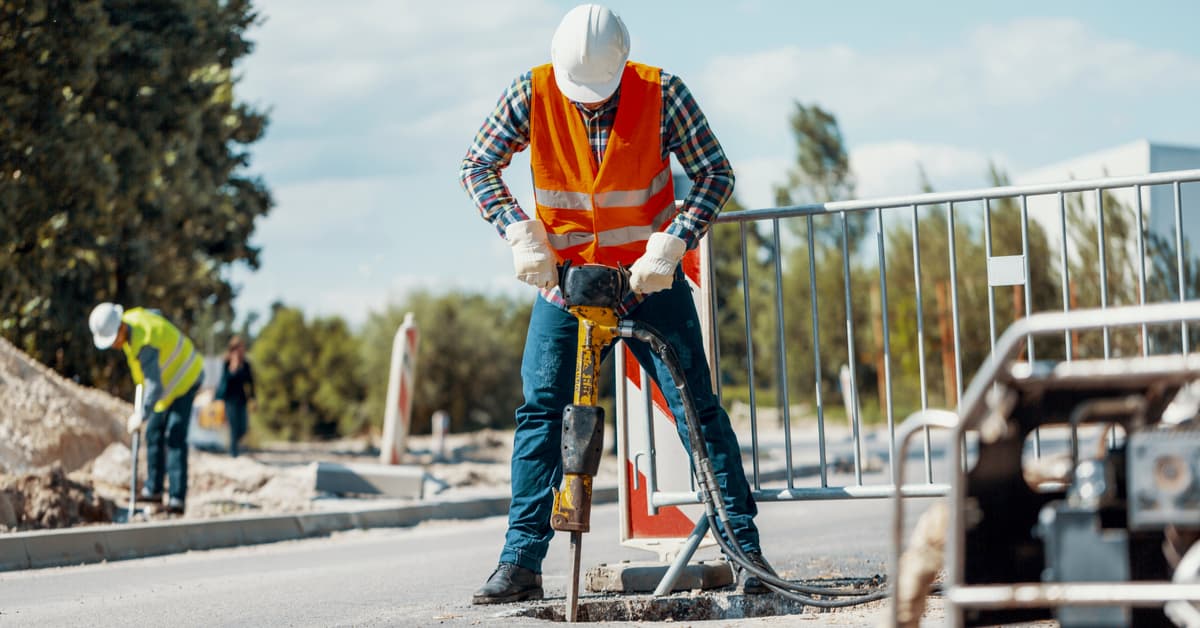 Working in a construction site can be hazardous to your health, especially if you don't take the right precautions. In particular, your ears are at risk of hearing damage due to loud noises. This is why it's important to take protective measures and guard your ears while on the job. In this article, we'll discuss how to protect your ears at a construction site.
The first step is to understand the risks associated with working in a noisy environment. The National Institute for Occupational Safety and Health (NIOSH) states that exposure to noise levels above 85 decibels (dB) can cause permanent hearing damage over time. Construction sites often produce sounds higher than 100 dB, which puts workers at risk of developing Noise-Induced Hearing Loss (NIHL).
To reduce the chances of developing NIHL, it's essential that you wear appropriate PPE such as earplugs or earmuffs when working on a noisy construction site. This will help block out most of the sound and protect your auditory system from any long-term damage. Apart from using PPE, there are other strategies you can use as well. For instance, taking regular breaks from loud noise can give your ears time to recover and reduce any potential harm caused by prolonged exposure.
It's easy to overlook the importance of protecting your ears while working on a construction site but doing so could save you from experiencing irreversible hearing loss in the future. Taking precautionary measures now can help ensure that you stay safe and healthy while on the job.
Wear Safety Gear Necessary
Moving on from the risks associated with a construction site, it's important to focus on what safety gear is necessary in order to protect workers' ears. Hearing protection should always be the first priority, as prolonged exposure to loud noise can cause long-term hearing damage.
Earplugs are a great option for noise-canceling ear protection. They come in different sizes and noise levels, so it's important to find ones that fit comfortably and block out enough sound. Ear muffs are another option, but they need to have good seals around the ears to be effective. It's also helpful to wear them over earplugs for extra sound insulation.
Workers should also consider wearing face shields or hard hats with built-in eye and ear protection. This type of shield can offer complete coverage against dust and debris while still allowing enough ventilation for comfortable use. They're usually made of lightweight materials that won't add too much bulk or weight when wearing them. Taking all these steps will ensure workers are safe at a construction site and protected against any potential hazards.
Hearing Protection Devices
Hearing protection devices are a necessary part of working in a construction environment. These devices can help protect your ears from the loud noises that are common on a construction site. There are several types of hearing protection available, including earplugs, earmuffs, and noise-cancelling headsets.
Earplugs are typically used to reduce noise levels by blocking sound waves from reaching the inner ear. They come in many shapes and sizes and can be made from various materials such as foam, rubber, or silicone. Earplugs should be inserted correctly for maximum protection and should always be worn when working near loud machinery or tools.
Earmuffs are another type of hearing protection device that completely covers the ears and is held in place with an adjustable headband. Earmuffs provide an even greater level of protection than earplugs by completely blocking out sound waves. Earmuffs also come in different styles and materials to provide comfort while wearing them all day long.
Noise-cancelling headsets are becoming increasingly popular as they not only reduce noise levels but also provide clear audio for communicating with coworkers. These headphones work by using active noise cancellation technology which creates anti-noise signals to cancel out background sounds like traffic or construction sites noises. Noise canceling headsets should be worn whenever possible when working on a construction site so you can hear clearly without damaging your ears.
Proper Fitting Hearing Protection For Maximum Effectiveness
It's essential to get the proper fitting on your protective earwear when working in a construction site. If not, it will not be as effective at blocking out hazardous noises. Earplugs should fit snugly but comfortably into the ear canal. Earmuffs should be adjusted so that the cushions seal perfectly around your ears, and the headband is tight enough for a secure fit.
When trying on different types of hearing protection devices, you may need to experiment with several sizes and styles until you find one that works well for you. It is also important to check that the device fits properly before each use; if it does not fit correctly, it will not provide adequate protection from harmful noise levels. Additionally, make sure to inspect any hearing protection device for signs of damage or wear before using it.
With the right fitting, hearing protection devices can reduce sound levels by up to 33 decibels and help protect your ears from long-term noise-induced hearing loss. Take the time to ensure that your earwear fits comfortably and securely every time you use it at a construction site.
Ear Hygiene Practices And Care
It's important to keep your ears clean and free of debris while working on a construction site. To ensure optimal performance of hearing protection, it is necessary to practice good hygiene. Here are some tips to help protect your ears while on the job:
Always wash your hands before removing or replacing hearing protection. This helps to reduce the chance of bacterial contamination from other sources. Additionally, make sure to inspect any earplugs or earmuffs for dirt or damage before use. If any debris or dirt is found, discard them and replace them with a new pair.
When not in use, store hearing protection away from direct sunlight and extreme temperatures that can cause them to deteriorate over time. Additionally, if you are using reusable earplugs, make sure they are cleaned and dried thoroughly after each use before storage. By following these simple steps, you can ensure that your hearing protection remains safe and effective while working on a construction site.
Signs Of Hearing Damage
It's important to know the signs of hearing damage in order to protect your ears at a construction site. Generally, hearing damage is caused by continuous exposure to loud noise. Symptoms of hearing loss can include difficulty understanding conversations, feeling like you hear sounds less clearly, or tinnitus, which is a ringing in your ears. If you experience any of these symptoms after working at a construction site, it's important that you get tested for hearing loss as soon as possible.
You can also test your own hearing with our simple 5-minute hearing test that measures how well you hear different frequencies and tones. Additionally, if you work near loud machinery or equipment on a regular basis, it's important to have regular check-ups with our expert audiologist.
If any tests indicate that your hearing has been damaged, there are treatments available that may help reduce the impact of the damage and improve your overall quality of life. It's important to take steps to protect yourself from further damage and make sure that you're taking care of your ears while working in loud environments such as a construction site.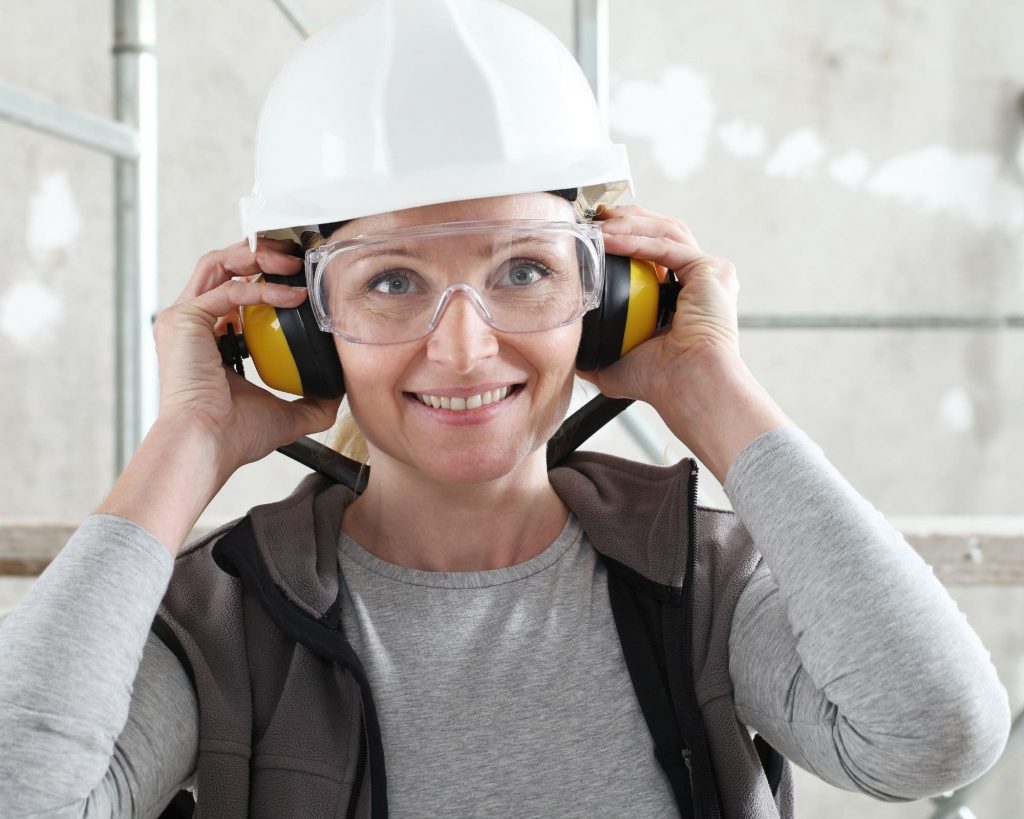 Techniques To Reduce Exposure To Loud Noise
At a construction site, protecting your ears is essential. There are several techniques you can use to reduce exposure to loud noise.
Wear protective ear muffs or plugs when operating noisy machinery and tools. This will block out the dangerous levels of sound that could damage your hearing.
If you're exposed to constant loud noises over a long period of time, take regular breaks and move away from the source of the noise.
Make sure all equipment is well maintained and serviced regularly to reduce excess noise. This will help keep both workers and passers-by safe from extreme noise levels.
Taking these steps can help protect your ears and reduce the risk of hearing loss at a construction site.
Alternatives To Traditional Ear Protection
Ear protection is a must at construction sites, but traditional earmuffs and plugs are not always the most comfortable or effective option. Luckily, there are several alternatives available that can provide a higher level of protection for your ears.
One popular alternative to traditional earmuffs and plugs are electronic ear protectors. These devices act like headphones, allowing you to hear conversations and other sounds in the environment while blocking out harmful noise levels. They come in many different shapes and sizes and have adjustable volume control so you can customize the amount of sound they block out.
Another great alternative is custom-fitted ear plugs. These are molded to fit your individual ear shape and size, providing maximum comfort as well as superior sound protection compared to standard earplugs. They also last much longer than disposable ones, making them a more cost-effective option in the long run.
No matter which type of ear protection you choose, it's important to make sure that it fits properly and is comfortable enough for you to wear all day long. Taking steps to protect your hearing now will help ensure that you don't experience any negative effects from working in a noisy environment later on down the road.
Benefits Of Protecting Your Ears
Now that you are familiar with the alternatives to traditional ear protection, it is important to understand the benefits of protecting your ears. Hearing loss can be a lifelong disability if not prevented. So, it is important to take steps now to protect your hearing.
Step # 1 – Using hearing protection at construction sites decreases the noise exposure that could lead to permanent hearing damage. This includes both gradual and sudden hearing damage due to loud noises or prolonged exposure. Wearing ear plugs or other forms of protection will help reduce the risk of developing long-term hearing problems.
Step # 2 – When wearing ear plugs or other forms of protection, it is easier for workers to concentrate on their job and remain safe in noisy environments. It also helps workers stay aware of potential dangers around them when they can hear what is going on around them more clearly. In addition, it can help reduce stress and anxiety levels as these can increase with prolonged exposure to loud noises as well.
Step # 3 – Wearing ear protection also helps protect against tinnitus or ringing in the ears which can occur after exposure to loud noises over time. Tinnitus can be extremely annoying and distracting which affects quality of life significantly even after leaving a construction site. Protecting your ears now will help prevent any long-term consequences such as tinnitus down the road.
Protect Your Ears – Protect Your Health
Protecting your ears at a construction site is an important safety measure that should not be overlooked. Taking the necessary steps to protect your ears can help prevent long-term hearing damage and other potential health risks associated with prolonged exposure to loud noise. Wearing the right kind of hearing protection devices, ensuring they fit properly and are kept clean, as well as taking breaks from loud noises whenever possible, can all help safeguard your ear health.
The bottom line is this: protecting your ears at a construction site is an easy but important step that can make all the difference when it comes to preserving your hearing health in the long run. Make sure you invest in quality hearing protection devices and wear them consistently when working around loud noise – it's worth it!