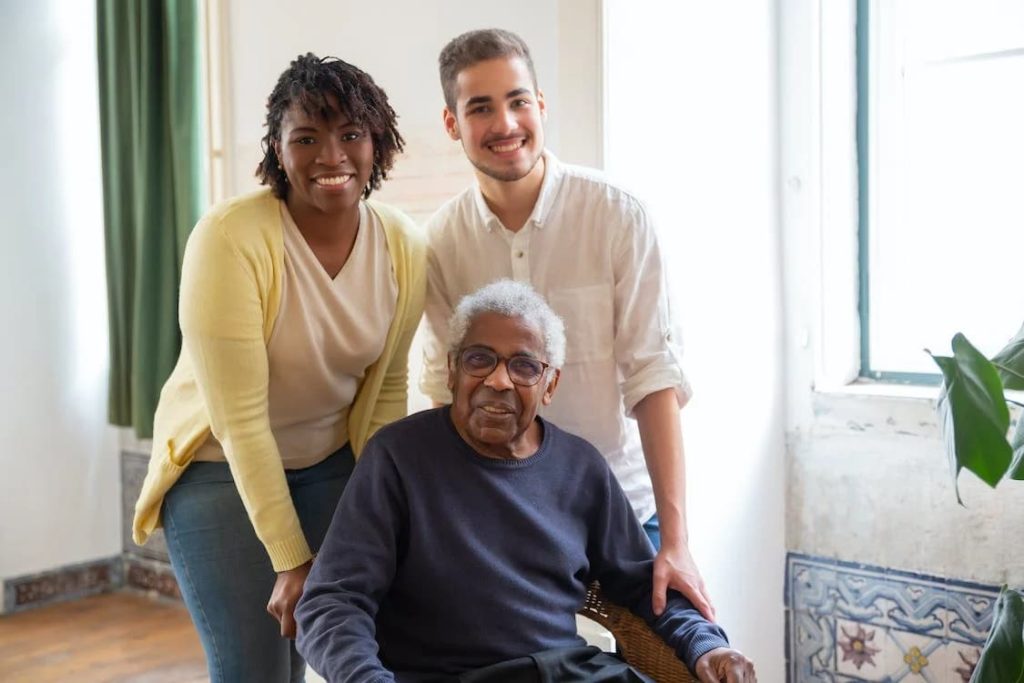 As an issue that affects more than half of Americans over the age of 75, many of us know a senior who's experienced some form of hearing loss. It's an inevitable development in many of our lives, only increasing in prevalence as we grow older.
We all want our loved ones to be happy and healthy. Still, the unfortunate stigma around this widespread condition can lead to an attempt to mask the problem, undermining personal safety and the efficacy of potential treatment. As with many health concerns, it's essential to try and address the problem early. Audiological devices – hearing aids, for instance – typically require an adjustment period.
We'll be looking at some of the common signs and causes in this article – but we'd encourage people of all ages to consider a hearing consultation if they're showing signs of hearing loss. Some issues are only the result of temporary problems like earwax and can be resolved simply and quickly.
This blog discusses creating a safe home environment for those experiencing hearing loss and ways to foster clearer communication between you and your senior loved ones.
What are the causes of hearing loss?
Age is the most common cause of hearing loss. As mentioned, age-related hearing loss (presbycusis) afflicts half of all people over 75 but generally begins around 50 (and even as early as 40). It typically occurs in both ears. There are also other causes of hearing loss independent of age. These include:
• Blockages – which may be caused by earwax or foreign objects. Hearing will typically return to full function once they're removed.
• Infections – ear infections are also common, particularly in children. Because of the connection between the ears and other body parts, infections in other areas may contribute to hearing loss. They are typically treated with antibiotics.
• Certain medications – using certain medications may cause hearing loss, including large doses of aspirin and some antibiotics and non-steroidal anti-inflammatory drugs, such as ibuprofen and naproxen. Hearing will typically return to full function once the course of the medication is complete, but some may cause permanent damage.
• Frequent exposure to loud noise – loud noises can create temporary hearing loss and tinnitus, and continued exposure over time can create chronic problems as the delicate hairs in the inner ear used to pick up sound are damaged.
Identifying the Symptoms of Hearing Loss
Many symptoms indicate the emergence of hearing loss, but we'll focus on some of the issues and behaviors more specific to seniors. It's important to note that we shouldn't be quick to ascribe reactions of frustration, annoyance, or a general lack of response during conversations with our senior loved ones as simply ill-tempered behavior. Instead, their behavior may be understandable reactions to hearing loss.
Symptoms include:
• Asking conversational partners to repeat or clarify what they've said.
• Trouble communicating during phone calls – the inability to see someone's face can encourage miscommunication.
• Complaints about ringing in the ears – tinnitus is a common indication of hearing loss.
• Turning up the TV or Radio to an unusually loud volume to hear what is being said.
Untreated Hearing Loss and Mental Health
Part of creating a safe home environment for a loved one is encouraging positive mental well-being. Age-related hearing loss can be a source of frequent frustration, anxiety, depression, and social isolation, as people have difficulty communicating with peers. It can lead to embarrassment when meeting new people and prevent individuals from doing what they enjoy.
But there are ways we can help, and it's important to note that therapeutic devices like hearing aids provide genuine assistance here. According to the American Academy of Audiology, regular hearing aid use has been associated with a lower prevalence of depression. Despite this encouraging fact, only 25% of adults with significant hearing loss use hearing aids.
Other Steps to Creating Safe Home Environment for Someone with Hearing Loss
Supplemented by therapeutic devices, there are other steps you can take to foster clear communication and improve the safety of a senior loved one.
Face-to-face communication – we've referenced the value of face-to-face communication above, but we can't stress its importance when possible. A surprising amount of our communication is nonverbal, providing essential context clues that help to inhibit misunderstandings.
Turning off distractions – people with hearing loss tend to struggle with multiple noise sources, including conversations between two or more participants. Reducing background noise will remove dangerous distractions.
Patience – we live busy, active lives, constantly surrounded by things demanding our attention. A little patience goes a long way, and taking our time in conversations with our senior loved ones will help to address a range of issues with the proper care.
Visual Cues – Ensure your loved one has visual cues for important instructions. Make sure instructions are written clearly for medications and other daily chores.
Doorbell for Hearing Impaired – many devices on the market can help a person with hearing loss know the doorbell is being rung. Installing an outdoor camera can help someone to see what's going on at their front door and yard.
How can I book a hearing test for a loved one?
A hearing consultation is the first step to assisting a loved one with hearing loss. If you're in the Las Vegas area, Hearing Associates of Las Vegas are experienced in dealing with patients of all ages, taking the time to talk through issues and managing them with the latest technology.