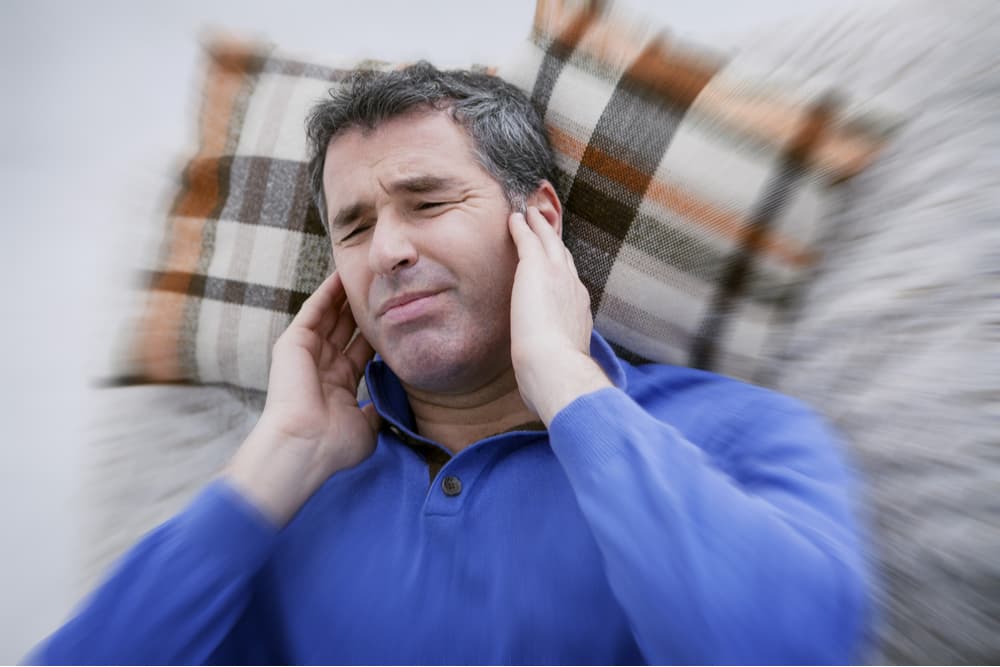 Have you ever had a ringing in your ears after hearing a loud noise? While this is common to most people for a short period of time, a lasting noise should be cause for concern.
Quiet to most of the world but obtrusively loud to those who suffer from it, tinnitus is a common affliction for over 50 million Americans. Tinnitus is commonly described as a ringing in the ears, but it also can sound like roaring, clicking, hissing, or buzzing. It may be soft or loud, high pitched or low pitched. You might hear it in either one or both ears. Tinnitus is unique to every person that has it, but one thing remains common for all of these cases: it can be very annoying and sometimes even debilitating.
Contrary to popular belief, tinnitus is not a disease. It is a symptom that something is wrong in the auditory system, which includes the ear, the auditory nerve that connects the inner ear to the brain, and the parts of the brain that process sound.
Some of the things that cause tinnitus can be earwax blocking the ear canal, ear or sinus infections, diseases of the heart, thyroid abnormalities, or noise-induced hearing loss. Tinnitus is often the first sign of hearing loss in adults. Also, it can be a side effect of certain medications.
Overall, Tinnitus involves the sensation of hearing sound when no external sound is present. Some symptoms of tinnitus may include a ringing, buzzing, roaring, clicking, or hissing sound in the ears. This phantom noise may vary in pitch from a low roar to a high squeal, and you may hear it in one or both ears. In some cases, the sound can be so loud it can interfere with your ability to concentrate or hear external sound. Tinnitus may be present all the time, or it may come and go.
If you believe you may be experiencing some of these symptoms, it is important to seek help immediately. Simply scheduling a hearing evaluation could save you years of suffering and prevent further hearing damage. If you or anyone you know is seeking consultation about tinnitus or other forms of hearing ailments, contact Hearing Associates of Las Vegas immediately.
Mark B, a recent patient of Hearing Associates of Las Vegas, had a severe case of tinnitus in his left ear. He suffered from a constant piercing sound. This sound got significantly worse over two or three months until finally, it was too much.
"It was debilitating, almost unbearable," he said. "It led me to get a hearing test and a consultation at a different practice. I did not follow up because I did not understand or appreciate their approach."
Confused and running out of options, he visited a tinnitus support group that eventually led him to the Hearing Associates of Las Vegas.
At Hearing Associates of Las Vegas, Mark initially received a survey that would help personalize his tinnitus for our professionals. This survey made inquiries into how serious the tinnitus, how it was progressing, and how it affected his life.
The hearing test he received indicated a significant drop off of hearing in his left ear. Mark was paired with our very own Hearing Specialist, Robyn Lofton, to personalize his case and help him find a solution.
"It's weird you almost feel like somebody won't believe you because only you are experiencing it," he said. "Robyn seemed to be someone who just understood tinnitus. And it turned out she had a case of it herself which made me feel much more comfortable."
Robyn explained to Mark that he had a dropoff of hearing in his ear at high frequencies and how that could cause the ringing in his ears. She explained that this is not an actual sound, it is your brain thinking there is a sound there.
When she explained this to Mark, he started to understand what tinnitus was. Then, the pair walked through which treatment options Mark had available.
"She mentioned there was this Levo System that creates a sound that matched my tinnitus directly and then that sound generator was put into a generator inside of an iPod. And you wear that for 90 days when you sleep. It's like a prescription of a sound," he said.
He decided to do it and immediately noticed a difference. He would still hear his own tinnitus, but he didn't care as much about it.
Through a process of neuroplasticity, the Levo System tricks your brain through sound therapy into growing used to the sound. Through a series of interactive activities, the precise sounds of Mark's tinnitus were identified by the Levo system, giving him the means to understand and demonstrate to others the sound he lives with.
"It was really psychologically hard to live with. The sound was so loud and so high. I hear it now, but it doesn't pose a threat. I don't care about the sound anymore."
After a few months of the Levo System, Mark no longer needed treatment. After starting treatment at the beginning of the summer and ending treatment in September, Mark no longer needs the system. He finally reached a place where tinnitus was no longer debilitating.
"There is an empathy they have with their patients that makes you feel like you are safely on the right path with someone that would help me to the best of their ability. You don't get that type of dedication with medical practitioners. I can't express how grateful I am for the help they gave me."